Twitter reacts to another impressive performance from Arizona QB Khalil Tate against UCLA
With the help from new starting quarterback Khalil Tate, Arizona finally knocked off UCLA for the first time under head coach Rich Rodriguez. Is Tate the answer the Wildcats have been looking for? Through two games, the easy and reasonable answer is yes.
Tate the great: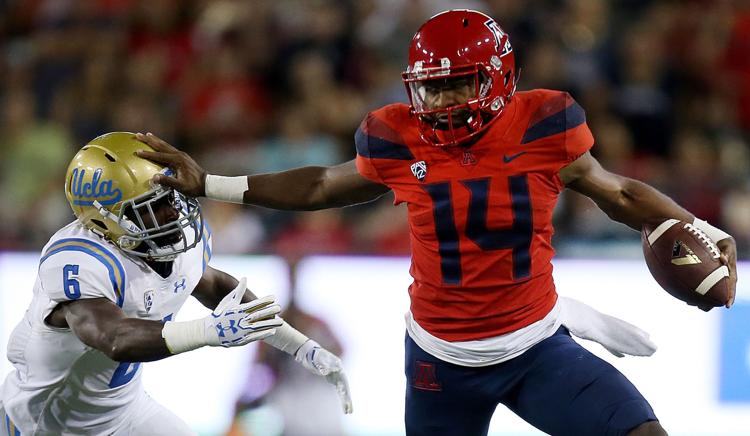 It appeared impossible that Tate could repeat his FBS record-breaking game at Colorado last week, but he followed up with a 230-yard, three touchdown performance against UCLA. 
In a matter of two weeks, the Wildcats went from being the laughing stock of the Pac-12 to potential division contenders and majority of the credit goes to Tate for rejuvenating an offense that struggled at the beginning of the season. And Tate 
Check out the best Twitter reactions from Saturday night:
Former UA linebacker Paul Magloire:
I just voted Khalil Tate for heisman what are you up to tonight

— Paul Magloire (@P_MAGLOIRE) October 15, 2017
I feel robbed of a bowl game ring since Khalil ain't start last year

— Paul Magloire (@P_MAGLOIRE) October 15, 2017
Allonzo Trier:
is Khalil Tate better than Josh Rosen tho 🤔😂

— Allonzo Trier (@ISO_ZO) October 15, 2017
Fans:
Khalil Tate is 18 years old... just saying

— Joseph mueller (@josephmueller23) October 15, 2017
Khalil Tate has saved Rich Rod's job, no question. This Arizona team is actually good

— Tyler Worden (@Tyler_J_Worden) October 15, 2017
Give Khalil Tate the Heisman

— Fancy // Bear (@TheeFancyBear) October 15, 2017
Khalil Tate has put the every Pac-12 Defensive Coordinator on notice

— Justin (@J_Ghio) October 15, 2017
Arizona Daily Star:
Perspective: At West Virginia, Pat White "only" rushed for 200 yards four times. Khalil Tate's done it two weeks in a row.

— Zack Rosenblatt (@ZackBlatt) October 15, 2017
More perspective: the most rushing yards Mike Vick had in a season at Virginia Tech was 682. Khalil Tate has 557 in two games.

— Zack Rosenblatt (@ZackBlatt) October 15, 2017
This describes Khalil Tate in 26 seconds. Dude "can flat out play football". pic.twitter.com/U3paJLtXNr

— Justin Spears (@JustinESports) October 15, 2017
Khalil Tate has. Khalil Tate has done that. https://t.co/DCnBxbKuwX

— Dominic Baciocco (@DominicBaciocco) October 15, 2017
Tate now has 551 rushing yards in last 7 quarters. RichRod's daughter, cheerleader, on video-board holding up big A sign. Passing grade!

— Greg Hansen (@ghansen711) October 15, 2017