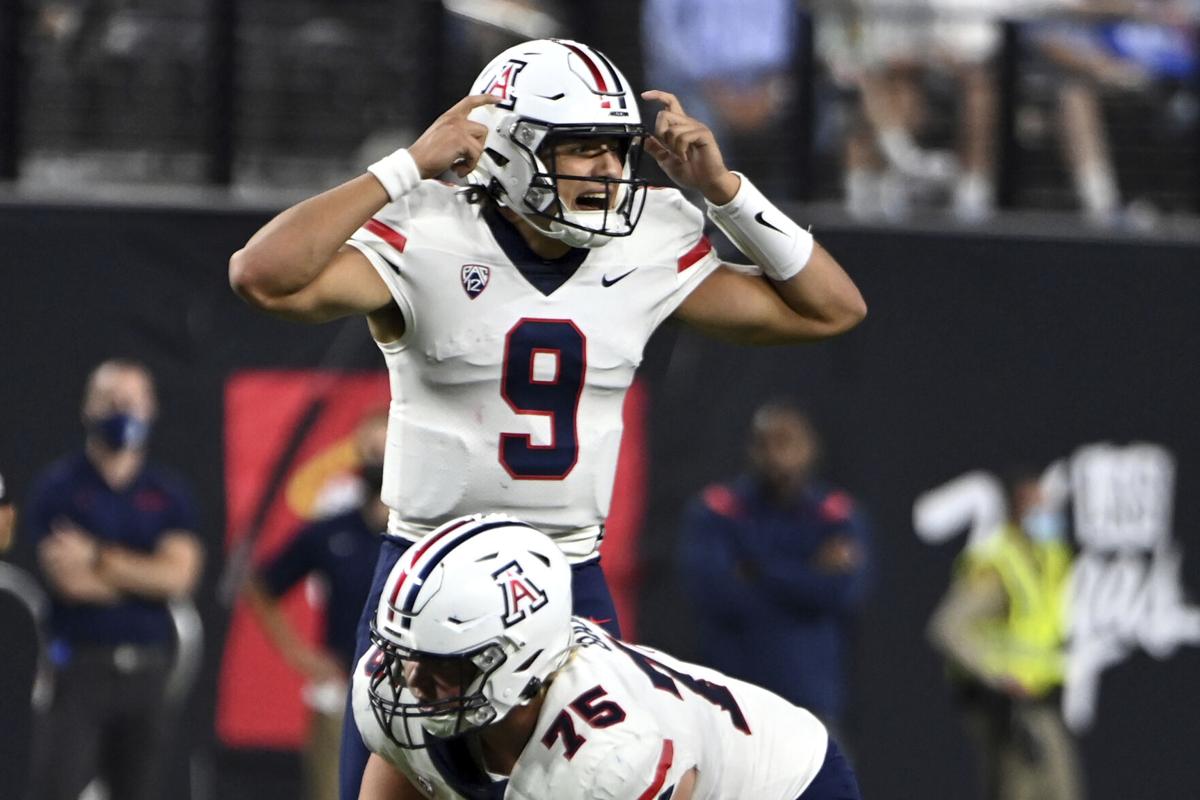 Gunner Cruz will start at quarterback Saturday against Colorado following a season-ending leg injury to Jordan McCloud, and there's one thing Jedd Fisch doesn't want to see.
"We don't want to be in a situation where he feels as if he has to win the game himself," the UA coach said Thursday.
That's precisely the one that occurred in Cruz's second career start — the same one that saw him pulled in favor of Will Plummer. Arizona fell behind the Aztecs 21-0 in the first eight minutes. The Cats had run just six plays on offense before a three-touchdown deficit stared Cruz and company in the face.
"I think you start feeling like you've got to press," Fisch said. "I think Gunner always felt he was playing behind the eight-ball."
Cruz took time to re-evaluate and adjust his play. Fisch now sees a quarterback who resembles the guy who won the job out of training camp and then passed for 336 yards against BYU.
"He's back to embracing being the starting quarterback," Fisch said. "He's reestablished his personality, his confidence in terms of in the huddle."
Which version of Cruz that shows up on Saturday will go a long way in determining the outcome.
"I think that as he continues to go through his progress, and his progression, he'll be more and more comfortable with knowing where to look and who his indicators are," Fisch said.
McCloud undergoes surgery
McCloud tweeted his thanks to "the man upstairs" on Thursday after undergoing what he said was a "smooth and successful surgery."
The exact nature of the surgery was not immediately known. The medical procedure was expected after McCloud suffered a leg injury last week against UCLA.
"Heartbroken that my season has (come) to an end, but I'm EXTREMELY excited for the future of this program," he tweeted. "I can't wait for next season."
No players added from walk-on tryouts
Arizona's walk-on tryouts, a common practice for many Division I teams, made headlines this week, appearing in a New York Times article detailing the event.
The Oct. 12 tryouts were met with skepticism when announced two weeks ago as many schools opt to save such endeavors for the offseason, not during the week of a conference game.
But Fisch held off during the summer until all of UA's staff and players had been vaccinated before holding tryouts. And then when defensive tackle Myles Tapusoa and offensive lineman Edgar Burrola decided to transfer, it freed up two scholarship spots.
The Wildcats worked out the 60 fresh and eager faces that showed up for Tuesday's tryouts, but offered no scholarships.
"There was nobody at the tryout that is going to be on the team," Fisch said. "We were able to look at a kicker, see if there was anybody else that was passed over due to COVID-19 and not being able to finish their senior year, and then move on."
Personal issues end JB Brown's season
Starting defensive lineman JB Brown will not be appearing in any more games for the team this season, Fisch said Thursday.
Fisch elected to hold Brown out of last week's contest against UCLA, citing "personal reasons" for the senior's absence. Brown was not listed on Arizona's depth chart this week in preparation for Saturday afternoon's game at Colorado.
"JB is not going to be with us for the games," Fisch said. "It will enable him to most likely have another year of eligibility to be able to help us as he's working through some other things."
Brown opted out of the 2020 season and returned to the Wildcats this year where he's been playing the "anchor" position in Don Brown's defense. Through UA's first five games, Brown has started in three of them, rotating with redshirt senior Mo Diallo at the position.
Brown had eight tackles through four appearances; his two tackles-for-loss ranked tied for fifth on the team.
Because Brown did not exceed the four-game threshold, he will be eligible to redshirt for the remainder of the year and play in 2022.
OL Donovan (leg) a 'game-time decision'
Offensive lineman Josh Donovan is a game-time decision for Colorado with a leg injury, Fisch said.
UA's starting right guard suffered the injury during the game against UCLA. Fisch noted that Donovan "should be fine" to play, but the team will make Josh Baker available to slide into that spot if Donovan can't go.
Fisch near bottom of Pac-12 coaching salary ranks
Fisch is the 59th-highest-paid coach in the country, according to the USA Today's salary database released this week.
But at $2.68 million per year, Fisch is second-lowest-paid among Pac-12 coaches, only exceeding Oregon State's Jonathon Smith ($2.44 million).
The highest paid Pac-12 coach is Stanford's David Shaw at $8.9 million. UCLA's Chip Kelly is second at $5.6 million.
Contact sports producer Alec White at 573-4161 or awhite1@tucson.com.
On Twitter: @alecwhite_UA