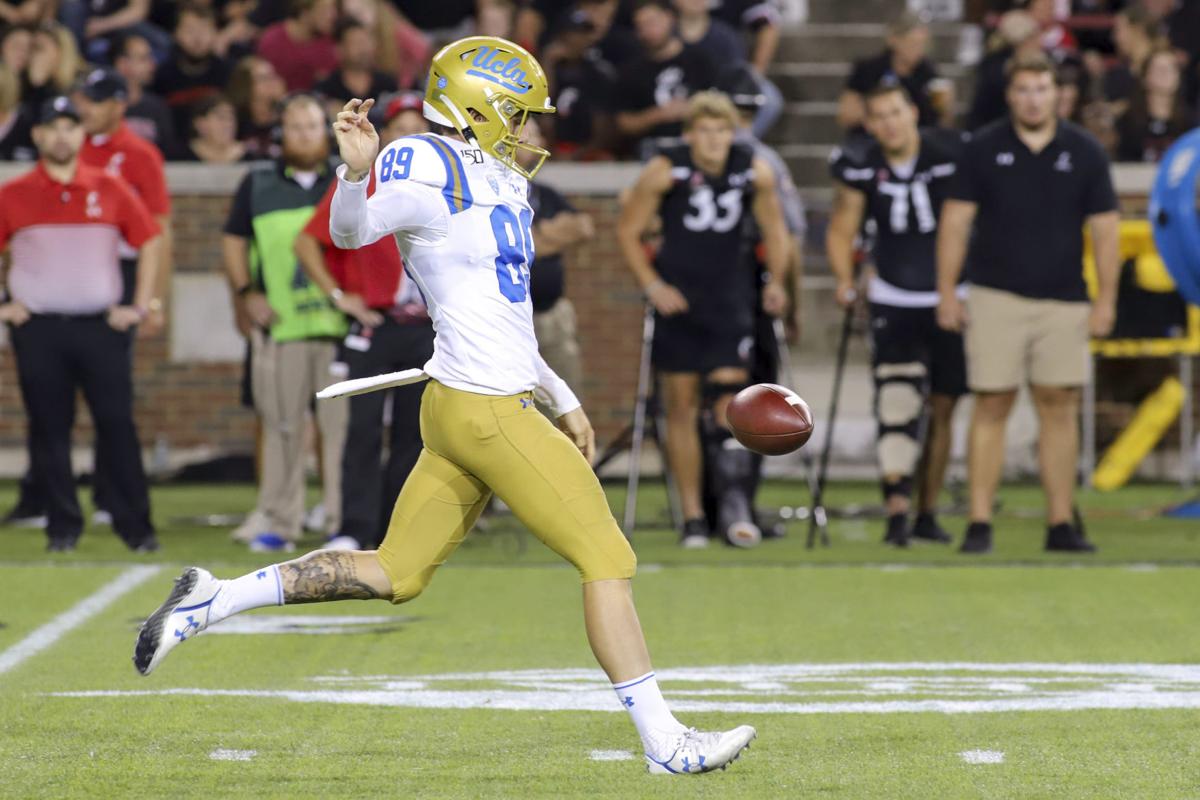 LOS ANGELES — The Arizona Wildcats will match up with one of the youngest teams in the country Saturday, when they take on UCLA at Arizona Stadium.
The baby Bruins are young across the board, except at one position.
UCLA's punter has more experience than just about any college football player in the country — life experience, at least.
Wade Lees, the Bruins' Australian-born punter, is 31 years old, reportedly the second oldest player in all of FBS this year.
You wouldn't know it by looking at him — or talking to him.
"The guys come up to me and say, '(Shoot), I forget how old you are; you seem and look like one of us,' " he said. "I've been blessed. I got my looks from my mom. I've hidden my age well."
Lee has quickly found a home in Westwood after three years with the Maryland, where he started all 37 games for the Terrapins the last three years, averaging a hair over 40 yards per punt.
That he found himself at UCLA is a story: After the death of Maryland football player Jordan McNair and the resulting chaos from a coaching staff in crisis, Lees was looking for a new home. He was attracted to UCLA's academics, its post-graduate network and the ability to spend one final football season in Los Angeles.
Through four games, Lees is averaging 42.9 yards per punt.
"I think I adapted pretty well," he said. "Just being myself, I'm pretty outgoing. With my personality, guys tend to get around well with me. These boys have been very welcoming to me."
That he found himself at Maryland is a crazier story.
Lees was a talented Australian Rules Football player who got into hot water after he purchased a fat-burning supplement from the United States that contained a banned steroid, which was subsequently caught by Australian customs. Lees was suspended for 18 months despite denying taking the supplement, and he decided to find a new path.
He had always had a travel bug, and with so many of his countrymen finding happiness in long sojourns to Europe and the United States, he and his then-girlfriend, Caitlin, headed across the pond.
They traveled through Europe for three months, then headed to the United States, where, he says, "I was looking for my next adventure."
In Tampa, Lees flipped on ESPN and caught an Ohio State football game, where he saw Buckeyes punter Cameron Johnston, another former Aussie Rules Football player. Lees saw one of Johnston's kicks and thought to himself, "That looked easy enough."
Australia has become a punting factory in recent years, Lees said, because, "playing Aussie football, you're hitting the same punt."
"You have to have the same spatial awareness," he said. "For us to catch a ball, roll out and kick it, we've been doing it forever, ever since we could walk."
Lees added: "We've played in front of big lights, in big crowds, taken big hits, so it's not as overwhelming as coming out of high school."
So it wasn't an altogether unheard of proposition. Lees reached out to Johnston, who put him in touch with Nathan Chapman, who runs Pro Kick Australia.
"He sort of paved a pathway for me," Lees said. "I trusted him blindly not knowing where it would lead me. But the majority of guys who work with him end up somewhere."
For Lees, that was College Park, Maryland.
But not before he saw America.
"It's in our culture (to travel)," Lees said. "There was no deeper meaning to it. Australians just like to go out and party, and I was one of them. The only thing you have to worry about is what you're having for breakfast. Then I'm usually skipping lunch to have a beer and then you're figuring out what you're having for dinner — and what you're drinking with dinner."