Video clip made UA center Josh McCauley semi-famous, but he's in it for the long haul
Arizona walk-on Josh McCauley earned the starting spot at a critical position; now he hopes to earn a scholarship.
How a friendly tap brought Josh McCauley to center stage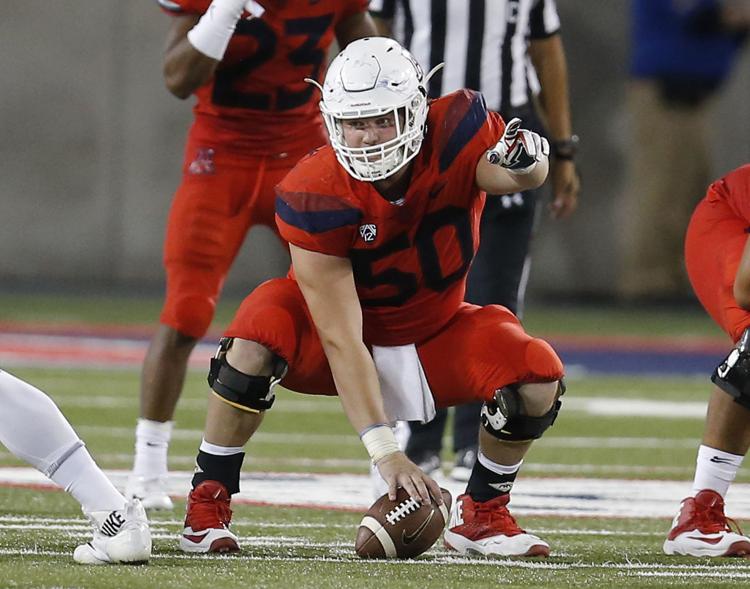 Ed Oliver, Houston's All-American defensive tackle, lunged across the line of scrimmage. He entered the neutral zone, as it's called. So Josh McCauley did what he was taught: He touched Oliver to draw an offside penalty.
Except McCauley, Arizona's starting center, didn't tap Oliver on the shoulder pad. Oliver's head was the closest body part, so McCauley swatted his helmet. It was more of a playful nudge than a slap, and it gave ESPN's announcers something to talk about it in a one-sided game.
Yahoo Sports tweeted the video. It had been liked 336 times and retweeted 110 times as of Tuesday afternoon.
Arizona's center is a brave man to do this to Ed Oliver. pic.twitter.com/MLv1mRCmNF

— Yahoo Sports College Football (@YahooSportsCFB) September 8, 2018
When McCauley returned to the locker room, he found that his phone was "kind of going off." His 15 minutes of fame were underway.
The thing is, McCauley is in it for the long haul. He came to Arizona as a walk-on in 2016 from Mesa Red Mountain High School with the intention of winning a starting spot. Two years later, he made the first snap of the Wildcats' season. He has made almost every one since.
"That's been my mentality," McCauley said. "I came here to play football."
McCauley remains the pivot man for an offensive line that already has undergone changes. The unit that debuted last week — featuring Cody Creason and Layth Friekh to McCauley's left, and Bryson Cain and Donovan Laie to his right — will make its second straight start Saturday at Oregon State.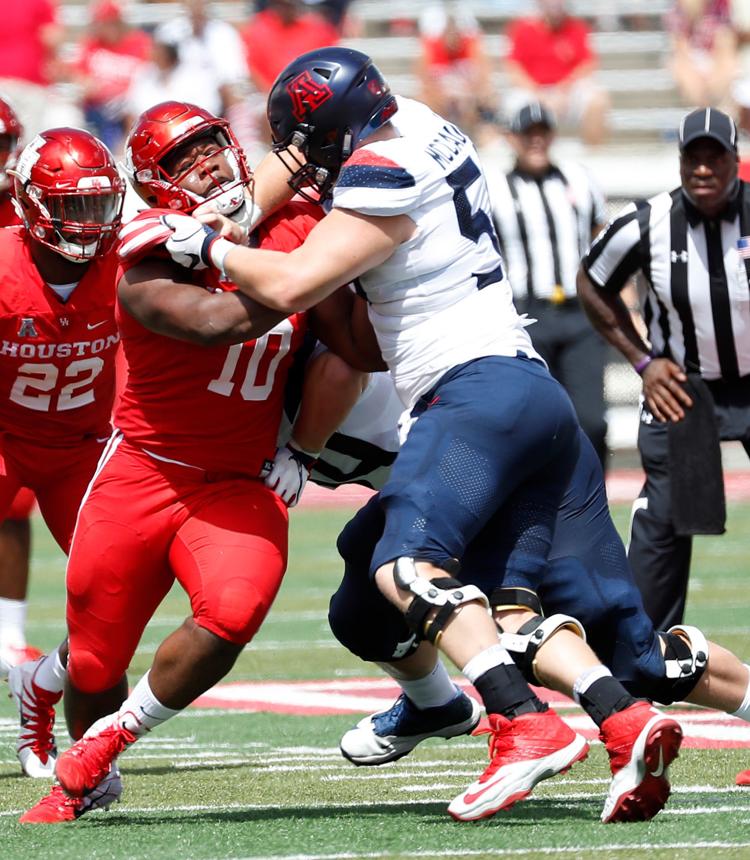 McCauley has proved to be a steadying influence, which is exactly what UA coach Kevin Sumlin wants from his center.
"There's a lot going on for him, a lot of pressure," Sumlin said. "He and the quarterback have got to be on the same page. That's why consistency there with communication and snap count … you'd like to have that position very solid and stable, without moving guys around."
Veteran Nathan Eldridge was presumed to be the starter entering spring, but injuries have shelved him indefinitely. Another veteran interior lineman, Alex Kosinski, also has been out. Texas A&M transfer Robert Congel, who took first-team reps at the start of training camp, isn't eligible this season.
That left Arizona with two options: McCauley, a redshirt sophomore who appeared in three games last season, and Steven Bailey, a junior-college transfer.
McCauley won the job and has improved each week. After being overpowered at times by BYU's 6-foot-4, 340-pound nose tackle Khyiris Tonga, McCauley held his own against Oliver. The offensive line had its best performance against Southern Utah, helping Arizona amass 62 points and 626 yards.
McCauley always knew he could play at this level, if even few others believed he could. He said he had one FCS offer, which was pulled, and "a lot" of Division II offers. Three days before signing day, Arizona gave him the opportunity to join the team as a walk-on.
"I'm kind of a competitor," McCauley said. "I wanted to play at the highest level. I felt like I could prove myself at this level. I felt like I could grow."
Teammates and coaches have praised McCauley's communication skills, which are vital for the position he plays. But when he met the media Tuesday, the No. 1 topic was the savvy he showed against Oliver.
"It was just a freeze snap count," McCauley said. "We've been practicing it. We're coached to touch them if they cross the line of scrimmage. That's what I did."
McCauley had no idea at first why his phone was flooded with messages and alerts.
"I was like, what could this be?" McCauley said. "On the field, I didn't even think of it."
McCauley also didn't consider the fact that a walk-on was being tasked with blocking the possible No. 1 pick in the 2019 NFL draft. The ESPN crew joked that McCauley was paying to face Oliver, as it were part of some warped fantasy camp.
McCauley is hopeful he won't be a walk-on much longer.
"That's been the goal since I stepped on campus here," he said. "Earn a scholarship and help this team win football games."
Penalty problem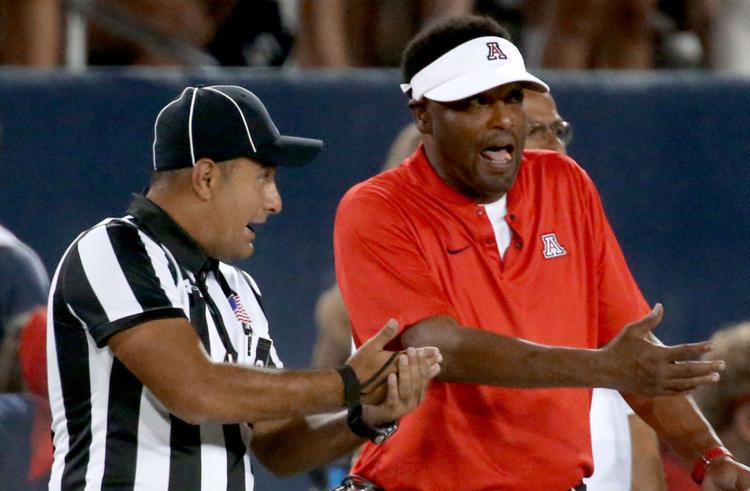 Arizona's overall play improved markedly last week, but in one regard the Wildcats are trending in the wrong direction.
Arizona committed 10 penalties for 98 yards against Southern Utah, the second week in a row those totals rose. The Wildcats were flagged four times for 36 yards against BYU, eight times for 85 yards against Houston.
"We've had that discussion," Sumlin said. "It's something that, obviously, we take very seriously.
"It was sloppy play. We played a lot of different people, but that's something we have to clean up."
Two of the infractions against the Thunderbirds were personal fouls. Another was for unsportsmanlike conduct. Those after-the-whistle penalties are unacceptable, Sumlin said.
"Not very smart," he said. "That's been addressed."
Blount and/or Luton
The Wildcats aren't sure which quarterback they will face Saturday. They might see more than one.
Oregon State has started two quarterbacks so far: redshirt sophomore Conor Blount and senior Jake Luton. Luton started the opener against Ohio State but got banged up. First-year coach Jonathan Smith turned to Blount for Games 2 and 3. Smith then went back to Luton after Blount struggled against Nevada.
Luton helped the Beavers rally from a 30-7 deficit before injuring his ankle. His availability for Saturday is to be determined.
Smith didn't come into the season intending to use two quarterbacks, but both have been effective at times.
"I'm not against what we're doing," Smith said. "I feel good that we've got two quarterbacks we feel like we can move the ball with. And we've needed both of them."
Arizona experienced similar uncertainty at the position before Khalil Tate took hold of the job last October. Smith said Blount and Luton have handled the situation well and have supported each other at every turn.
"There is some benefit to knowing you're the starter throughout the week. But I don't think that changes their preparation," Smith said. "I think we've got two guys that are preparing as if they are the starter, and it's played out that way during the games."
'Book closed' on Congel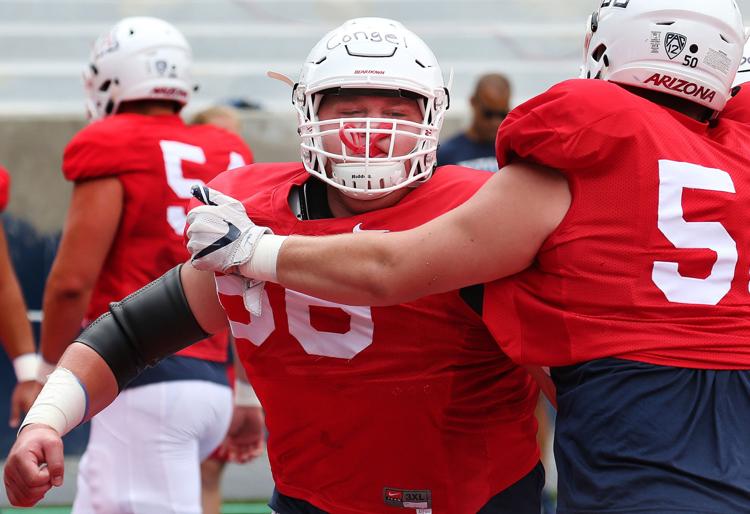 Oregon State received some surprising news last week when the NCAA granted eligibility to offensive lineman Brandon Kipper — even though he played in 11 games for Hawaii last season.
Arizona had hoped the NCAA would award immediately eligibility to Congel, who played in five games as a walk-on for A&M last year. The request was denied.
"That book has been closed," Sumlin said.