Watch: 14 best things Colin Schooler, Marcel Yates said after Arizona's second day of practice
Best video clips of UA linebacker Colin Schooler and defensive coordinator Marcel Yates following the second day of fall camp. 
UA's defense has higher expectations following up-and-down 2018 season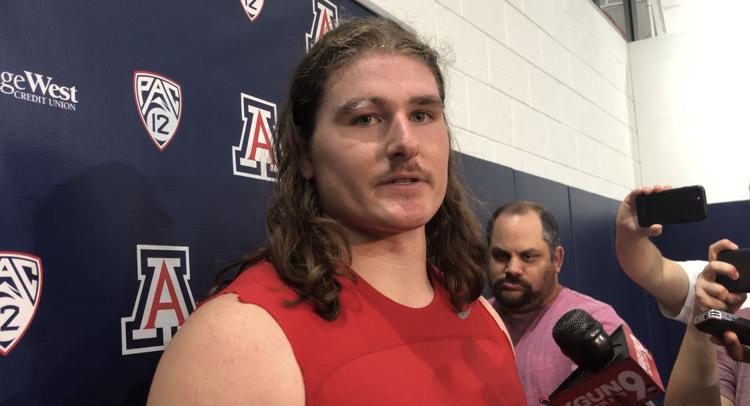 Arizona wrapped up its second day of preseason training camp on Friday and despite the Wildcats entering their second year under head coach, defensive coordinator Marcel Yates is going into his fourth season in Tucson. 
Last season, the Wildcats finished 92nd in FBS in total defense and allowed 432 yards per game, which was 10th in the Pac-12. Arizona also ended the 2018 season last in the conference, coughing up 269.5 passing yards per game. 
That's the bad news. The good news for the UA: Colin Schooler returns for his junior year and the linebacker is expected to blossom even more after two seasons as Arizona's anchor. Schooler led the team with 119 tackles and 21.5 stops for losses. 
During the offseason, Schooler was named to the Butkus Award (top linebacker), Bednarik Award (defensive player of the year) and Bronko Nagurski Trophy (most outstanding defensive player) watch lists. 
Schooler and Yates spoke to the media following Saturday's practice, here's what they had to say. 
Cats seeking consistency in 2019
Marcel Yates says consistency has been the main focus for Arizona's defense. "We need more guys to be consistent and make plays." pic.twitter.com/Yjxjx5Ggj3

— The Wildcaster (@TheWildcaster) July 28, 2019
Third-down stops crucial for Arizona's defense in 2019
Colin Schooler says third-down stops hurt Arizona's defense in 2018, which has been an emphasis this year. "Our job is to get the offense on the field a lot longer than they have been." pic.twitter.com/yyFmy7rMlF

— The Wildcaster (@TheWildcaster) July 28, 2019
Schooler's biggest improvement this season
Arizona defensive coordinator on star linebacker Colin Schooler heading into the 2019 season: pic.twitter.com/fE4Tc9kO5H

— The Wildcaster (@TheWildcaster) July 28, 2019
High expectations for Jalen Harris and JB Brown
Marcel Yates on the expectations for defensive linemen Jalen Harris and JB Brown: pic.twitter.com/WvEJCEwdAO

— The Wildcaster (@TheWildcaster) July 28, 2019
Schooler not focused on personal awards
Colin Schooler was named to three national watch lists this summer: Bednarik Award, Nagurski Trophy and Butkus Award. "It's an honor to be on those watch lists and get national recognition, but outside of this team, there's really not much that matters." pic.twitter.com/7CM5wIiLEt

— The Wildcaster (@TheWildcaster) July 28, 2019
Impressive newcomers on defense
Colin Schooler says JuCo DT Trevon Mason and LB Derrion Clark have been impressive newcomers through the first two days of training camp. pic.twitter.com/BPM6F6SLur

— The Wildcaster (@TheWildcaster) July 28, 2019
Freshman DB Christian Roland-Wallace flashing maturity, potential
Marcel Yates on Christian Roland-Wallace's maturity as a freshman DB: "He's a guy that stepped in on day one and was mature and ready to play." pic.twitter.com/9D5jyHahw0

— The Wildcaster (@TheWildcaster) July 28, 2019
Texas QB showing promise on offense
Colin Schooler has been impressed with freshman QB Grant Gunnell through the first two days of training camp. pic.twitter.com/H8qkwiYjRI

— The Wildcaster (@TheWildcaster) July 28, 2019
Sean 'Super Senior' Harris
Marcel Yates on "Desert Swarm" linebacker Sean Harris: "I'll take him if he wants to come back." pic.twitter.com/LShP6UOsae

— Justin Spears (@JustinESports) July 28, 2019
Jaxen Turner is playing safety instead of cornerback
Marcel Yates on the decision to place Jaxen Turner at safety instead of cornerback: "@coach_meat has enough corners out there, we gotta have someone out there to play safety." pic.twitter.com/BQ02GHSJid

— The Wildcaster (@TheWildcaster) July 28, 2019