Watch: 8 best things DeMarco Murray said after Arizona's preseason practice
Top video clips of Arizona Wildcats first-year running backs coach and former Pro Bowler DeMarco Murray following Wednesday's practice. 
Ex-NFL star excited to coach arguably UA's deepest position group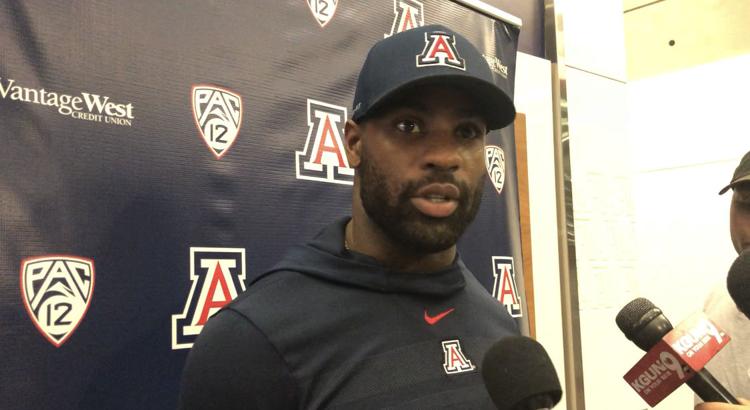 It's tough to argue a position group deeper than Arizona's running backs.
UA running back J.J. Taylor had one of the best seasons at his position in program history. Taylor produced 1,434 all-purpose yards as a sophomore and only two running backs in Arizona history have done more: Ka'Deem Carey — twice — and Trung Canidate. Taylor's 2018 campaign gave him third-team All-America honors and a spot on the All-Pac-12 First Team. 
Now a redshirt junior, Taylor will return as Arizona's top running back and will share the backfield with Gary Brightwell, Nathan Tilford, Bam Smith and freshman Michael Wiley who's received kudos from teammates and coaches during training camp. 
Their coach? Former star NFL running back DeMarco Murray who is entering his first year as the Wildcats' running backs coach after he was hired in January. Murray spoke to the media following Arizona's practice Wednesday, here's what he had to say. 
Biggest surprise since entering the coaching ranks
DeMarco Murray on what surprised him when he first took over as the Arizona RBs coach: pic.twitter.com/Khb3tR3eNu

— The Wildcaster (@TheWildcaster) August 15, 2019
Using Taylor as the model running back
DeMarco Murray on coaching Arizona running back J.J. Taylor: "He's a guy you want to model your running back group after." pic.twitter.com/lkunA6jPUf

— The Wildcaster (@TheWildcaster) August 15, 2019
Tilford's progression
Arizona RBs coach DeMarco Murray on Nathan Tilford: "His size is unbelievable, but I think his confidence is finally starting to show." pic.twitter.com/rzZ5iEr14B

— Justin Spears (@JustinESports) August 15, 2019