Watch: 10 best things Demetrice Martin said after Arizona's preseason practice
Top video clips of Arizona Wildcats cornerbacks coach Demetrice Martin following Tuesday's practice. 
Wildcats have more depth at CB heading into new season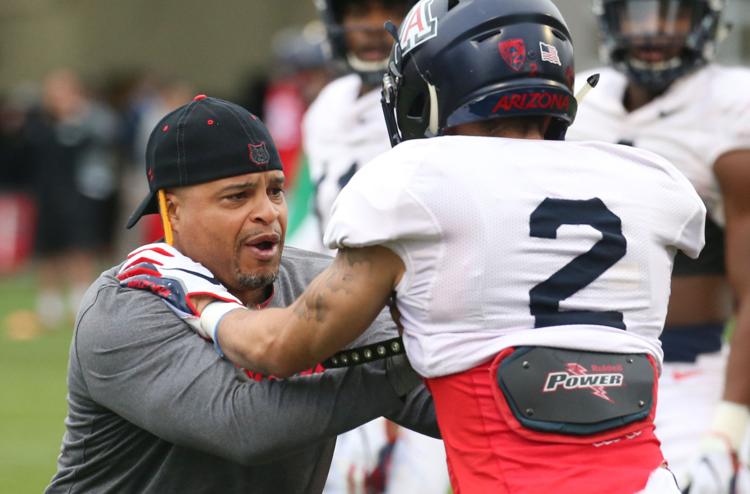 Arizona's cornerback unit struggled to stay healthy in 2018, including starter Jace Whittaker who only played in one game the entire season and was granted another year of eligibility. Redshirt junior Lorenzo Burns was the Wildcats' consistent starter last season and with both returning for another year, the UA has experience at that position. 
With the injury bug in 2018, safeties Troy Young and Christian Young earned playing time at cornerback, although both have returned back to their primary position. Now, the Wildcats could have a solid rotation at cornerback with sophomore McKenzie Barnes along with freshmen Bobby Wolfe and Christian Roland-Wallace. Arizona also has Maurice Gaines Jr., Malik Hausman and Malcolm Holland listed at cornerback. 
UA cornerbacks coach Demetrice Martin spoke to the media following Tuesday's practice, here's what he had to say.
Analysis of Hawaii
Arizona cornerbacks coach Demetrice Martin has already been scouting Hawaii's offense in preparation for the season opener. "They throw the ball a lot... And they got a lot of jitterbugs at wide receiver." pic.twitter.com/jOBQntmAWv

— The Wildcaster (@TheWildcaster) August 14, 2019
Charismatic Wolfe was humbled
Demetrice Martin says former 4-star 2019 CB @iambobbywolfe1 has "been humbled a few times" and is maturing. "He was a little happy go-lucky thinking everything was gonna be easy. Typical freshman stuff. ... He's gonna be a good one." pic.twitter.com/wdaVyCsFyo

— Justin Spears (@JustinESports) August 14, 2019
Breakout sophomore campaign for Barnes?
Demetrice Martin says sophomore cornerback McKenzie Barnes is "making a big jump" this season. pic.twitter.com/an4R0wCebS

— The Wildcaster (@TheWildcaster) August 14, 2019
Roland-Wallace showing maturity as a freshman
Demetrice Martin says "we don't see (Christian Roland-Wallace) as a true freshman." pic.twitter.com/1RwbXnmF1B

— The Wildcaster (@TheWildcaster) August 14, 2019