Watch: 10 best things J.J. Taylor, Noel Mazzone said after Arizona's preseason practice
Top video clips of Arizona Wildcats running back J.J. Taylor and offensive coordinator Noel Mazzone following Friday evening's practice. 
Wildcats expect another productive season from their star running back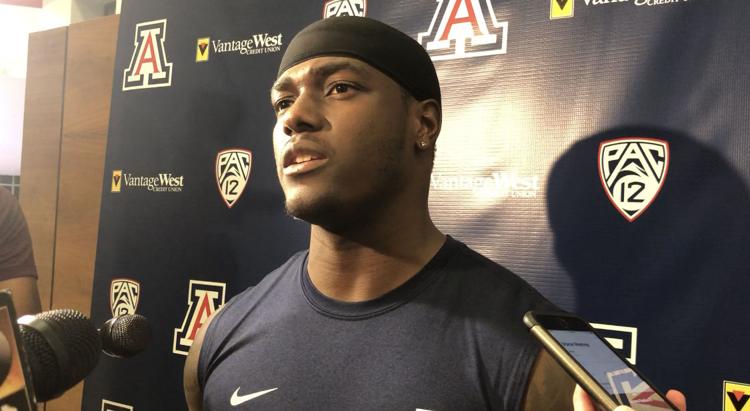 While Arizona finished the 2018 season on a sour note and failed to qualify for a bowl game, UA running back J.J. Taylor had one of the best seasons at his position in program history. 
Taylor produced 1,434 all-purpose yards as a sophomore and only two running backs in Arizona history have done more: Ka'Deem Carey — twice — and Trung Canidate. Taylor's 2018 campaign gave him third-team All-America honors and a spot on the All-Pac-12 First Team. 
Now a redshirt junior, Taylor will return as Arizona's top running back and will share the backfield with Gary Brightwell, Nathan Tilford, Bam Smith and freshman Michael Wiley.
Taylor and Arizona offensive coordinator Noel Mazzone spoke after practice on Friday, here's what they had to say. 
Hard-working Taylor
Arizona offensive coordinator Noel Mazzone has been impressed with running back J.J. Taylor's work ethic. "He puts in the most mileage everyday. He's a hard worker." pic.twitter.com/MU5ilhI3mJ

— The Wildcaster (@TheWildcaster) August 10, 2019
Kevin Doyle returning to form
Noel Mazzone on QB Kevin Doyle getting more reps in practice after missing time with a shoulder injury: "Looked like he had zip on the ball. ... Thankfully we'll get him back." pic.twitter.com/kQGrjdvMXx

— The Wildcaster (@TheWildcaster) August 10, 2019
Communication with offensive line and running back depth
J.J. Taylor on Arizona's scrimmage, offensive line and depth at the RB position: pic.twitter.com/8RYtzbHVdS

— The Wildcaster (@TheWildcaster) August 10, 2019
T-minus two weeks 'til season opener
Arizona RB J.J. Taylor on the state of the Wildcats with two weeks left until the season opener: pic.twitter.com/WU2GrhSRtY

— The Wildcaster (@TheWildcaster) August 10, 2019