Watch: 14 best things Jace Whittaker, Demetrice Martin said after Arizona's spring practice
Best video clips of Arizona cornerback Jace Whittaker and cornerbacks coach Demetrice Martin following UA's spring practice on Friday. 
Whittaker looks to lead young cornerback group after missing most of 2018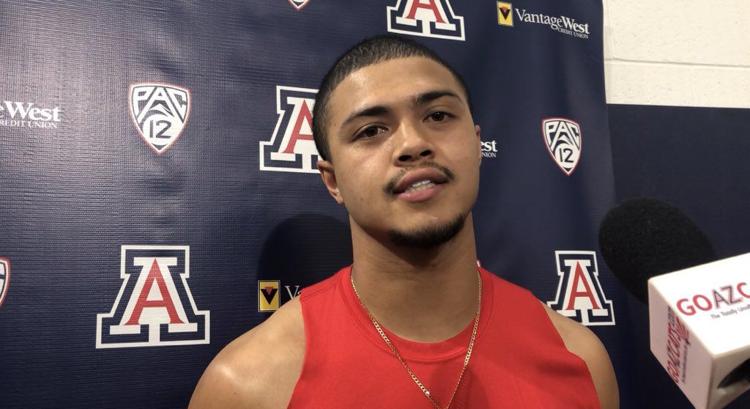 Arizona's cornerback group last season was arguably the slimmest position for the Wildcats, and it wasn't because of weight.
With starter Jace Whittaker missing all but one game in 2018 with an unspecified arm injury, Lorenzo Burns was the lone starter in Demetrice Martin's first season coaching the cornerbacks. Whittaker wasn't the only cornerback injured; Malik Hausman and Malcolm Holland were also out with injuries.
Walk-on Azizi Hearn played in eight games for the Wildcats and safety Troy Young moved over to cornerback for the Territorial Cup game against ASU. Freshman McKenzie Barnes played in five games.
The Wildcats added freshmen Christian Roland-Wallace and Houston native Bobby Wolfe to the group this season. Roland-Wallace has practiced with Arizona this spring while Wolfe will wait until the summer.
Now with more experience, Whittaker and Burns look to lead Arizona's cornerback group. Whittaker and Martin spoke to the media following Friday's spring practice, here's what they had to say. 
Whittaker's 2018 experience
Arizona cornerback Jace Whittaker on the "frustrating" experience missing most of the 2018 season with an injury: pic.twitter.com/gfg0ZUVNC7

— The Wildcaster (@TheWildcaster) April 6, 2019
Whittaker's decision to return to Arizona
Jace Whittaker on why he decided to play another season at Arizona rather than declaring for the NFL Draft or becoming a grad transfer: "When I commit to something, I stick with it. There was a reason why I came here to begin with." pic.twitter.com/bWgT4P1mZU

— The Wildcaster (@TheWildcaster) April 6, 2019
Recruiting players to come to Arizona
Demetrice Martin on using the new indoor facility as a recruiting tool: "I downplay it when I'm away and then let them get here so they can get the shock-and-awe factor." pic.twitter.com/K595WuGXnY

— The Wildcaster (@TheWildcaster) April 6, 2019
Arizona's hidden gem in Christian Roland-Wallace
Arizona cornerbacks Coach Demetrice Martin on freshman @chrisroland_: "He's a different type of cat. ... He's kind of a hidden gem. It was a task to keep him here." pic.twitter.com/xbKWMa4qgk

— Justin Spears (@JustinESports) April 6, 2019
Roland-Wallace turning heads this spring
Jace Whittaker says Christian Roland-Wallace has been the most impressive newcomer DB this spring. "You guys will be seeing him a lot this year." pic.twitter.com/61KdqYrcS2

— The Wildcaster (@TheWildcaster) April 6, 2019
Grading the young players
Jace Whittaker on how the underclassmen cornerbacks played in 2018: "They're still here. I think they survived and I think they succeeded." pic.twitter.com/fWbQAExvLQ

— The Wildcaster (@TheWildcaster) April 6, 2019
Good cop, bad cop
Arizona cornerbacks Coach Demetrice Martin says Jace Whittaker had a coaching role when he was sidelined in 2018. Martin and Whittaker played good cop/bad cop with the cornerbacks. "I was the bad cop of course." pic.twitter.com/U9bqX74rwO

— The Wildcaster (@TheWildcaster) April 6, 2019