Watch: 13 best things Jalen Harris, Gary Brightwell said after Arizona's preseason practice
Top video clips of stud linebacker Jalen Harris and running back Gary Brightwell following Arizona's 
Wildcats at halfway point of preseason training camp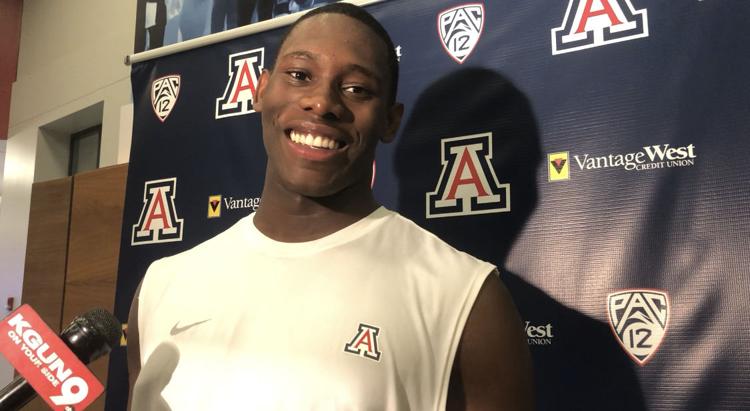 The Arizona Wildcats are officially in the second of its preseason training camp schedule leading up to the Aug. 24 season opener against Hawaii. 
On Friday, edge rusher Jalen Harris and running back Gary Brightwell were the Wildcats to speak to the media following practice. 
Harris, a 6-foot-5, 250-pound stud linebacker from Phoenix, is expected to be among one of Arizona's leaders up front after recording 27 tackles and three sacks last season. Harris packed on 20 extra pounds during the offseason to give Arizona's defensive line and linebackers more bulk. 
For Brightwell, the junior running back from Chester, Pennsylvania became a frequent part of Arizona's running back rotation last season and rushed for 525 yards in 11 games as J.J. Taylor's backup. 
Check out what Brightwell and Harris had to say after practice.
Is Brightwell the fastest player on Arizona?
Arizona RB Gary Brightwell says he can still run a 4.3 40-yard dash and beat anyone on the team in a foot race ... including @KhalilDTN. pic.twitter.com/sdxYhJaJt4

— Justin Spears (@JustinESports) August 3, 2019
Idolizing LT, and NFL dreams
Arizona RB Gary Brightwell says he watched LaDanian Tomlinson growing up. Does Brightwell think about playing in the NFL someday? "If I didn't want to do it professionally, I wouldn't of even came to college." pic.twitter.com/xHosKrVUZb

— The Wildcaster (@TheWildcaster) August 3, 2019
One-two punch of Taylor-Brightwell
Gary Brightwell says the one-two punch with him and J.J. Taylor on the field at the same time is "unstoppable." "You gotta choose one. You can't get both of us." pic.twitter.com/Ax3gaIQXKx

— The Wildcaster (@TheWildcaster) August 3, 2019
Looking back on childhood
Jalen Harris says he appreciates his parents pushing him to have a great work ethic during childhood. "When I was younger, I didn't appreciate it. I hated it and I wanted to play video games all the time." pic.twitter.com/7heb4ugw1C

— The Wildcaster (@TheWildcaster) August 3, 2019