Watch: 10 best things JB Brown, Cedric Peterson said after Arizona's third preseason practice
Best video clips of JB Brown and Cedric Peterson following the UA's third day of fall training camp. 
Wildcats kicked off their first full week of practice Monday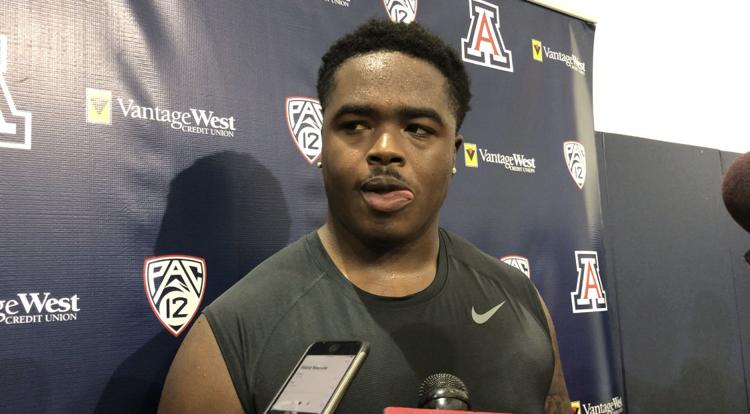 Arizona began the first batch of practices over the weekend, but Monday was the start of a full week for the Wildcats as they inch closer to the Aug. 24 season opener in Hawaii. 
The two Wildcats that were featured in Monday's post-practice availability were redshirt senior wide receiver Cedric Peterson and junior defensive tackle JB Brown. 
Peterson appeared in nine games last season and tabbed 18 catches for 268 yards and four touchdowns. With Arizona losing its three top wide receivers from a year ago in Shawn Poindexter, Shun Brown and Tony Ellison, Peterson is expected to be amongst the leaders in UA's offense this season. 
For Brown, he looks to build on a breakout season where he had 30 tackles and 3.5 sacks as a defensive end. The 6-foot-3, 255-pound Brown was moved to defensive tackle during spring ball and could have a more impactful 2019 season than his sophomore campaign. 
Check out what Peterson and Brown had to say following Arizona's practice Monday evening. 
Studying All-Pro DT Aaron Donald
JB Brown says he's been studying @AaronDonald97's film after transitioning to defensive tackle. "You know what he does. A 20-sack season so I had a lot to watch." pic.twitter.com/jUWYLCV1eZ

— The Wildcaster (@TheWildcaster) July 30, 2019
Initial thoughts on wide receiver group
Arizona wide receiver Cedric Peterson on the WR corps and freshmen standouts through the first few days of camp: pic.twitter.com/6qOwMgxCiH

— The Wildcaster (@TheWildcaster) July 30, 2019
Brian Casteel turning heads at WR
Cedric Peterson on Brian Casteel: "He had a minor setback, but he's in here rocking and rolling, ready to prove people wrong." pic.twitter.com/FYUZ6IVyQw

— The Wildcaster (@TheWildcaster) July 30, 2019
Brown's childhood with three brothers
Arizona DL @Jbrown3_ says growing up with three brothers, including @Titans linebacker @JayonBrown12, helped him as a player. "I'm around football 24/7. Even during my breaks back home, I'm with pro athletes and working out with my brother." Brown also talks Madden 🎮 pic.twitter.com/250IZP6cGg

— Justin Spears (@JustinESports) July 30, 2019
'Big things' ahead for UA's defense, per Brown
What should people expect out of Arizona's defense this season? @Jbrown3_: "Big things. ... I'm really excited about the defense. I think we're gonna wake a lot of people up." pic.twitter.com/hNdHasseDD

— The Wildcaster (@TheWildcaster) July 30, 2019
Peterson's new leadership role
Arizona wide receiver Cedric Peterson on becoming a leader:"I've been prepared for this all my life." pic.twitter.com/TogIvsP7ic

— The Wildcaster (@TheWildcaster) July 30, 2019