Watch: 10 best things Kevin Sumlin, Jace Whittaker said after Arizona's first day of fall practice
The UA wrapped up its first day of preseason training camp on Friday. 
Wildcats look to improve in second season under Sumlin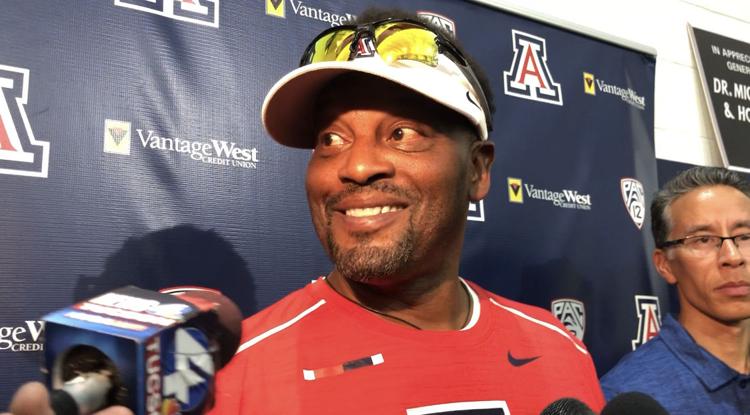 Arizona kicked off preseason fall camp at the Cole and Jeannie Davis Sports Center and the newly named Dick Tomey outdoor practice fields on Friday as the Wildcats gear up for the 2019 season.
Entering his second season at the UA, head coach Kevin Sumlin and the Wildcats look to improve on a 5-7 2018 season, which ended with a loss to rival ASU after the Sun Devils overcame a 19-point deficit.
Fast forward to Friday, returning Wildcats and newcomers — freshmen and junior college transfers — were officially brought together for the first day of practice to move past a disappointing season after a season with the new coaching staff. 
Sumlin and senior cornerback Jace Whittaker spoke to the media following Friday's practice, here's what they had to say. 
Honoring the late Dick Tomey
Kevin Sumlin on Arizona naming the outdoor practice fields after the late Dick Tomey: "It's a legacy that lives on. ... I thought it was a good idea and a great tribute." pic.twitter.com/9SCjkfME0j

— The Wildcaster (@TheWildcaster) July 27, 2019
JuCo linemen have important role for Arizona this season
Kevin Sumlin on the importance of adding JuCo defensive linemen: "You saw us last year. We need them now. There's a reason why they came here." pic.twitter.com/3d6HoH2TMC

— The Wildcaster (@TheWildcaster) July 27, 2019
How did Bobby "Hollywood" Wolfe receive his nickname?
Jace Whittaker on why the players nicknamed @iambobbywolfe1 "Hollywood:" "We took off his shirt and his back said 'Hollywood' so that's his name. We didn't choose it, his tattoo artist did." pic.twitter.com/fqxqQXymEU

— Justin Spears (@JustinESports) July 27, 2019
Son of former NFL star transfers to Arizona
Kevin Sumlin on Arizona adding Richmond transfer Samari Springs, son of Pro Bowl CB Shawn Springs: pic.twitter.com/W0eK7acOHz

— The Wildcaster (@TheWildcaster) July 27, 2019
Practice notebook
Arizona first-year offensive line coach Kyle DeVan works with his unit during the first day of training camp. pic.twitter.com/BS6mnQCpWt

— The Wildcaster (@TheWildcaster) July 27, 2019
Khalil Tate and the other Arizona quarterbacks take the field for the first day of preseason training camp. pic.twitter.com/GMkUD6xUXo

— The Wildcaster (@TheWildcaster) July 27, 2019
Transfers Zach Lord (TE) and Trevon Mason (DL) are huge! Lord: 6-7, 275 poundsMason: 6-4, 285 pounds pic.twitter.com/GlxdGdzFgG

— Justin Spears (@JustinESports) July 27, 2019
-Transfer Samari Springs, who's listed as a safety, worked with the CB group. Freshman Jaxen Turner, who's listed at CB, worked with the safeties.-Players getting looks at PR: J.J. Taylor, Bam Smith, Brian Casteel, Christian Roland-Wallace, Stanley Berryhill, Jaden Mitchell

— Michael Lev (@MichaelJLev) July 27, 2019
A few quick hits from the open practice period as #ArizonaWildcats training camp gets underway:-Jamarye Joiner, who moved from QB to WR this summer, looked natural catching the ball during individual work.-Mykee Irving, who moved from DL to OL in spring, is back with the DL.

— Michael Lev (@MichaelJLev) July 27, 2019
WR Jailen Bailey, who appeared in two games for Arizona last season, is no longer with the program.

— Michael Lev (@MichaelJLev) July 27, 2019
Liquor license outside Arizona's new indoor practice facility. It's expected to serve as a tailgate area before UA home games. pic.twitter.com/ycFzW8itTQ

— Justin Spears (@JustinESports) July 27, 2019