Watch: 13 best things Kevin Sumlin, OL Cody Creason said after Arizona's Saturday practice
Top video clips of UA head coach Kevin Sumlin and offensive lineman Cody Creason following Saturday morning's practice. 
Wildcats wrap up first full week of preseason training camp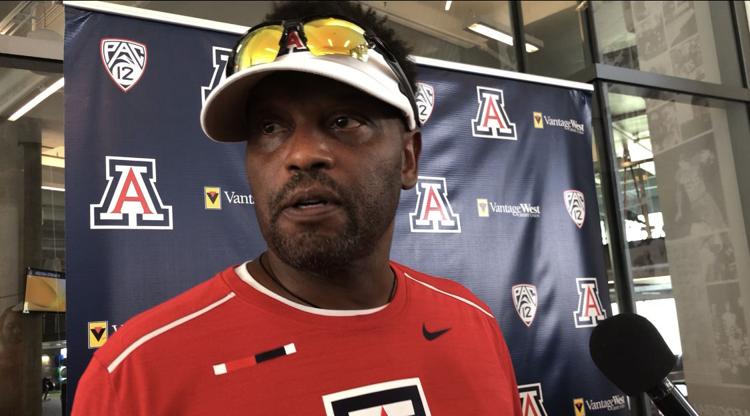 The eighth practice of Arizona's preseason training camp was the warmest day of preseason training camp. A warm 96-degree day at Arizona Stadium provided a closer look at who's competing for snaps leading up to the season opener in Hawaii. 
During the team portion of practice, Arizona's first offensive unit consisted of quarterback Khalil Tate, running back J.J. Taylor, wide receivers Jaden Mitchell, Tre Adams and Stanley Berryhill, left tackle Donovan Laie, left guard Josh Donovan, center Josh McCauley, right guard Cody Creason and right tackle Edgar Burrola. 
Here's the UA's first defensive unit: edge rusher Jalen Harris, nose tackle Finton Connolly, defensive tackle JB Brown, stud linebacker Kylan Wilborn, linebacker Colin School, will linebacker Tony Fields, cornerback Lorenzo Burns, bandit safety Christian Young, spur safety Tristan Cooper, free safety Scottie Young Jr. and cornerback Jace Whittaker. 
Arizona head coach Kevin Sumlin and Creason spoke to the media following Saturday's practice, here's what they had to say. 
Welcome to Tucson
Cody Creason said Saturday morning's practice "was a good learning experience" for the newcomers to get adjusted to the Tucson weather. pic.twitter.com/hAfJCMGF5B

— The Wildcaster (@TheWildcaster) August 3, 2019
Jamarye Joiner standing out at wide receiver
Kevin Sumlin says Jamarye Joiner is "probably a top two or three athlete on this team." pic.twitter.com/Y2nz0iChz5

— Justin Spears (@JustinESports) August 3, 2019
'Young, but talented' wide receiver group
Kevin Sumlin on Arizona's wide receiver group: "They're young, but they're all talented. ... They're all gonna help us." pic.twitter.com/U7BpEP0O9y

— Justin Spears (@JustinESports) August 3, 2019
Big goals for Arizona's offensive line in 2019
Arizona OL Cody Creason says the offensive linemen's goal is to "lead the Pac-12 in rushing for the fourth straight year." pic.twitter.com/WVNnr8nikM

— The Wildcaster (@TheWildcaster) August 3, 2019
Stud linebacker Kylan Wilborn's strengths
Kevin Sumlin on stud linebacker Kylan Wilborn: "He can get off the ball, he's got great hands and can rush the passer." pic.twitter.com/ZW5QjLaYC5

— The Wildcaster (@TheWildcaster) August 3, 2019
Jordan Morgan's progress through training camp
Arizona offensive lineman Cody Creason on freshman Jordan Morgan: "I was impressed with his athletic ability and what he can do." pic.twitter.com/XuBn8eue6O

— The Wildcaster (@TheWildcaster) August 3, 2019
Drex Dixon working on consistency, but can help Cats at wide receiver
Kevin Sumlin on wide receiver and Tucson native Drew Dixon: pic.twitter.com/VHEYkKNxQY

— The Wildcaster (@TheWildcaster) August 3, 2019
Scottie Young Jr. maturing
Kevin Sumlin on Arizona safety Scottie Young Jr.: "He's really upped his game. ... He's a much different player — much different guy than when I first got here." pic.twitter.com/KjJdkOvJlU

— The Wildcaster (@TheWildcaster) August 3, 2019
JB Brown's strength makes up for size
Cody Creason on Arizona DT JB Brown: "He's a little small, but he doesn't lack strength." pic.twitter.com/UHPILCOYLy

— The Wildcaster (@TheWildcaster) August 3, 2019