Watch: 10 best things Kevin Sumlin said in his pre-NAU news conference
Top video clips of Kevin Sumlin addressing the state of UA football on Monday. 
Arizona Wildcats' bye week 'was about us than opponents'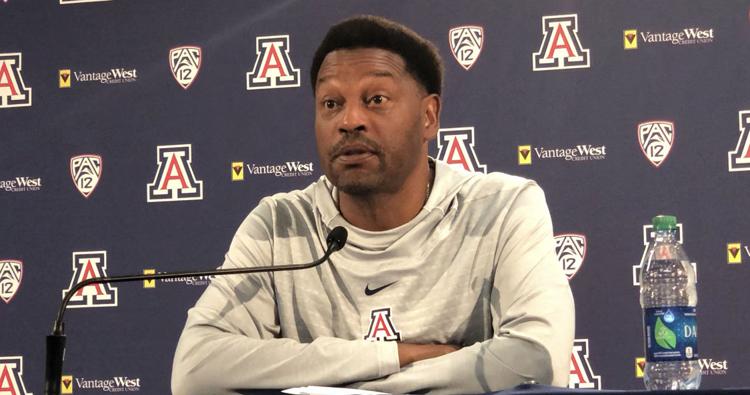 Following Arizona's disappointing season-opening loss to Hawaii, there wasn't much chatter on the return flight to Tucson. 
The Wildcats' defense allowed 595 yards to Hawaii despite being plus-four in the turnover battle including four interceptions. 
"There were things we were awful at," said head coach Kevin Sumlin during his weekly press conference Monday. 
Sumlin also mentioned Arizona's personnel utilizing the bye week to reflect on how they can improve heading into the home opener against NAU on Saturday. 
"It gives you an opportunity to look inside and work on yourself," he said. "Last week was about us more than opponents." 
Sumlin also addressed Arizona's defense, a walk-on receiving a scholarship and freshmen standouts among other things at this press conference, here's what he said. 
Assessment of Arizona's defense
Kevin Sumlin on Arizona's defense almost giving up 600 yards to Hawaii: "We have to do a better job at pressuring the quarterback. We just have to." pic.twitter.com/8ghbkPj7T5

— Justin Spears (@JustinESports) September 2, 2019
Sitting next to Scottie Young Jr. on the flight home
Kevin Sumlin says he sat next to Arizona safety Scottie Young Jr. on the flight home following the loss to Hawaii. "He was not happy about his performance. He was embarrassed." pic.twitter.com/2tIGuoiKQe

— The Wildcaster (@TheWildcaster) September 2, 2019
Thomas Reid III earning a scholarship
Kevin Sumlin on walk-on WR and special teams standout Thomas Reid III (@lejre1) earning a scholarship: "He was far and away the most productive player on special teams. ... His value and worth to this team is big." pic.twitter.com/H3BnFMvTKH

— The Wildcaster (@TheWildcaster) September 2, 2019
Freshmen cornerbacks could alter Jace Whittaker's alignment
Kevin Sumlin says the rise of freshmen Christian Roland-Wallace and Bobby Wolfe could allow Jace Whittaker to move around and "cover inside receivers." pic.twitter.com/zG68C4SWQi

— The Wildcaster (@TheWildcaster) September 2, 2019
No injury update on Lorenzo Burns, who exited the loss to Hawaii
No update on Arizona CB Lorenzo Burns who left the Hawaii game with an injury. pic.twitter.com/EyUn9ktkWV

— The Wildcaster (@TheWildcaster) September 2, 2019