Watch: 13 best things Kevin Sumlin, TE Bryce Wolma said after Arizona spring practice
Best clips from Arizona's post-spring practice availability on Saturday, March 23, 2019. 
Wildcats wrap up first week of spring practice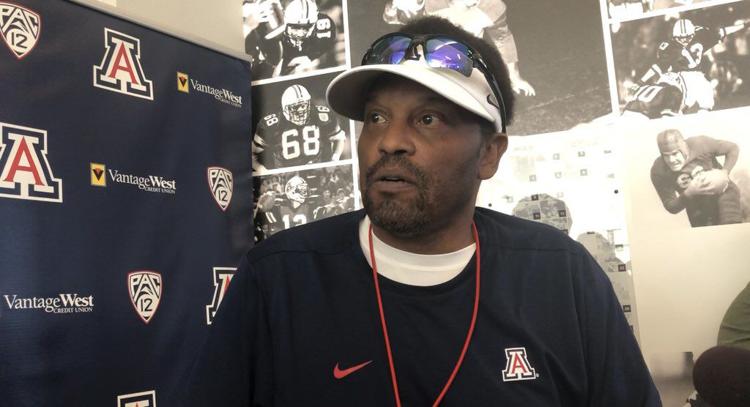 Arizona concluded its first week of spring practice Saturday afternoon, which was also the second full day of pads for the Wildcats.
Last season, Bryce Wolma's production dropped off compared to his first year at Arizona. As a freshman, the 6-foot-3 tight end recorded 28 receptions for 241 yards and two touchdowns. In 2018, Wolma finished with just five catches for 69 yards. He anticipates being utilized more in the offense during his third season at the UA. 
After practice, Wolma and head coach Kevin Sumlin spoke to the media. Here's what they had to say. 
Nathan Tilford's role at running back
Kevin Sumlin on Arizona's running backs and how Nathan Tilford can get into the offense: pic.twitter.com/EEORgzg7OZ

— The Wildcaster (@TheWildcaster) March 23, 2019
Wolma's involvement in the offense
Arizona tight end Bryce Wolma says he plans on being more involved in the passing game this season. pic.twitter.com/rVNYF8Oilp

— The Wildcaster (@TheWildcaster) March 23, 2019
Freshmen showing maturity
Kevin Sumlin says the spring signees have handled the transition with practice and a full class schedule very well. pic.twitter.com/1npTWYY6jE

— The Wildcaster (@TheWildcaster) March 23, 2019
Honoring Jaden Mitchell's scholarship despite injury
Arizona wide receiver Jaden Mitchell tore his ACL and held off enrolling at UA until 2019. Kevin Sumlin and staff still honored his scholarship. "He committed to the university and because of that, we're gonna honor it all the time. ... It's a two-way street." pic.twitter.com/OcDpLaJYkL

— The Wildcaster (@TheWildcaster) March 23, 2019
Jaden Mitchell standing out among newcomers
Bryce Wolma says receiver Jaden Mitchell has been the standout newcomer during spring ball. "I'm really impressed with his natural ability and demeanor." pic.twitter.com/qPA7d0fRrC

— The Wildcaster (@TheWildcaster) March 23, 2019
JuCo defensive tackle Myles Tapusoa injured
Kevin Sumlin says JuCo transfer and defensive tackle Myles Tapusoa has been out the last few days with an injury."Great thing about those junior college guys is that they're big. The bad thing about them is that they're BIG." pic.twitter.com/zlcdwZDSUU

— Justin Spears (@JustinESports) March 23, 2019
Khalil Tate looks healthy and comfortable
Kevin Sumlin says quarterback Khalil Tate looks more comfortable this spring. Sumlin also talks about the younger QBs of the group. pic.twitter.com/XrOe1D5NMd

— The Wildcaster (@TheWildcaster) March 23, 2019
Younger QBs are gaining experience, but need more of it
Kevin Sumlin on the quarterbacks other than Khalil Tate: "Outside of Rhett (Rodriguez), nobody has any experience." pic.twitter.com/3qKqv7Tdyq

— The Wildcaster (@TheWildcaster) March 23, 2019
Jalen Harris provides length and athleticism to Arizona's defensive line
Bryce Wolma says defensive end Jalen Harris has been the most impressive defensive player for Arizona."His freak athleticism at that pass rush spot is gonna be really important for us this season." pic.twitter.com/OtJqgseiAy

— The Wildcaster (@TheWildcaster) March 23, 2019