Watch: 14 best things Khalil Tate, Kylan Wilborn said after Arizona Wildcats' practice
The Heisman hopeful and Arizona's stud linebacker spoke with media following Monday's practice. 
By Justin Spears / Arizona Daily Star
Arizona's No. 14s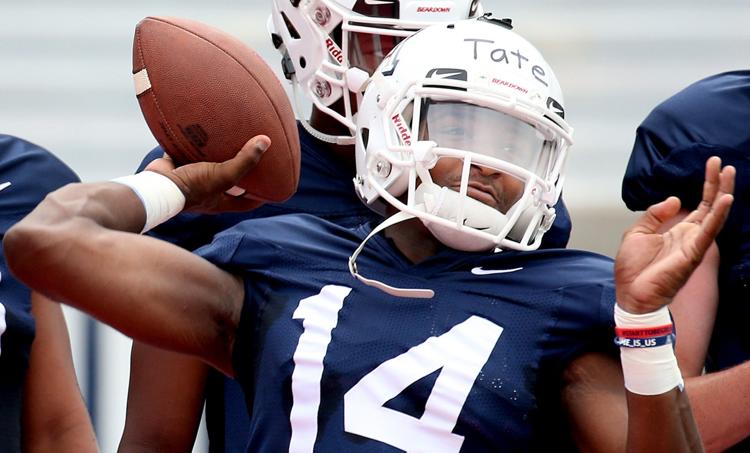 For the first time since the spring practice period, Arizona Wildcats quarterback Khalil Tate spoke to the media following Monday's practice.
Tate was featured on Sports Illustrated's regional cover last week and returns this season as one of the top quarterbacks in the country. Tate was installed into Arizona's offense during the Colorado game on the road set an FBS record by a quarterback with 327 rushing yards. 
Following Tate's breakout performance, he managed to win Pac-12 Player of the Week four consecutive times in a row. In recent years, Tate was also involved in a quarterback battle during preseason camp. Now as the starter and leader, Tate's mindset has changed with another year of experience. 
Same goes with sophomore linebacker Kylan Wilborn. In 2017, Wilborn started at stud linebacker as a freshman and was a major contributor to Arizona's pass rush. 
Both Tate and Wilborn spoke to the media following Monday's practice, here's what they had to say:
Khalil Tate is a fan of Eegees
Khalil Tate talks about @eegees now being sold during Arizona home games. Tate's favorite flavor? "The flavor of the month, whichever one that is." pic.twitter.com/CwlDDkAF8e

— The Wildcaster (@TheWildcaster) August 14, 2018
Professional Khalil
Khalil Tate says he's more professional and serious heading into his third season at Arizona. "Just trying to make sure that the team knows that I'm not playing any games." pic.twitter.com/izSYRQ8Fkq

— The Wildcaster (@TheWildcaster) August 14, 2018
Heisman
Khalil Tate on being mentioned as a Heisman candidate: "It's big. It's something that a lot kids growing up dream to do." pic.twitter.com/KhqrhPGIK4

— The Wildcaster (@TheWildcaster) August 14, 2018
Taking up sign language
Khalil Tate on why he's taking sign language: "It's something that people should take more consideration into." pic.twitter.com/XyQT9m8QA1

— The Wildcaster (@TheWildcaster) August 14, 2018
Linebacker group
Arizona LB Kylan Wilborn on preseason camp, and playing alongside Tony Fields and Colin Schooler: "I feel bad for other teams that gotta go against those guys." pic.twitter.com/LtA43lJiFJ

— The Wildcaster (@TheWildcaster) August 14, 2018
Loss to Purdue
Arizona's loss to Purdue in the Foster Farms Bowl didn't sit well with Kylan Wilborn."It pushes me to work harder." pic.twitter.com/kbXpAhccHo

— The Wildcaster (@TheWildcaster) August 14, 2018
Tate on backup QBs and defensive growth
Khalil Tate on backup quarterbacks, notable defenders, and Arizona's "in-tuned linebackers." pic.twitter.com/LLOEBn3oZ2

— The Wildcaster (@TheWildcaster) August 14, 2018