Watch: 12 best things LB Tony Fields, TE Bryce Wolma said after Arizona's preseason practice
Top video clips of UA linebacker Tony Fields and tight end Bryce Wolma following Wednesday's practice. 
Wildcats continue preseason training camp this week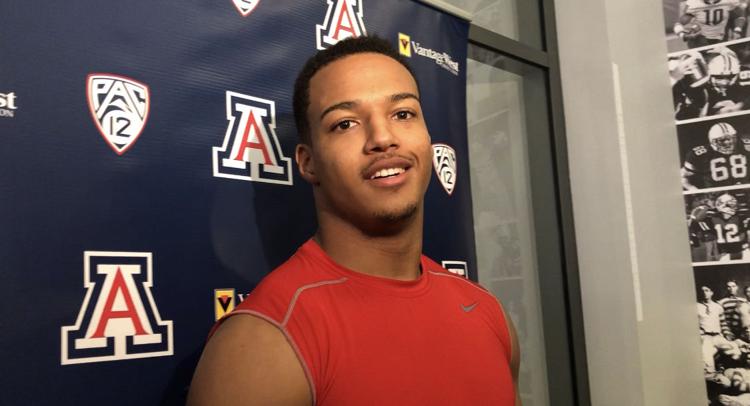 Another day, another Arizona preseason practice in the books. 
On Wednesday, the Wildcats practiced at Arizona Stadium instead of their new indoor practice facility for the first time during training camp. 
The two players that spoke after practice were junior linebacker Tony Fields and tight end Bryce Wolma. 
Fields, a 2017 Freshman All-American, was placed on the Butkus Award watch list in July after finishing second on the team with 89 tackles. Fields started all 12 games last season for the Wildcats in 2018. 
Wolma on the other hand looks to be more involved in Arizona's offense this season after only recording five catches for 69 yards a year ago. Wolma was utilized as an additional blocker for the Wildcats' rushing attack, which led the Pac-12 with an average 0f 202 yards per game.
Fields and Wolma are among the UA's leaders this season, here's what they had to say following Wednesday's practice. 
Khalil Tate, the leader
Bryce Wolma says quarterback Khalil Tate is "holding guys accountable" and being more of a vocal leader. pic.twitter.com/fruYJdC0fo

— The Wildcaster (@TheWildcaster) August 1, 2019
Defensive unit, coaching staff all on same page
Tony Fields says Arizona's defense "is all one heartbeat" in the second season under Kevin Sumlin. Fields also mentions safety Scottie Young Jr. emerging as a leader on defense. pic.twitter.com/6wfYHXGx3T

— The Wildcaster (@TheWildcaster) August 1, 2019
Standout receivers
Bryce Wolma says wide receivers Brian Casteel, Cedric Peterson and Jaden Mitchell have impressed him in training camp. "That group is definitely gonna have to lead us and win us some games by making plays." pic.twitter.com/8cB4Meyfok

— The Wildcaster (@TheWildcaster) August 1, 2019
Grant Gunnell turning heads at practice
Tony Fields says QB Grant Gunnell has been the most impressive freshman on offense. "He came in mature for a young guy. ... You don't see a lot of mental mistakes from him." pic.twitter.com/4k1aQxza7o

— The Wildcaster (@TheWildcaster) August 1, 2019
Eddie Siaumau playing off the edge
Tony Fields says freshman Eddie Siamau is playing STUD linebacker. Siamau was a safety in high school and recruited as a linebacker. Now it looks like he'll play off the edge. pic.twitter.com/wirRuT46N5

— Justin Spears (@JustinESports) August 1, 2019
Blocking for top rush attack in the Pac-12
Bryce Wolma on Arizona's rushing offense, and which UA defenders he matches up with in practice: pic.twitter.com/LYSWrx07ec

— The Wildcaster (@TheWildcaster) August 1, 2019
One word to describe Arizona's defensive line
What is one word that describes Arizona's defensive line? Tony Fields: "Physical. Fast. I got two for you." pic.twitter.com/pURkKlaw2I

— The Wildcaster (@TheWildcaster) August 1, 2019