Watch: 11 best things OC Noel Mazzone, C Josh McCauley said after Arizona's spring practice
Best video clips of offensive coordinator Noel Mazzone and walk-on center Josh McCauley following Arizona's spring practice on Monday. 
UA's offense faces challenge in replacing key starters for 2019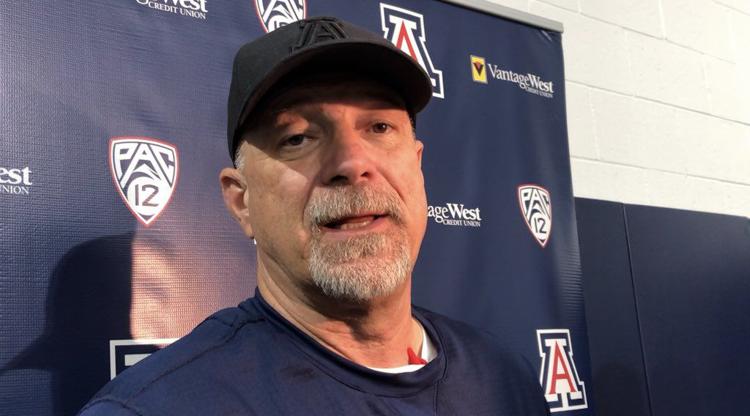 Arizona is heading into its second year under offensive coordinator Noel Mazzone, and the Wildcats are looking to replace an abundance of key starters. 
UA lost wide receivers Shawn Poindexter, Shun Brown and Tony Ellison, and offensive tackle Layth Friekh, to graduation.
The returners: quarterback Khalil Tate, running back J.J. Taylor, tight end Bryce Wolma, center Josh McCauley, guard Cody Creason and tackle Donovan Laie, who played left tackle when Friekh was out.
Last season, Tate threw for 2,530 yards, which was nearly 1,000 more than his breakout sophomore year; but he only rushed for 224 yards as a junior.
The Wildcats welcome two freshmen from Houston, quarterback Grant Gunnell and receiver Boobie Curry. Both were top recruits in Arizona's 2019 class. Gunnell finished his high school career as Texas' all-time state high school football passing leader, and will wear No. 17 for the UA this season. 
Mazzone and McCauley spoke to the media following Arizona's spring practice on Monday, here's what they had to say.
Why wasn't Khalil Tate a runner in 2018?
Offensive coordinator Noel Mazzone says Khalil Tate's lingering ankle injury and learning to be a drop-back passer kept him from running the ball more in 2018. pic.twitter.com/w0yCz0FFtu

— The Wildcaster (@TheWildcaster) March 26, 2019
Khalil Tate not penciled in as starter
Is Khalil Tate considered a "returning starter" for Arizona? Offensive coordinator Noel Mazzone: "Not this spring. We're gonna give everybody equal shots. ... For me just to hand it to you and say 'Yeah, you're already the guy don't worry about it,' I don't think that's right." pic.twitter.com/gRSqe0HfUJ

— Justin Spears (@JustinESports) March 26, 2019
Mazzone and Tate went through 'growing pains' in 2018
Noel Mazzone says him and Khalil Tate went through "growing pains" last season, but are more comfortable now heading into the second season working together. pic.twitter.com/XujDZRIfiL

— The Wildcaster (@TheWildcaster) March 26, 2019
Grant Gunnell gains experience by enrolling in the spring
Noel Mazzone on freshman QB Grant Gunnell: "We're excited about where his progress is right now." pic.twitter.com/3A6M6x82GG

— The Wildcaster (@TheWildcaster) March 26, 2019
No more Heisman buzz for Tate
Noel Mazzone on not having the hype and added pressure around Khalil Tate as a preseason Heisman contender like last year: "If he goes out and is Khalil instead of someone he's not, I think he's fine." pic.twitter.com/nLk8BeFntV

— The Wildcaster (@TheWildcaster) March 26, 2019
Offensive line already a tight-knit group
Center Josh McCaulley says the offensive line unit "came together as a group quick" through the first week of spring practice. pic.twitter.com/Zg1cDIDipo

— The Wildcaster (@TheWildcaster) March 26, 2019