Watch: 10 best things Scottie Young Jr., Marcel Yates said after Arizona's preseason practice
Top video clips of Arizona Wildcats safety Scottie Young Jr. and defensive coordinator Marcel Yates following the 10th practice of preseason training camp. 
UA safety emerging as leader in the Wildcats' secondary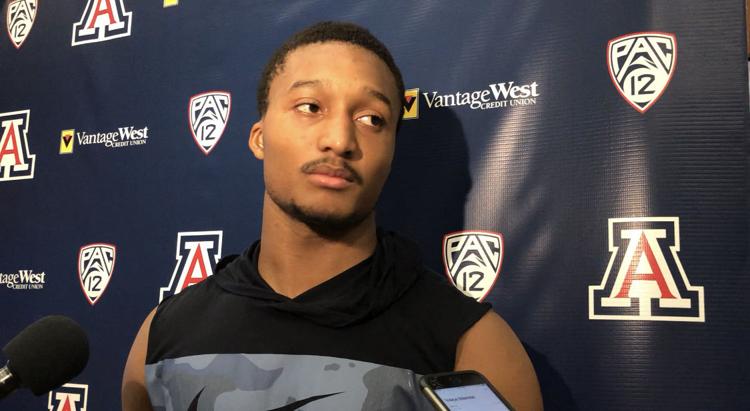 At this time last year, Scottie Young Jr.'s future at Arizona was murky. The junior safety, who started for the Wildcats as a true freshman, was in the middle of a suspension that kept him out from team-related activities between spring ball and most of the 2018 preseason training camp. 
Almost a year ago to the date, Young was reinstated to the UA and would serve a one-game suspension in the season opener against BYU. After returning, Young contributed 38 tackles and a career-high three interceptions.
Recently, Young participated in his first spring practice period and first preseason training camp since 2017. Arizona head coach Kevin Sumlin and multiple Wildcats have noted Young as an emerging leader in the UA's defense. 
Young had the chance to speak with the media along with defensive coordinator Marcel Yates after Arizona's practice on Tuesday, here's what they had to say. 
Going through 'trials and tribulations'
Last year, Arizona safety Scottie Young Jr. was suspended throughout spring ball and preseason training camp. Back as an emerging leader on the Wildcats' defense, here's what @_scottieoo learned from his time away from the team: pic.twitter.com/sz7kkOLh11

— The Wildcaster (@TheWildcaster) August 7, 2019
Switching jersey numbers from 19 to 6
Arizona safety Scottie Young Jr. (@_scottieoo) says switching his jersey number from 19 to 6 is a "reincarnation of myself." Young also says he wanted to wear No. 6 in honor of fellow Helix High School alum and UA legend @chuckcecil26. pic.twitter.com/AycdVMxyIN

— Justin Spears (@JustinESports) August 7, 2019
Stopping the run is No. 1 priority
Stopping the run is Arizona's top priority on defense for the 2019 season, per Marcel Yates. pic.twitter.com/1KOPw05s5J

— The Wildcaster (@TheWildcaster) August 7, 2019