Watch: 10 best things WR Drew Dixon, S Tristan Cooper said after Arizona's preseason practice
Top video clips of Arizona Wildcats wide receiver Drew Dixon and safety Tristan Cooper following another preseason practice on Monday. 
Wildcats begin second full week of training camp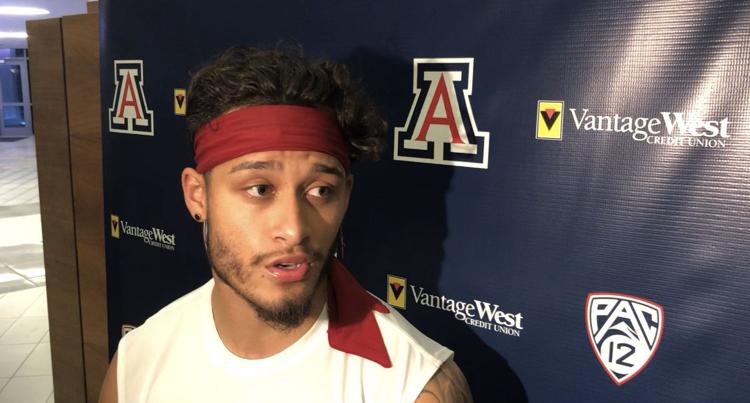 The Cole and Jeannie Davis Indoor Sports Center was put to good use on Monday when the Arizona Wildcats kicked off another week of preseason training camp. With a thunderstorm hovering over the UA campus, the Wildcats kept their practice inside. It is monsoon season, after all. 
The two Cats made available to speak to the media were wide receiver Drew Dixon and safety. 
Dixon, a Tucson native and Sabino High School product, is listed at 6-foot-3, 205 pounds and is entering his redshirt sophomore season. Dixon appeared in seven games for the UA in 2018 as a special teams player, but is expected to be heavily involved in Arizona's wide receiver rotation along with several others. 
Cooper, a 6-2 El Paso native, is entering his senior year at Arizona and will play the spur safety in Marcel Yates' defense. 
Check out what both Wildcats had to say after a rainy Monday practice. 
Cooper reacts to the mass shooting back home
Arizona safety and El Paso native Tristan Cooper (@__KingCoop__) responds to the mass shooting that took place in his hometown. "You would never think something like that would happen in your city, but when it does, it's eye-opening." pic.twitter.com/KYvTlhQ7mh

— Justin Spears (@JustinESports) August 6, 2019
'Why would you do something like that?'
Cooper (@__KingCoop__) uses "anger" and "disgust" describing his emotions when he found out about the shooting in El Paso. He even contemplated returning home when he heard the news following Arizona's scrimmage on Saturday. pic.twitter.com/uPsPsDbaz4

— Justin Spears (@JustinESports) August 6, 2019
Tucson native improving
Arizona wide receiver and Tucson native Drew Dixon on his biggest improvements during the offseason and what he can bring to the Wildcats in 2019: pic.twitter.com/qmEH0RzasU

— The Wildcaster (@TheWildcaster) August 6, 2019
Jaxen Turner a reflection of Cooper?
Tristan Cooper says freshman DB Jaxen Turner reminds him of himself and former UA safety Isaiah Hayes. pic.twitter.com/7uE06i4wbW

— The Wildcaster (@TheWildcaster) August 6, 2019
Being the old guy
Even though Drew Dixon is only a redshirt sophomore, he said "I'm getting old" with the young talent Arizona has at wide receiver.Dixon added @throw_it_up19 as a veteran mentor when he first got to the UA. pic.twitter.com/DjbBYY8VQy

— The Wildcaster (@TheWildcaster) August 6, 2019