Watch for speedy receivers, O-line play and something funky when Arizona, NAU meet Saturday
Star reporter Michael Lev breaks down five storylines for the UA's home opener.
Arizona Wildcats seek performance that matches expectations in home opener vs. NAU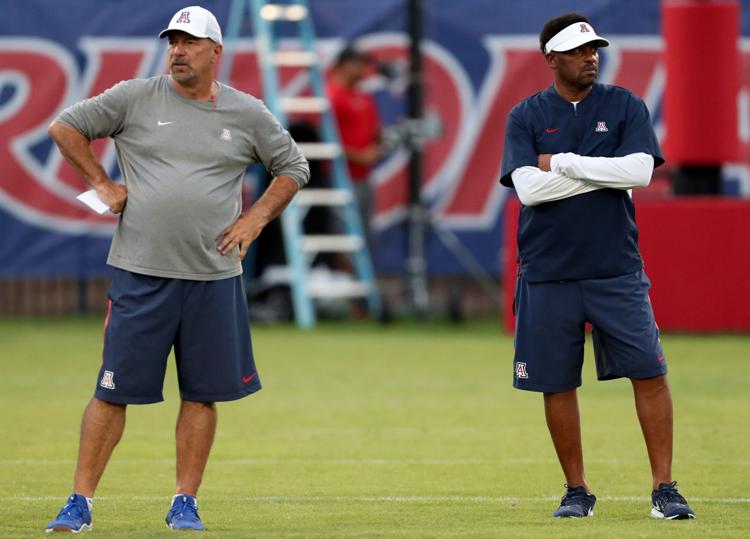 Resilient.
That was the "word of the week" in the offensive line room during the Arizona Wildcats' recent bye. It was a logical choice: They had lost their opener at Hawaii in heartbreaking, frustrating fashion. With (at least) 11 games remaining, they had to rebound.
So what was the word this week?
"There's no word," redshirt sophomore tackle Edgar Burrola said. "There's been enough talking. We just have to do what we have to do."
Two games into UA coach Kevin Sumlin's second season, the Wildcats already have reached a critical juncture: It's time to put up or shut up.
Arizona is expected to dispatch visiting NAU with relative ease Saturday night. The Lumberjacks are an FCS program, and the past four meetings between the schools haven't been close.
This game is more about the Wildcats living up to the expectations they have for themselves after falling well short in Honolulu.
"I know what we're capable of," redshirt sophomore receiver Stanley Berryhill III said. "So as long as we do what we're coached to do and we execute, we should be fine."
Sophomore tackle Donovan Laie described the opportunity as a potential "redemption week." But the Cats had to get there first.
Step one was dealing with the disappointment of their 45-38 loss to the underdog Rainbow Warriors. It started on the flight home, which Berryhill summed up in one short word.
"Long," he said. "What do you expect? It's seven hours. We just lost the game."
Then came the first of three in-season byes. Arizona did not spend it idly.
Coaches and players reflected on what went wrong. They sought answers to issues that unexpectedly lingered from last season. With no game to plan for, they could attack those tasks intensively but deliberately.
"It wasn't a bye week," Berryhill said. "We rested, but we also practiced hard."
Redshirt sophomore defensive end Jalen Harris said the team has been practicing "harder." Laie said the key to having performance match expectations is "going into practice every day just having a mindset to get better."
The Wildcats thought they'd be better in Year 2 under Sumlin. They still have time to prove it.
"We can still do everything we wanted to do," Harris said. "It was one game. We'll bounce back. We just need to come in to NAU and show that we're better, we're prepared.
"I feel like we all know what we need to get done. So we're gonna do that."
Speedster Tayvian Cunningham proves to be quick study for Wildcats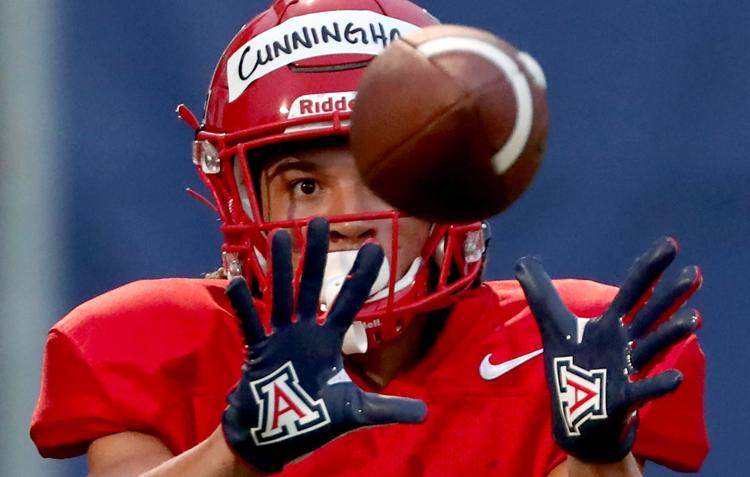 Arizona received a surprisingly large contribution in the season opener from one of its smallest players.
Receiver Tayvian Cunningham, who's listed at 5 feet 7 inches and 181 pounds, tied for team-high honors with four receptions for 65 yards against Hawaii. Not a bad Division I debut for a player who essentially had been an afterthought, added in late spring to fill a hole on the roster.
"It's interesting," Wildcats coach Kevin Sumlin said. "He's the last guy we signed, just about."
The UA was seeking an experienced, speedy slot receiver after parting ways with Devaughn Cooper and Jailen Bailey. The coaching staff put the word out, narrowed down the pool of candidates and zeroed in on Cunningham, who also had excelled as a track sprinter at Sacramento City College.
Linebackers coach John Rushing, whose recruiting territories include Northern California, visited Cunningham. The relationship grew from there.
"We kind of talked," Cunningham said. "Then we started talking more."
Cunningham had been waiting for a big-time football opportunity to come along. He had several other options, "but nothing really came that was all-in on me like how Arizona was," Cunningham said. Some schools only wanted him for track, where he competed in the 100- and 200-meter events.
Cunningham enrolled in June. He didn't have the benefit of participating in spring practice or having long-term relationships with coaches to get a jump on learning the playbook. So Cunningham took it upon himself.
"Not knowing the plays makes you want to know," he said. "So I started doing things different. I started studying at home, taking like little notes, little tests, so I would know what to do."
Coming off the bench against the Rainbow Warriors, Cunningham fit right in. Half of his receptions came on Arizona's final, desperate drive, when the Wildcats had to advance downfield.
"He's continuing to get better, continuing to figure it out," Sumlin said. "He hasn't played a lot of football. But I think you can see his explosiveness. I like where he is, and I like where he's headed."
Cunningham plans to join the UA track team in the offseason. He ran the 100 in 10.47 seconds and the 200 in 20.82 while at SCC.
Cunningham claims to have never run or been timed in the 40-yard dash. Any guess on a time?
"We'd have to see," he said. "It'd be something fast, though."
JC additions served as 'wakeup call' for UA tackle Edgar Burrola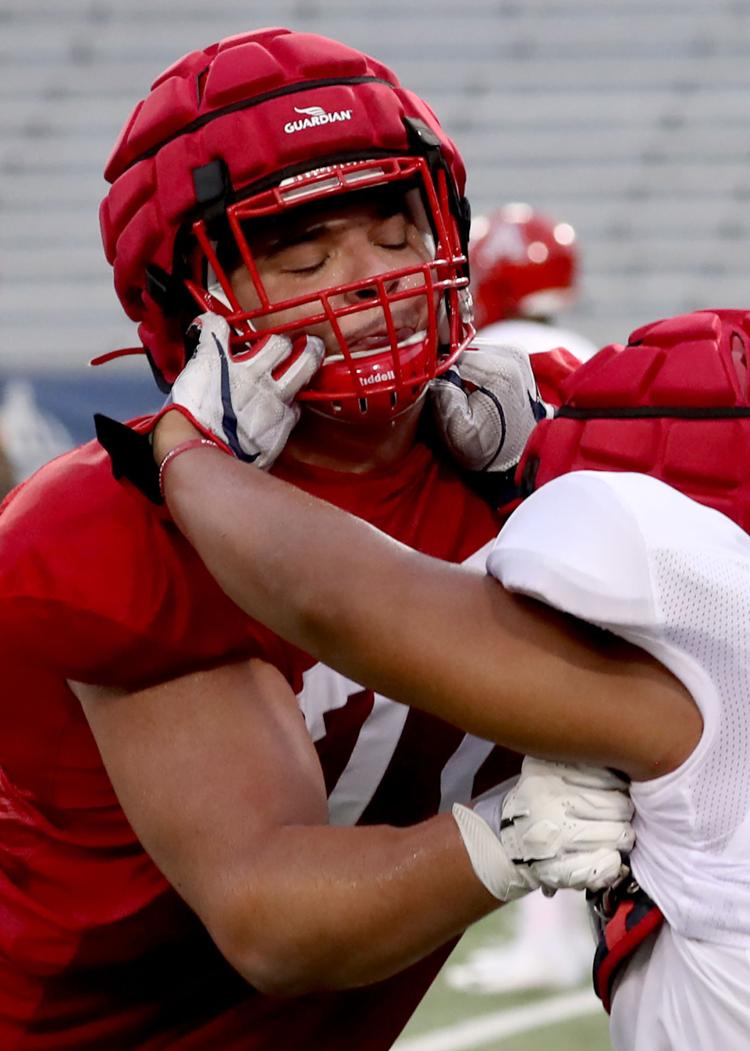 Arizona signed two junior-college offensive linemen in its 2019 recruiting class. They were brought in with the expectation that they'd play immediately.
Incumbent offensive lineman Edgar Burrola noticed.
"It was a wakeup call," the redshirt sophomore said. "It was like a make-it-or-break-it year for me."
Burrola had played only sparingly in his first two seasons, appearing in six games as a reserve last year. But the Wildcats had an opening at right tackle and a new offensive line coach in Kyle DeVan who'd give every contender a fair shake.
Burrola dueled with one of the JC transfers, Paiton Fears, for that starting job during spring practice. The competition continued into training camp. The two split snaps in the season opener at Hawaii, but Burrola got the start – the first of his career.
"Those two guys are battling it out," UA coach Kevin Sumlin said. "We'll probably continue down that path because they both have value."
Burrola wanted a bigger role in 2018, but he knew he wasn't ready. He entered this past offseason with a different mentality that drove him on and off the field.
"He's more focused every day," said senior Cody Creason, who plays next to Burrola at right guard. "He's always had the ability."
Burrola began to take everything more seriously, including his diet. He reduced his consumption of dairy and changed his body. He added 18 pounds of muscle to his 6-fook-6inch frame, weighing in this week at 303 pounds.
"It was just always on my mind that I have to do better, I have to do better," Burrola said. "Once the time came, it just had to happen."
Burrola also earned a 3.0 grade-point average during the spring semester, a personal best. His GPA had been 2.1.
Burrola worked with DeVan to shore up his technique. Burrola and Fears had trouble at times vs. Hawaii senior defensive end Kaimana Padello. But they generally helped keep the pocket clean for quarterback Khalil Tate.
Sumlin said Arizona had 74 "gradable" plays against Hawaii and that Burrola and Fears each played 37 snaps. Burrola doesn't mind sharing time with Fears. His presence inspires Burrola to stay sharp.
"Last year I wasn't really at the level I wanted to be," Burrola said. "So when Paiton came in, that really elevated my game. It's just nice to have him on the team."
Something funky invariably happens when Arizona hosts NAU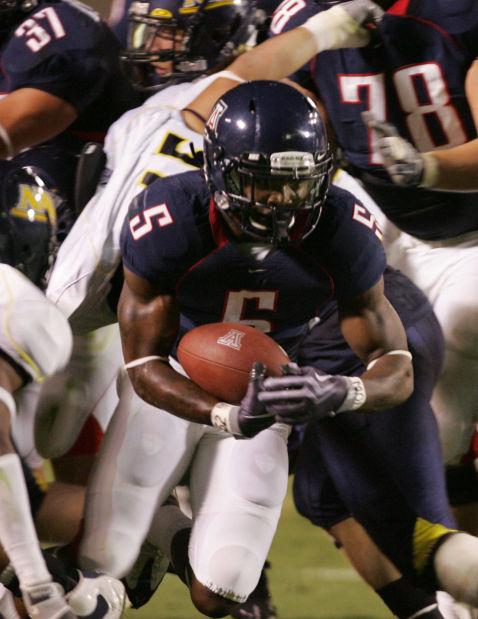 Arizona has faced NAU in football 15 times, and most of the games haven't been close.
The Lumberjacks won the second meeting 7-6 in 1932. Since then, the Wildcats have won 13 straight by an average margin of 33 points.
Invariably, though, something noteworthy or interesting happens. Here's a quick look back at notable achievements from the past five meetings:
2017: Arizona 62, NAU 24
Notable: The Wildcats rushed for 506 yards, 5 shy of the school record.
2015: Arizona 77, NAU 13
Notable: The Wildcats set school records for points, rushing yards (499) and total yards (792).
2013: Arizona 35, NAU 0
Notable: The Wildcats notched their second shutout in as many seasons. They haven't had one since.
2011: Arizona 41, NAU 10
Notable: QB Nick Foles passed for 417 yards – one of five times he eclipsed 400 in his UA career – and five touchdowns.
2009: Arizona 34, NAU 17
Notable: Nic Grigsby rushed for a career-high 207 yards, including the second-longest run in school history – a 94-yard effort in the third quarter (that did not result in a touchdown).
NCAA rules on unsportsmanlike conduct range from obvious to ridiculous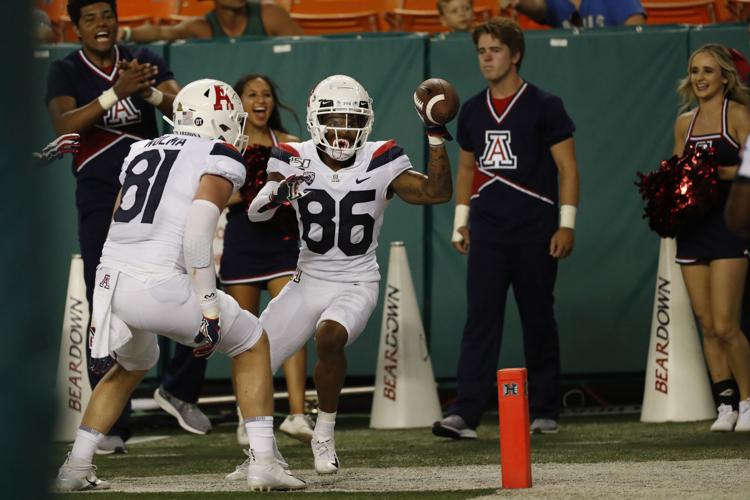 After he scored a touchdown late in the third quarter of the season opener at Hawaii, Arizona receiver Stanley Berryhill III high-fived a few UA fans who had made the trek to Aloha Stadium.
What seemed like a positive act of fan engagement turned out to be a penalty.
Berryhill was flagged for unsportsmanlike conduct. The ensuring kickoff was pushed back 15 yards, enabling the Rainbow Warriors to start their next possession at the UH 32-yard line.
"To be honest, I didn't know that was a penalty," Berryhill said this week. "But I'll know not to do it again."
The NCAA takes what it perceives as sportsmanship with the utmost seriousness, adding this mission statement to the rulebook 10 years ago:
"After reviewing a number of plays involving unsportsmanlike conduct, the committee is firm in its support of the unsportsmanlike-conduct rules as they currently are written and officiated. Many of these fouls deal with players who inappropriately draw attention to themselves in a premeditated, excessive or prolonged manner. Players should be taught the discipline that reinforces football as a team game."
There are 65 references to "unsportsmanlike conduct" in the 200-plus-page rulebook. If a coach or player commits two such fouls in a game, they are disqualified.
Here are some other "specifically prohibited acts" that can draw a flag for unsportsmanlike conduct:
Pointing the finger(s), hand(s), arm(s) or ball at an opponent, or imitating the slashing of the throat.
Taunting, baiting or ridiculing an opponent verbally.
Inciting an opponent or spectators in any other way, such as simulating the firing of a weapon or placing a hand by the ear to request recognition.
Any delayed, excessive, prolonged or choreographed act by which a player (or players) attempts to focus attention upon himself (or themselves).
An unopposed ball carrier obviously altering stride as he approaches the opponent's goal line or diving into the end zone.
A player removing his helmet after the ball is dead and before he is in the team area.
Punching one's own chest or crossing one's arms in front of the chest while standing over a prone player.
Going into the stands to interact with spectators or bowing at the waist after a good play.
Dead-ball contact fouls such as pushing, shoving, striking, etc., that occur clearly after the ball is dead and that are not part of the game action.
After the ball is dead, using forcible contact to push or pull an opponent off the pile.
After a score or any other play … kicking, throwing, spinning or carrying (including off of the field) the ball any distance that requires an official to retrieve it.
Spiking the ball to the ground.
Throwing the ball high into the air.