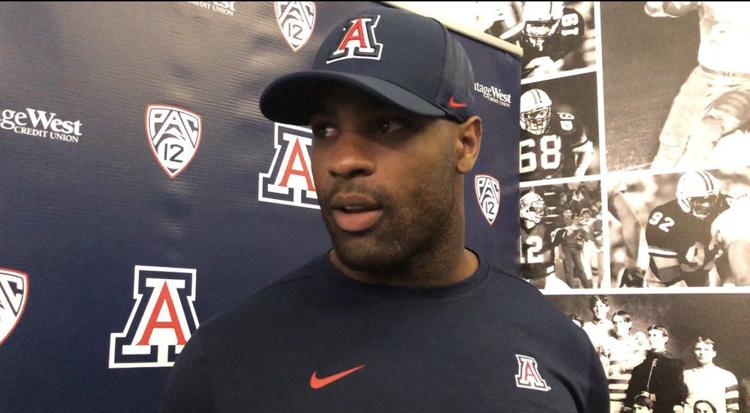 The Arizona Wildcats are close to finishing up their second week of spring practice. The UA will practice two additional weeks leading up to the Spring Game on Saturday, April 13.
After the UA's private scrimmage at Arizona Stadium on Thursday evening, first-year running backs coach DeMarco Murray and senior quarterback Khalil Tate held post-practice media sessions. 
Murray is entering his first year as a coach after spending a season in the broadcast booth with Fox, one year after retiring from the NFL. Murray played seven seasons in the NFL and led the league in rushing in 2014 with the Dallas Cowboys. He won NFL Offensive Player of the Year honors that same season. 
Murray was recruited by Kevin Sumlin out of Bishop Gorman High School in Las Vegas in 2006, when Sumlin was an assistant at Oklahoma. The relationship was a key component in bringing Murray to the UA to replace Clarence McKinney as the running backs coach. 
Tate is entering his final season at Arizona and anticipates returning to his highlight playmaking abilities with full health. Tate injured his ankle in the second week of the season against Houston a year ago, and finished the season with 2,530 passing yards and 26 touchdowns. He rushed for 224 yards, 1,187 less than his explosive 2017 campaign. 
Tate looks to be Arizona's starting quarterback again this season and Murray is anticipating a productive season out of his running back group. Check out what they had to say after practice.