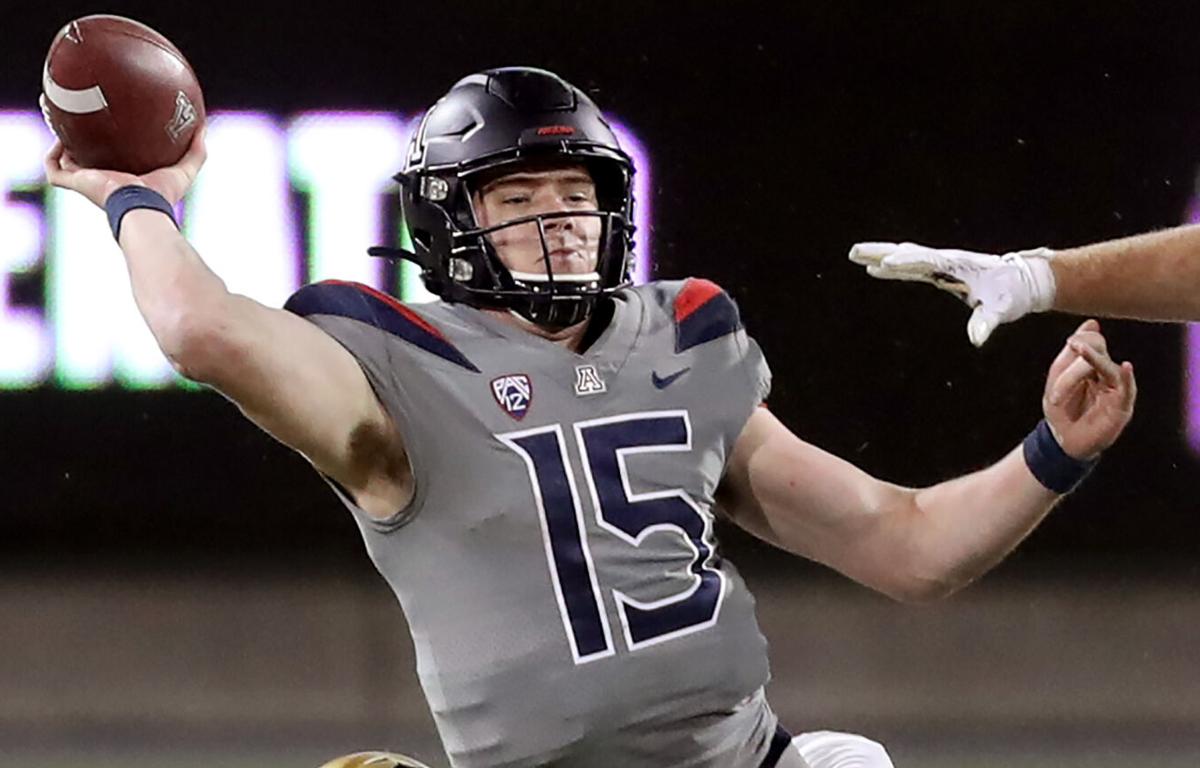 Here are three things to watch in the Arizona Wildcats' game against NAU at Arizona Stadium (Saturday, 7 p.m., Pac-12 Networks), plus a score prediction and some pertinent preview links:
1. NEW QB
We liked what we saw from Will Plummer from the midpoint of spring on. But we also understand why Jedd Fisch and his staff decided to go with Gunner Cruz at first. Cruz looks the part (6-5, 227). He has a powerful arm. He threw very few interceptable passes. But the potentially fatal flaw that Cruz displayed in practice – holding onto the ball too long while waiting for receivers to become obviously open – carried over into games. It's become pretty clear that Fisch believes most of his plays are working. But they require the quarterback to pull the trigger in a timely manner. "Trust the plays, trust the receivers, trust the blocking scheme. The more trust you have, the better you play," Fisch said. "That's (what) I've talked to Will about this week. ... It's OK to throw it to where they're going to be; you don't have to wait to see them get there." Since figuring things out in spring, Plummer has played with a greater sense of anticipation. Expect that to be on display vs. NAU.
2. OLD-SCHOOL APPROACH
The quarterbacks get most of the headlines. The so-called skill-positions players are fun and exciting. But the true essence of football, as Fisch noted, consists of two elements: blocking and tackling. Arizona did neither particularly well against San Diego State, and that's the primary reason the Wildcats fell behind by so much so fast. The team took a back-to-basics approach to practice this week, even conducting a scrimmage with live tackling Wednesday. "That's fundamentals, and that's where our main focus is and has been all week long," Fisch said. "When you're building something, part of that build is to make sure that fundamentals never get forgotten while you're doing the scheme." Brennan Carroll, Arizona's offensive coordinator and O-line coach, said it's easy to backslide once games get going. "Sometimes there's things you see on film that you don't see in practice," Carroll said. The players might give the impression that they've got it all down. "But they need more drilling of it so it becomes their norm," Carroll said. "It's the only way to do things."
3. DIFFERENT OUTCOME
Even among us media types, Arizona's 14-game losing streak is getting tiresome. We need something different to write and talk about. The hiring of Fisch and all the changes he's made have been rejuvenating to be sure. But as the Aztecs quickly built a 21-0 lead last week, it felt like same old, same old. It was no fun. The Wildcats should defeat the Lumberjacks, who don't appear to be very good. And Arizona should take pride in that victory and enjoy every second of it, because it really has been a minute. If/when the Cats win, it will have been 714 days since their last triumph. For those who have been around that entire time and then some, they deserve to have something to celebrate. But don't storm the field, friends. This isn't the time for that.
FINAL SCORE: Arizona 41, NAU 14
Contact sports reporter Michael Lev at 573-4148 or mlev@tucson.com. On Twitter @michaeljlev