Here are three things to watch in the Arizona Wildcats' game vs. Colorado at Arizona Stadium (Friday, 7:30 p.m., FS1), plus a score prediction and some pertinent preview links:
The could swing on whether Colorado sophomore receiver Laviska Shenault Jr. plays. He's that good. Shenault has missed the past two games because of a toe injury. The Buffaloes lost both of them. He got hurt against USC on Oct. 13 and missed the fourth quarter of that game. Colorado lost that one was well. The Buffs are 5-0 when Shenault plays the whole game. He is considered day to day, which makes him a game-time decision tonight. Despite missing two-plus games, Shenault leads the Pac-12 with 60 catches for 780 yards. He's also Colorado's wildcat quarterback, accounting for five rushing touchdowns. The CU sports information staff tracks yards after catch. Two-thirds of Shenault's receiving yards have come in the form of YAC. He scored all four of Colorado's touchdowns in its 28-21 win over Arizona State on Oct. 6. At 6-2, 220 pounds, the dude is a load. If Shenault plays, the Wildcats will have to devote extra attention to him — which will open up the run game for tailback Travon McMillian and create one-on-one opportunities for receiver K.D. Nixon, who went off for 13 catches, 189 yards and two touchdowns last week against Oregon State. If Shenault doesn't play, the Wildcats will be able to mix and match and pick their spots to blitz or drop extra defenders into coverage.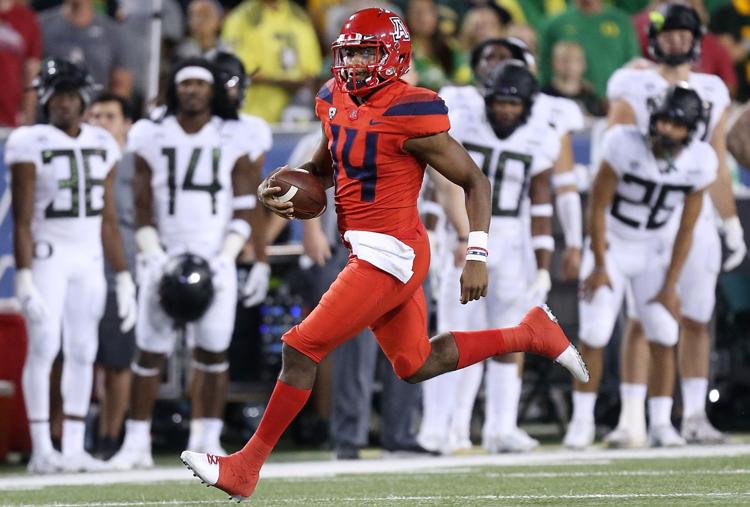 Don't be surprised if Colorado approaches Arizona the way Oregon did last year or BYU this year: by steadfastly refusing to let Khalil Tate get loose. Despite ample evidence that he isn't the same runner — in terms of volume or effectiveness — as a year ago, defenses still pay undue attention to Tate. The Buffs know better than anyone what Tate is capable of. They still have scar tissue from last year's breakout in Boulder. If those are the types of looks he sees, Tate has to take what the defense gives him. On zone reads, he needs to hand the ball off until the unblocked edge defender crashes to stop it. On pass plays, he has to resist the temptation to swing for the fences. Tate forced the ball downfield at times last week; his interception on the first play of the second half was a prime example (although a more accurate pass might have resulted in a completion). As we discussed on our latest podcast (link below), Tate is a victim of the standard he set last season. It would have been almost impossible for him to match what he did in 2017. That's especially true when it comes to Tate vs. Colorado. He doesn't need to be Superman for Arizona to win this game. A slight uptick from last week will do.
Why should UA fans be worried about this game, which seems so winnable on paper? Because Colorado is reeling and desperate, that's why. The Buffs called a players-only meeting this week to talk it out, and those often have a positive effect on a team's psyche. Despite a spate of injuries, Colorado still has plenty of talent — probably slightly better than Arizona's across the board. The Buffs also will be supremely motivated after what happened last week against the Beavers and what happened last year against the Wildcats. Arizona, meanwhile, must recapture the focus and intensity it showed last week. This isn't homecoming. This isn't Oregon. But if the Wildcats want to make a bowl game, it's a must-win. They must treat it as such. These sorts of intangible factors sometimes don't matter; personnel and coaching typically rule the day. But the respective teams' level of engagement stood out from the jump last week. We'll know within the first five minutes what state of mind Colorado and Arizona are in coming off radically different results.
FINAL SCORE: Arizona 28, Colorado 24