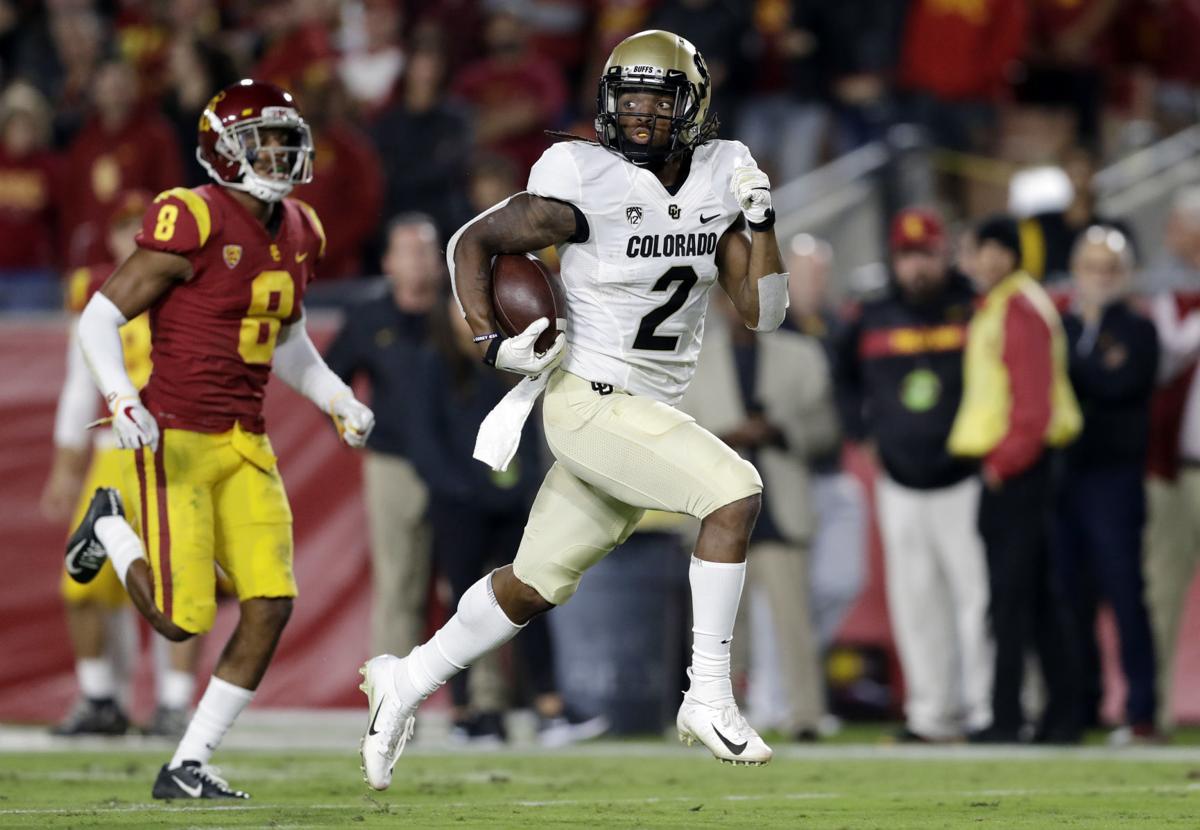 Here are three things to watch in the Arizona Wildcats' Pac-12 road opener vs. Colorado in Boulder (Saturday, 1:30 p.m., Pac-12 Networks), plus a score prediction and some pertinent preview links:
Both teams are dealing with significant injury issues – not so much in terms of the quantity of banged-up players but the quality. Arizona quarterback Khalil Tate and tailback J.J. Taylor missed last week's game against UCLA. The Wildcats rallied to win without them. Their status for Colorado wasn't officially known as of this writing. The Buffaloes are expected to be without defensive end Mustafa Johnson, cornerback Chris Miller and safety Aaron Maddox. In addition, CU might not have star receiver Laviska Shenault Jr. My prediction, based on intel and intuition: Tate, Taylor and Shenault will play. Hamstring are always touchy, but Tate's is believed to be more of a minor injury than a major one. Even if Tate returns, it wouldn't be surprising to see freshman Grant Gunnell play a series or two the way Jamarye Joiner did when Tate was dinged last season - although Gunnell is already halfway to the four-game threshold to preserve his redshirt. Taylor suited up last week, a sign that he might have been closer to playing than Tate (who wore sweats … and chucked 50-yard passes during pre-warmups). Arizona has several capable backs, but none has Taylor's experience or calming influence in a loud road environment. Shenault might be limited, but he's a player whose presence alone can make a difference.
It's absolutely imperative for Arizona to get pressure on Colorado quarterback Steven Montez. Arizona State couldn't - zero sacks – and Montez posted the fourth-highest efficiency rating (204.0) and fifth-best completion percentage (76.7) of his career while throwing for 337 yards and three touchdowns. Sacks have been hard to come by for the Wildcats so far; they rank last in the Pac-12 with only four. But the UA defense has generated pressure much more consistently in the past three games than in the opener at Hawaii. The Cats need to do to Montez what they did to Texas Tech's Alan Bowman – move him off his spot and make him throw from uncomfortable positions. Arizona's best pass rusher, Jalen Harris, strangely played a minimal role in the fourth quarter against UCLA last week. Harris played only 25 snaps in all, per Pro Football Focus, ranking seventh among eight UA defensive linemen. That might have had something to do with UCLA having a more run-oriented attack than Texas Tech or Hawaii. Kevin Sumlin also mentioned that the Bruins didn't sub while in their two-minute offense, preventing the Wildcats from doing so. Still, he suggested Harris should have played more. "We need him out there," Sumlin said. "We need him out there in that situation."
Whether it's Tate or Gunnell at quarterback, it's more likely than not that this game will be decided in the fourth quarter. Three of the past four meetings have been decided by eight or fewer points, including the past two. The spread as of Friday night was Colorado minus-4. While the Wildcats have outscored their past two opponents 22-0 in the fourth quarter, the Buffaloes have posted some final-period numbers that are just bonkers. Colorado has a 54-31 scoring edge in the fourth. CU scored 24 points in the fourth against Nebraska, its highest total in 20 years. The Buffs also gained a school-record 258 yards. If the game does come down to the wire, special teams could be the deciding factor. Arizona's Lucas Havrisik has made strides but isn't as reliable as counterpart James Stefanou. The 32-year-old Australian is CU's all-time leader in field-goal percentage (77.8) and is 6 of 6 this season. Havrisik is 3 of 5, although he confidently made a pair after missing one vs. UCLA – and there's no telling what his range might be at 5,328 feet. UA punter Matt Aragon is coming off a career game. Colorado's Alex Kinney ranks third in the Pac-12 with a 45.4-yard average.
FINAL SCORE: Colorado 33, Arizona 27
Contact sports reporter Michael Lev at 573-4148 or mlev@tucson.com. On Twitter @michaeljlev