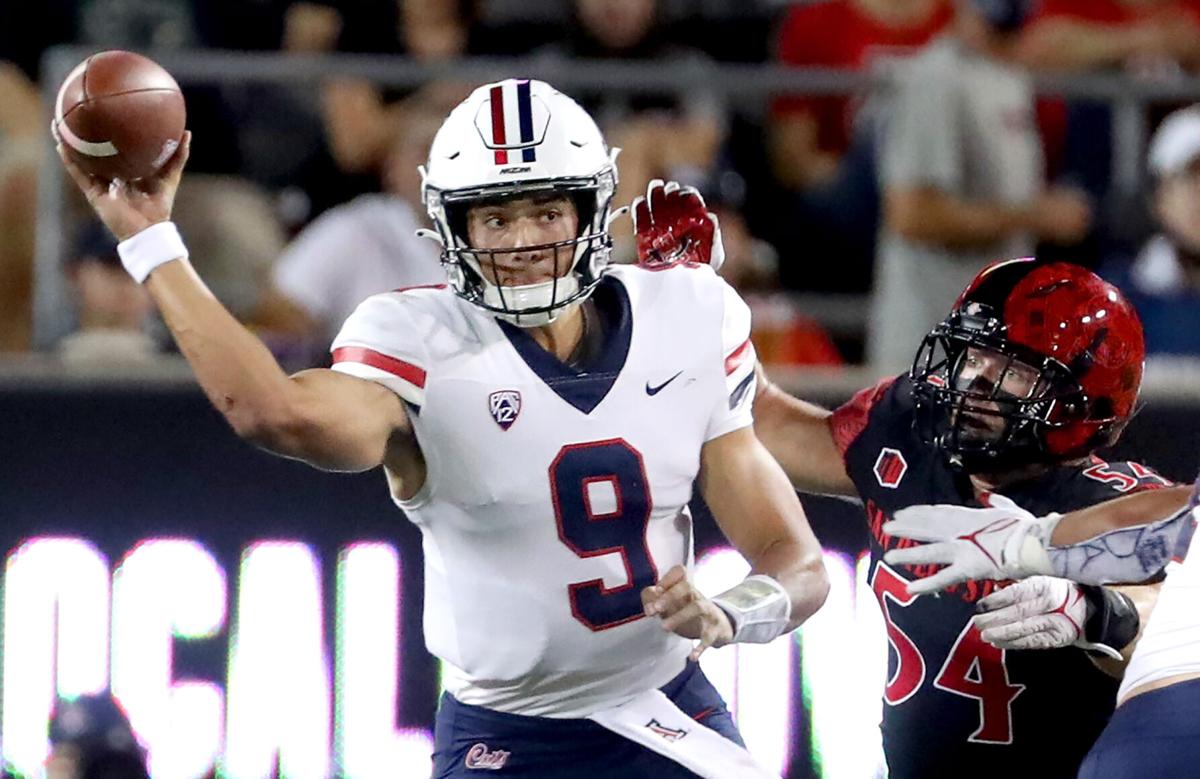 EUGENE, Ore. – Here are three things to watch in the Arizona Wildcats' Pac-12 opener against No. 3 Oregon at Autzen Stadium (Saturday, 7:30 p.m., ESPN), plus a score prediction and some pertinent preview links:
1. CRUZ CONTROL
Alternate subhead: McCloud Cover. Based on his comments Thursday, it appears Jedd Fisch is making yet another quarterback change. Whether it's Gunner Cruz or Jordan McCloud – or some combination of the two – Fisch is looking for someone to step up and take ownership of the job. If it's Cruz, it'll be quite the comeback story as the Washington State transfer appeared to be buried on the bench after an ineffective performance vs. San Diego State. (The Aztecs defense is no joke; just ask Charlie Brewer.) If it's McCloud, that'll be a comeback of sorts too as he was running a distant third behind Cruz and Will Plummer coming out of training camp. UA fans aren't happy with Fisch's handling of the QB situation. They want him to commit to one guy. Don't you think he wants to? Fisch is as tired of all this back-and-forth as everyone else. The most logical course of action at this point, regardless of whether a QB distinguishes himself vs. Oregon, is to use the upcoming bye to figure it out once and for all. Pick your guy and run with him.
2. DEFENSIVE STRIVING
How real is Arizona's defensive improvement under Don Brown? We're about to find out. The numbers look pretty good, especially against the pass. The Wildcats are allowing just 160.7 passing yards per game, which ranks fourth in the Pac-12. However, the UA is yielding a completion rate of 64.1%, which ranks last and gives us pause. Opponents are also averaging 7.5 yards per attempt, which ranks 10th. (The two teams below Arizona in that category aren't who you'd expect – Oregon and Cal.) The Wildcats rank 11th in the league in run defense (193.3 ypg), which is especially worrisome in this game (Oregon has the second-best rushing attack in the Pac). But it's not as if other teams are gashing the Cats on the ground. Arizona is yielding 4.3 yards per carry, which is 1.6 yards less than last year. The Wildcats are allowing 353.0 total yards per game, an improvement of 120 yards over 2020. If they were just average on offense, we'd be talking about them in a completely different light.
3. IN NEED OF A JUMP
Arizona beating Oregon would be a bigger upset than NAU beating Arizona. We just don't see it happening. So in lieu of that, what can the Wildcats get out of this trip? Little victories. Something to feel hopeful about. Maybe it's improved quarterback play. Maybe it's the offensive line holding its own against Oregon's sturdy defensive front. Maybe it's the aforementioned defense winning at the line of scrimmage, beating up Anthony Brown and keeping Arizona in the game for a while. Maybe it's cornerback Christian Roland-Wallace continuing to look like a future pro. Whatever it is, the Wildcats need to do something to generate positive vibes heading into the bye. Fisch said recently that "the only positive would be ending with more points than the other team. Moral victories are not for us." A competitive performance against Oregon would qualify, though, and it's exactly what Arizona needs right now.
FINAL SCORE: Oregon 38, Arizona 13
Contact sports reporter Michael Lev at 573-4148 or mlev@tucson.com. On Twitter @michaeljlev