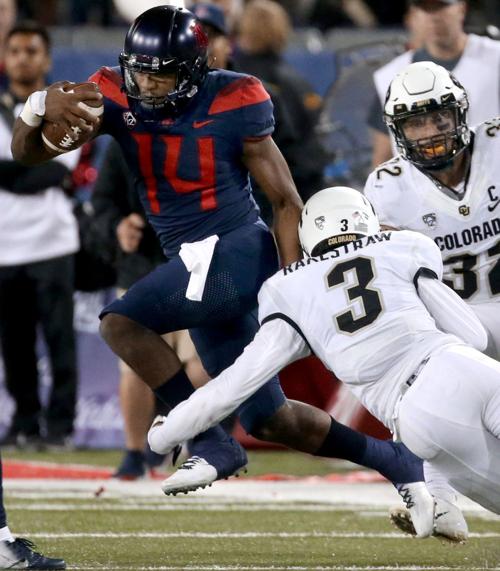 Here are three things to watch in the Arizona Wildcats' game vs. No. 8 Washington State in Pullman (Saturday, 8:30 p.m., ESPN), plus a score prediction and some pertinent preview links:
UA quarterback Khalil Tate passed for a career-high 350 yards in his last outing against Colorado. He matched his career best with five touchdown passes. He completed 77.3 percent of his passes, a personal best with at least 20 attempts. But it was a play that had nothing to do with passing that stood out the most – and probably has caused some sleepless nights for WSU defensive coordinator Tracy Claeys. In the fourth quarter, on third-and-7, Tate scrambled for 25 yards. Not only was it a season-long run, but Tate finished it by cutting back into the middle of the field – a noteworthy maneuver for a player who's been slowed by a sprained ankle. Tate sprung to his feet and celebrated. His teammates noticed. Said receiver Shawn Poindexter: "He looked fast, huh? I heard the stands. Everybody was excited to see that for sure." The question we've been asking all year is whether Tate is going to unleash his full dual-threat arsenal. Coming off a bye, he should be as healthy as he's been since Week 1. He rushed for 146 yards against the Cougars last season. Mike Leach intimated early in the week that the WSU defense was too aggressive against Tate last year. But the Cougars thrive on creating negative plays, so it's hard to envision them mush-rushing all night.
Every team other than Alabama has at least one flaw, right? It's hard to find the weakness in Washington State's game. The rank in the top four in the Pac-12 in scoring, total offense, passing offense, first downs, sacks allowed, red-zone scoring percentage, third-down percentage, fourth-down percentage, scoring defense, total defense, rushing defense, passing defense, sacks per game and third-down defense. We dug deep and unearthed something, though: The Cougars are last in the Pac-12 in red-zone defense, surrendering a score 93.1 percent of the time. They give up a touchdown 69 percent of the time, the third-worst mark in the conference. The problem is, WSU doesn't allow opponents to enter the red zone very often. Wazzu foes have made 29 trips inside the 20, tied for third fewest in the league. One way to create more of those opportunities is to take the ball away. Arizona did that last year, intercepting the late Tyler Hilinski four times. (Talk about a weird game: The Wildcats scored 58 points yet had only 13 first downs and lost time of possession by more than 17 minutes.) It's easier said than done against this Cougars team. They've turned the ball over only 11 times, and it's somewhere between difficult and impossible to get pressure on Gardner Minshew II. Arizona does have six takeaways and 10 sacks in its past three games.
I addressed this topic extensively in my game advance; you can find the link below. I'm concerned about Arizona's mindset if Utah beats Colorado, eliminating the Wildcats from the Pac-12 South race. Should it matter? No. But human nature is a powerful thing. If that happens – and if Washington State gets off to a fast start – it isn't difficult to envision Arizona looking ahead to next week's regular-season finale against rival Arizona State. If you aren't playing for the Pac-12 championship, there really isn't much difference between going 7-5 and 6-6. I don't expect it to play out that way because Kevin Sumlin has been preaching since the bye week that the Wildcats have to remain laser-focused on the Cougars. But it wouldn't shock me if it did. The situation isn't exactly the same, but it reminds me a little of Arizona's trip to Oregon State in the penultimate game of 2016. The Wildcats weren't fully engaged, got blasted 42-17 on a chilly night in the Pacific Northwest and turned their attention to ASU before leaving the locker room. The following week, they smashed the Sun Devils 56-35.
FINAL SCORE: Washington State 34, Arizona 31
Contact sports reporter Michael Lev at 573-4148 or mlev@tucson.com. On Twitter @michaeljlev