Here are three things to watch in the Arizona Wildcats' game vs. Utah at Rice-Eccles Stadium in Salt Lake City (Friday, 7 p.m., ESPN), plus a score prediction and some pertinent preview links:
Arizona inserted freshman quarterback Jamarye Joiner for a series last week against Cal, and UA coach Kevin Sumlin gave every indication that the Wildcats would continue to utilize some sort of rotation at the position. What that looks like precisely remains to be seen. Although Sumlin hinted at the possibility of a quarterback other than Joiner subbing for starter Khalil Tate, I'm hearing that Joiner again will get the call. Will the third series again be the charm? Sumlin and Noel Mazzone stuck with that plan last week — even though Arizona had scored on its first two possessions. The UA offense wouldn't score again. The coaches had planned to use Joiner again in the second half, but game flow and field position dissuaded them. It would be wise to take those factors into account again tonight. If Tate gets off to a hot start, it makes little sense to take him out. Whether the entire plan makes sense is up for debate, but it seems to be the direction this thing is headed. It's a fascinating experiment if nothing else.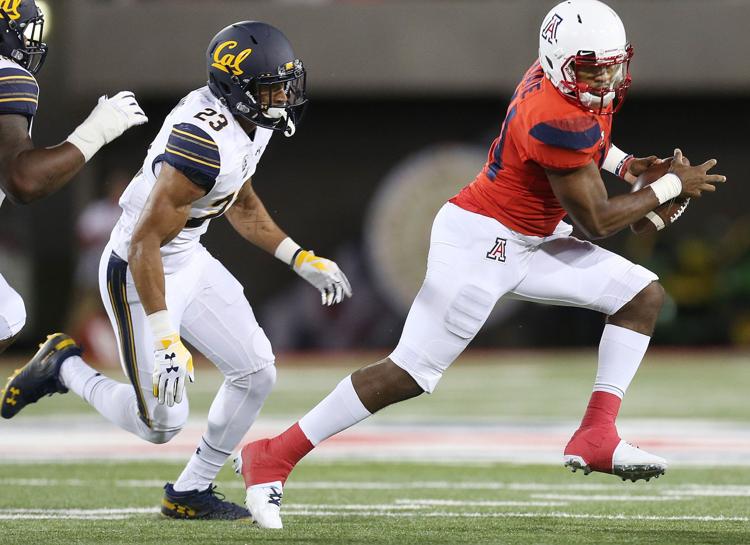 Whether it's Tate, Joiner, Rhett Rodriguez or Kevin Doyle at quarterback, the Wildcats have to figure out a way to run the ball. As well as the UA defense has played recently, Arizona can't afford to put that unit in compromising situations. At the very least, the Wildcats have to piece together some substantive drives. Fun Fact I: Arizona has lost the time-of-possession battle in every game except Houston. Fun Fact II: Arizona has run 70 or fewer plays in every game except … Houston. (That game was weird. And bad.). It won't be easy. Utah ranks third in the nation in run defense. The Utes have allowed 377 net rushing yards in five games — less than the Wildcats gained at Oregon State. Fun Fact III: Excluding the Southern Utah and OSU games, Arizona is averaging 125.3 rushing yards per game and 3.2 yards per carry. Utah has limited opponents to 2.4 yards per attempt. The Utes' 38 TFLs have resulted in an extraordinary 175 yards lost. (By comparison, the Wildcats' 34 have resulted in 111 yards lost.) If the UA offense is constantly facing third-and-long, it's going to be a long night.
Both defenses thrive on turnovers. Utah took the ball away from Stanford three times last week, including a 100-yard pick-six by Jaylon Johnson. The final score was 40-21, but the Cardinal actually outgained the Utes 423-421. Cal outgained Arizona last week by 211 yards but lost because of turnovers, two of which the Wildcats returned for touchdowns. In last year's matchup, Arizona turned the ball over five times, including four by quarterback Brandon Dawkins. The Wildcats lost by only six points and basically needed to put one drive together in the fourth quarter to win the game. Utah has a reputation for protecting the ball, but is that more perception than reality? The Utes have nine giveaways this season, including seven fumbles, in five games; the Wildcats have seven giveaways in six games. It's unrealistic to expect Arizona to continue its torrid takeaway pace of the past two games, just as it was unlikely for the Wildcats to continue their cold streak from the first four. But if they can take the ball away twice — and come out ahead in turnover margin — they'll have a chance.
FINAL SCORE: Utah 26, Arizona 20