Wildcats game day breakdown: On Zach Green as Arizona's closer, and the Braxton Burmeister saga
Star reporters Michael Lev and Zack Rosenblatt take you inside the key storylines as the Arizona Wildcats travel to Autzen Stadium for the first time since 2014. 
The Green zone: Arizona Wildcats senior tailback turns goal-line carries into touchdowns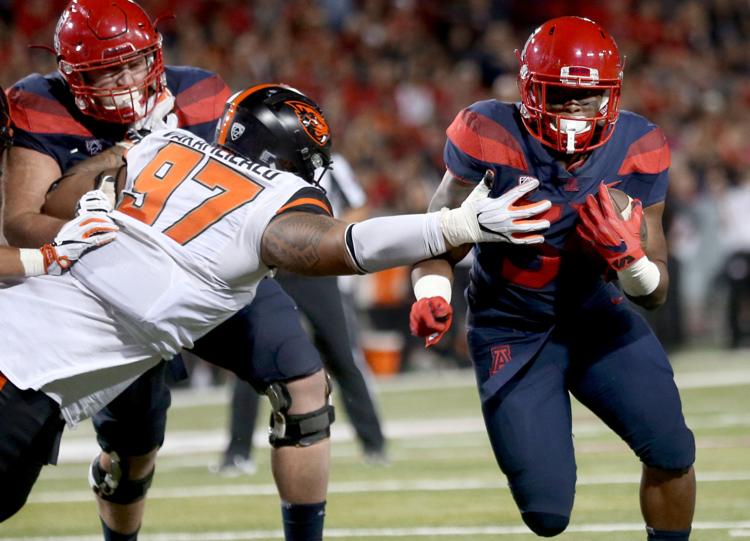 Zach Green is Arizona's closer.
If the Wildcats need someone to finish a drive or a game, they invariably turn to Green. The senior tailback almost always seals the deal.
Green has become an incredibly efficient goal-line runner for the nation's third-best rushing attack. Twice this season, Green has gotten one carry in a game — and each time that carry resulted in a touchdown from inside the 5-yard line.
"He's a big, powerful guy," said UA coach Rich Rodriguez, whose team visits Oregon on Saturday. "He runs with low pads. And he's hard to wrap around. If you look at him, he's so thick. He gets downhill in a hurry."
Green is listed at 5 feet 10 and 229 pounds. He is easily Arizona's bulkiest back.
But Green is quicker than he's ever been thanks to offseason changes to his diet and workouts.
"He understood that he had to do a little extra," UA running backs coach Calvin Magee said. "And it's paying off for him."
Green is third in the pecking order behind J.J. Taylor and Nick Wilson. But in a sign of how much the coaching staff trusts and respects him, Green is listed on the depth chart as a co-starter.
Despite having the fewest attempts of the three, Green has the most touchdowns with nine. He averages one touchdown every 6.6 carries, easily the best ratio on the team. And yes, that includes Khalil Tate, who's at 10.1.
Of course, Green often is brought into the game for the express purpose of scoring touchdowns.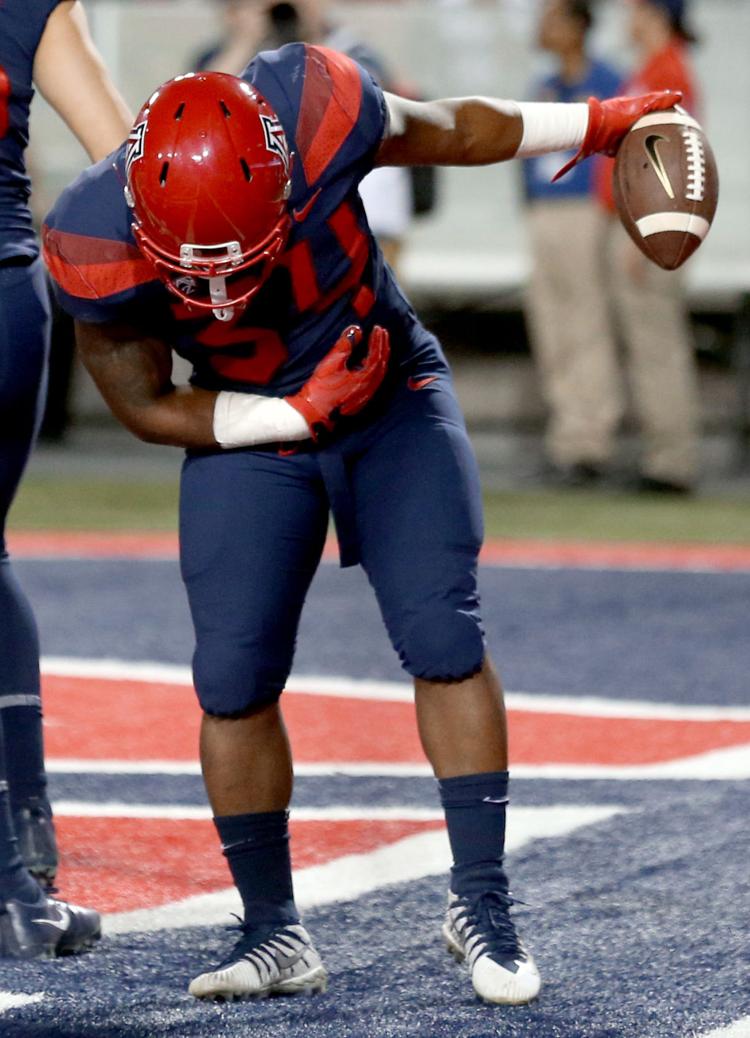 Green scored the last of Arizona's seven TDs against Washington State. The smaller Taylor carried the ball to the 1. Green took it over the goal line.
Against Oregon State last week, Taylor, Tate and Wilson set up Green for 4- and 3-yard scores.
For the season, six of Green's nine touchdowns have come on plays starting inside the opponent's 10-yard line. Five have come in goal-to-go situations. Green is a perfect 3 for 3 in second- and third-and-goal opportunities.
"He's huge," center Nathan Eldridge said. "I've worked out with him. He's really strong. He works really hard."
Green has done most of his best work after halftime. In the first halves of games, Green has carried 20 times for 87 yards and three touchdowns. That's a 4.4-yard average.
In second halves and overtime, Green has 39 carries for 209 yards and six TDs. That's a 5.4-yard average.
Those totals include Green's 25-yard TD run in OT against Cal. Arizona didn't have Taylor or Wilson for most of that game. The Wildcats wouldn't have won it without Green.
"I get my yards," he said. "I know they're big yards."
Green almost always gets something. Of his 59 carries this season, only one has resulted in a loss. On a first-and-goal carry from the 2 against WSU, the Cougars' Jahad Woods stopped Green for a 1-yard loss. It was a rare blown save for Arizona's closer.
"I've told guys," Magee said, "if you don't get in inside the 5, you might as well come out because I'm putting Zach in."
Despite latest record-setting effort, Arizona offensive line isn't satisfied with its performance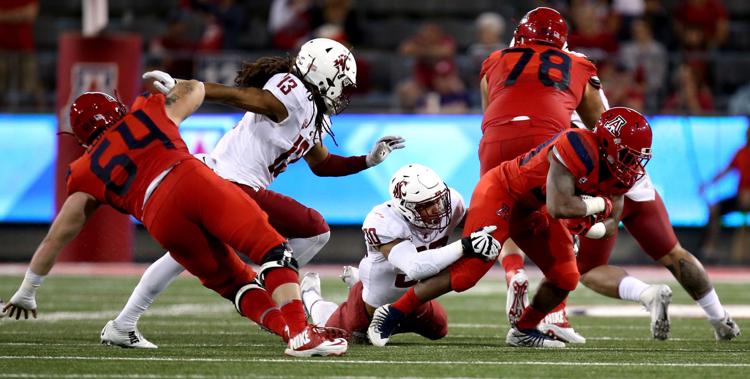 Arizona rushed for a school-record 534 yards against Oregon State last week. The Wildcats did not surrender a sack for the fifth time in six games. They scored 49 points.
It would be hard to imagine the UA offensive line grading out higher in any other game. But according to a unit whose standards never have been higher, it wasn't the group's best effort.
"I think we can do a little better," line coach Jim Michalczik said.
Better than 534 yards? Better than basically scoring at will? How so?
"Our fundamentals were not what they needed to be," center Nathan Eldridge said. "We had good movement. We had really good effort, which we kind of always do. But our fundamentals were not good. So we're going back to the fundamentals."
The fundamentals of offensive-line play aren't readily apparent to amateur scouts. They aren't a sexy topic. But they're essential to the unit's success and a daily point of emphasis, especially with two tough road games ahead against Oregon and Arizona State.
Those techniques include hand placement, playing with a strong base and attaining the proper leverage to sustain blocks.
"They're working hard. They're competing their butts off," Michalczik said. "To be great, you've got to make the fundamentals great. Fundamentally, I think we can be better."
UA coach Rich Rodriguez praised the offensive line after the OSU game – giving credit to a group that typically receives little if any fanfare.
Michalczik appreciated the compliment but reiterated a weekly reminder to his charges.
"The season is not one (game)," Michalczik said. "The season is 12 battles, and then see where we go from there.
"You don't get to enjoy the wins too long. You've gotta go on to the next week. Either you're getting better, or you're getting worse."
Aside from recruiting, Arizona's coaches spend little time thinking about the future beyond the next week's opponent. But Michalczik knows he'll have his work cut out next offseason.
As things currently stand, the Wildcats stand to lose four of their five starting offensive linemen. Only Eldridge is certain to return.
Some of the backups have Division I experience. Most don't.
"We've got some good young kids. But they're young," Michalczik said.
"The good thing is, the young guys here have been able to watch the senior class, see what it takes. It's been a special group as far as the work ethic. If they just kind of watch that part of it and absorb it … I think they've raised the standard around here. And it won't be lowered anytime soon."
For RichRod, Willie Taggart, all's fair in love and recruiting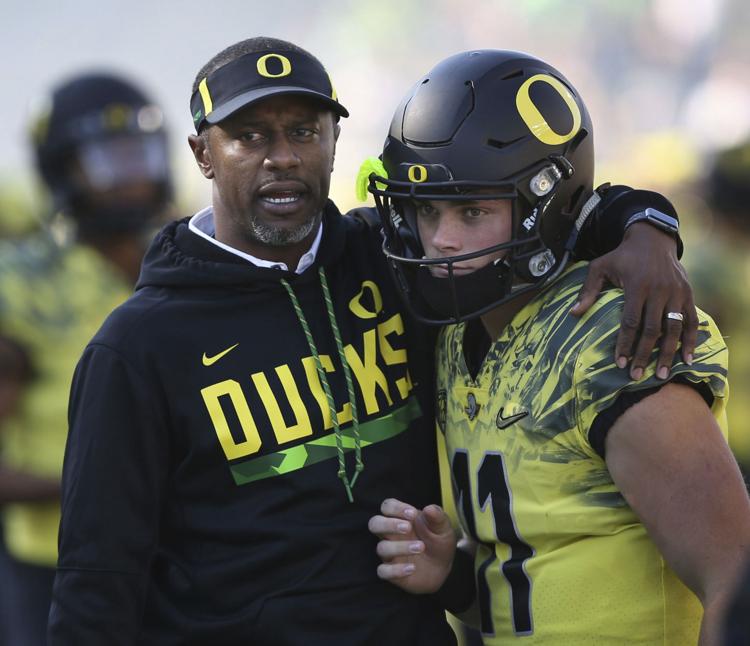 Pima College safety Haki Woods recently announced he'd be re-opening his recruitment only 10 days after verbally committing to Arizona.
When Oregon offered Woods a scholarship the next day, Arizona fans directed their ire — again — at Willie Taggart.
The Ducks coach was hired in December from South Florida, and Saturday will be the first time he's ever coached against Arizona, but there's already some bad blood between the two programs.
Oregon "flipped" four recruits who had previously announced commitments to the Wildcats. Two of them, quarterback Braxton Burmeister and defensive lineman Austin Faoliu, have started for the Ducks as true freshmen.
Despite that, both Taggart and Arizona coach Rich Rodriguez insisted this week that there's no animosity between them.
"No, not really," Rodriguez said. "You're not happy it happened. You're particularly not happy when you see that they're playing for them. So I guess we were recruiting the right guys … all my concern is on the guys who are here at Arizona."
Said Taggart: "I don't think there's any kind of animosity or anything like that. I respect him and I would say he respects me."
Taggart first tweaked the Wildcats a few days after being hired. He convinced receiver Darrian McNeal, a Florida native, to flip his commitment from Arizona to Oregon.
The same day Taggart hired former UA player and assistant Joe Salave'a to coach the Ducks' defensive line, three-star defensive tackle Austin Faoliu decommitted from Arizona. He verballed to the Ducks a week later.
Then there were the last-minute additions — quarterback Braxton Burmeister signed with Oregon in January, days before he was set to enroll at the UA. And the morning of signing day, offensive lineman Cody Shear — a Eugene native — chose the Ducks after receiving a last-minute offer. He had been verbally committed to Arizona for almost a year.
Cornerback Thomas Graham had been a "silent commit" to the Wildcats, too. But UA cornerbacks coach Donte Williams left for Nebraska and Taggart was eventually hired at Oregon. Graham joined the Ducks in January.
Players on Arizona's roster have seen all of this happen, and it's made for some extra added motivation this week.
Linebacker Tony Fields II said he had planned to live with Burmeister, and didn't know he was going to flip until it happened. Center Nathan Eldridge talked about planning to welcome Shear to the offensive line room.
UA receiver Shun Brown was a little more blunt.
"It is what it is, man," he said. "You'll see Arizona offer a guy and then out of the blue, a couple hours later, Oregon will offer him. And then you'll be like, what? You know, our coach is pretty mad about it. But it is what it is. If that's how they do things, we recruit good and we're proud of our coaching staff."
Taggart told reporters this week that it's nothing personal.
"It is what it is," he said. "We all understand what recruiting is and you've got to do it to the end, and you never know what's going to happen.
"These kids have choices and they have right to do whatever they decide to do.
"You don't necessarily like it at times, but it is what it is. You have to be prepared for everything."
UA coaches say they've 'moved past' Braxton Burmeister saga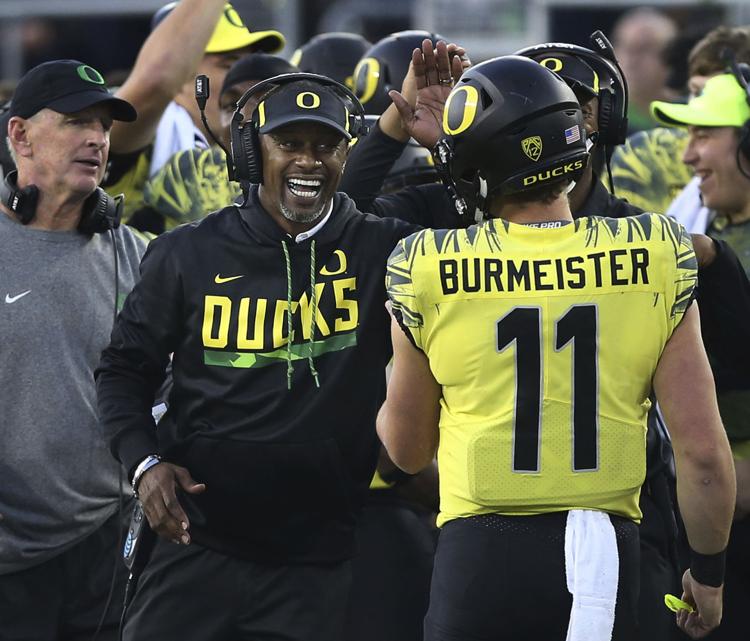 Braxton Burmeister committed to the UA as a high school sophomore, decommitted in early 2016, recommitted a couple months later and then signed with Oregon just as he was set to enroll at Arizona in January.
Coach Rich Rodriguez was asked about the quarterback leaving the Wildcats at the altar — twice.
"That's an interesting way to phrase it," Rodriguez said, smiling. "We recruited him for a long time. (Quarterbacks coach) Rod Smith did a terrific job."
It's not unique for a recruit to commit to one school than flip to another. Arizona knows that all too well, especially when it comes to Oregon.
But this recruitment was different — especially for Smith. The Wildcats assistant led the charge recruiting Burmeister from the get-go and stayed on him after the first decommitment.
Smith and the Burmeister family were close.
"Rod Smith is my dude," Burmeister told the Star last year. "That's my guy, he's been my guy since beginning of sophomore year and I've been talking to him pretty much every day since then; we've built a really good relationship."
Smith would watch Burmeister's high school game film and break down what he did well and what he needed to improve on.
"Coach Smith was more like family to me than a coach while he was recruiting me," Burmeister said.
Now Burmeister is at Oregon and, due to injuries to the Ducks' starting quarterback Justin Herbert, has received significant playing time earlier than anticipated. Burmeister has completed 56.6 percent of his passes for 324 yards, two touchdowns and six interceptions while rushing for 106 yards and three touchdowns. Oregon is 1-4 in that stretch.
Herbert will start on Saturday.
Asked this week about Burmeister, Smith said that he's "moved past that, man."
"I love my guy (Khalil Tate)," he said. "I got a good one. I'll take him over any of them."
The Burmeister family insists that, despite the way things played out, they still have a lot of love for Arizona and its coaching staff.
"Arizona is doing great," Burmeister's father, Dan, said in a message to the Star. "Arizona will always be in our hearts, despite all the drama."