The Star is counting down the Arizona Wildcats' 2019 recruiting class leading up to Wednesday's early signing day. Today's profiled players: Jaxen Turner and Kwabena Watson.
Jaxen Turner
Hometown (high school): Moreno Valley, California (Rancho Verde)
When he committed: Oct. 21
How he fits: Turner's form of commitment was slightly different than the others in Arizona's 2019 class. Rather than a "I'm committing to…" social media post, Turner put together a two-part video of him and his Rancho Verde teammates at a bowling alley, with Arizona's home win versus Cal playing on the projector above their lane. After bowling a strike, Turner looked at the camera and put on a red Arizona hat. He chose the Wildcats over Cal, ASU, Boise State, Utah, Washington State, Nevada and Oregon State.
Turner grew up an Arizona basketball fan; his favorite player was Stanley Johnson, who played in Tucson during the 2014-15 season. Like Johnson, Turner is from Southern California.
"I don't know him personally, I just liked to watch him play," Turner said.
Turner is one of two safeties in the 2019 class, joining American Samoa's Eddie Siaumau. Turner was recruited by cornerbacks coach Demetrice Martin.
The Wildcats lose Demetrius Flannigan-Fowles to graduation, but Scottie Young Jr., Jarrius Wallace, Tristan Cooper, Xavier Bell, Troy Young, Christian Young, Chacho Ulloa, Isaiah Hayes and Dayven Coleman are all expected to return. While Turner may not play much as a true freshman, his versatility in the secondary could make him an important part of Arizona's future.
He said it: "I really wasn't on a football phase, but more of a basketball phase. I followed basketball more once I got into high school. I was like, 'Oh, they're (UA) good at football, too.' So that's the complete dream school right there for me. That's my dream school that I want to go to. They're getting a smart on-the-field and off-the-field player. I'm very athletic and I bring aggressiveness." — Turner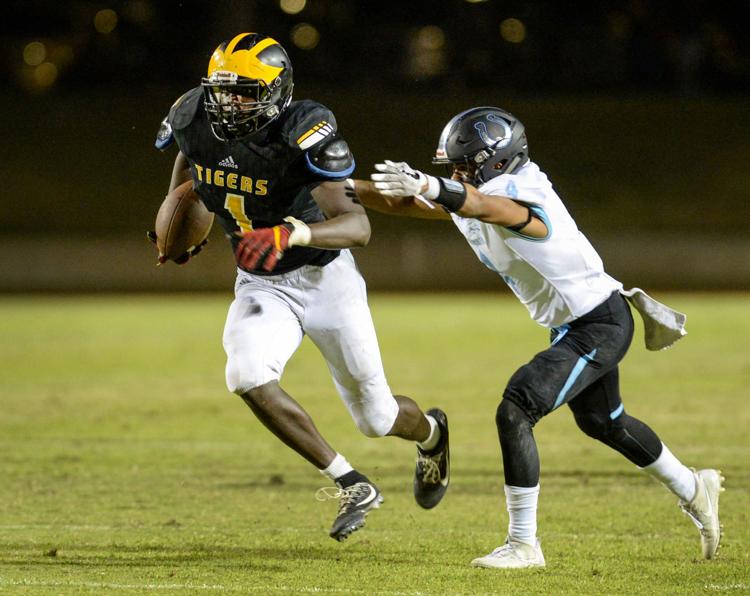 Kwabena Watson
Hometown (high school): Fresno, California (Edison)
When he committed: June 24
How he fits: The three-star edge rusher picked Arizona over offers from LSU, Mississippi State, Ole Miss, Oregon, USC and Nevada. Watson was recruited by Arizona safeties coach John Rushing, who has strong ties to Northern California.
Watson finished his senior season with 52 tackles and led the team with four sacks. He could be one of the recruits that takes the Kevin Sumlin era to new heights. Watson told the Star in October that Arizona plans on using him as a standup defensive end or outside linebacker, similar to Chicago Bears star Khalil Mack or the Denver Broncos' Vonn Miller.
Two-year UA starter Kylan Wilborn returns for his third season at stud linebacker, but Watson could also play behind Jalen Harris or JB Brown. Harris and Brown were converted from outside linebacker to defensive end at the start of the 2018 season. Expect Watson to follow a similar path when he arrives in Tucson.
He said it: "The main reason why I decided to commit to the University of Arizona was because they have a big medical facility and when I grow up, I wanted to become a surgeon. I want to become a general surgeon. When I was younger, I would always read medical books and watch medical shows. … 'Untold Stories of the ER,' 'Trauma,' 'Paramedics,' 'Mystery Diagnosis,' stuff like that." — Watson