During his time away from football, Tshiyombu Lukusa literally went to work. After leaving the Michigan State program in early 2017, he worked at a car wash and an adult foster care home. He was part of a construction crew. He plowed snow.
Lukusa found some of the work rewarding. Mostly, it just made him want to play football again. Being away from the game helped rekindle the passion that at some point morphed into ambivalence.
"I wasn't sure how I felt about it anymore," the Arizona Wildcats offensive lineman said Tuesday. "I needed to get away and gain an appreciation for it."
Lukusa rediscovered his love for the game more than 2,000 miles from his hometown of Traverse City, Michigan. He has found contentment in Tucson, where he's surrounded by mountains unlike anything he'd ever seen in the Midwest.
"I love it," Lukusa said. "It's cool to be out here. Life's good. School's good. Tucson has been good to me."
Tucson has been good to OL Tshiyombu Lukusa. He grew up in Traverse City, Michigan, and redshirted the 2016 season before transferring from Michigan State. pic.twitter.com/cSPlUaWrXK

— The Wildcaster (@TheWildcaster) September 4, 2018
Lukusa and the UA have proved to be a good match. He needed a fresh start. The Wildcats needed able-bodied linemen.
After transferring last summer and sitting out the '17 season, Lukusa started at left guard in Arizona's opener against BYU. At 6-5, 305 pounds, he has the look of a foundational piece for a reconstructed offensive line. Having appeared in eight games as a freshman at MSU, the redshirt sophomore qualifies as a veteran on the youthful unit.
Still, he felt a bit out of sorts early against BYU. On the second play from scrimmage, Lukusa went the wrong way on a running play, colliding with fellow guard Bryson Cain.
"I was a little nervous, to be honest with you," Lukusa said. "I had to get those jitters out. It's been a while since I've been on the football field taking live bullets.
"I felt a little rusty. I had to work through it. I wouldn't say I had my best game. But improvement can be had, and I think that will come."
The line as a whole will need to step up its game Saturday, when Arizona visits Houston. The Cougars are led by All-American defensive tackle Ed Oliver, whom some project as the No. 1 pick in the 2019 NFL draft.
Lukusa will be part of the crew tasked with slowing Oliver down. It'll be a new experience for him in multiple ways. A tackle by trade, Lukusa never had played guard before moving there during training camp. Deemed one of Arizona's top five linemen, Lukusa would have had to move from left tackle anyway when Layth Friekh returns next week.
"They obviously had a plan in place for the rest of the season, a bigger-picture plan, bigger than the first two games," Lukusa said. "I was ready to do it. One, I didn't want to be on the bench. Two, I wanted to help this football team."
That desire went missing for a while. After quitting the team at Michigan State, Lukusa told the Detroit Free Press in February 2017 that he hadn't "been in love with football" since high school.
"I'm definitely not passionate enough about football right now to have my life revolve around it," Lukusa said at the time.
So Lukusa surrendered his scholarship, went home and joined the workforce. Helping disabled people at the adult foster care home changed the way he looked at his life.
"It definitely helps you appreciate … the things you're able to do," Lukusa said. "I'm a healthy human being. I get to play sports at a major university. I'm definitely blessed."
Lukusa spent about a month washing and drying cars at the Boon Street Auto Wash. Customers would ask him: "Aren't you supposed to be starting at Michigan State?"
"I kind of got tired of answering that," Lukusa said, "and asking myself why I'm here."
Lukusa decided he wanted to become a student-athlete again. He had a prior relationship with Chris Singletary, a UA football analyst who at the time was in charge of the Wildcats' recruiting. But Lukusa was headed to Arizona Western College, where he would play football and basketball for a year before returning to Division I.
That plan lasted three days.
"I got down there and, no offense to Yuma, but Yuma was different than I pictured it in my head," Lukusa said. "I wanted to come play football at a place like this."
Lukusa knew he would have to sit out a year at any FBS school. Then-UA coach Rich Rodriguez viewed that mandatory redshirt season as a test. If Lukusa could endure being on the scout team — with no chance of playing in a real game until 2018 — he would prove his heart was really in it.
"I guess you could say it tested my passion," Lukusa said. "Sometimes you make sacrifices, and that's just part of football and life."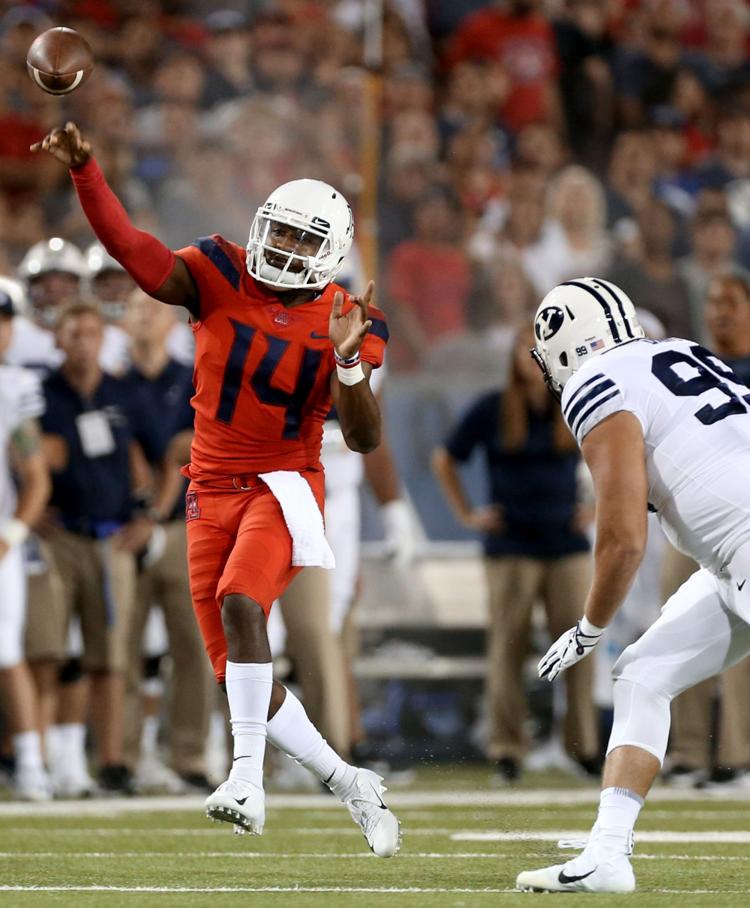 Sumlin on Tate
UA coach Kevin Sumlin hinted Monday that the offensive game plan would be tweaked to take better advantage of quarterback Khalil Tate's skill set. Sumlin took it a step further Tuesday.
"We certainly have to do a better job schematically to get him more involved with his legs," Sumlin said. "BYU had a nice scheme to try to contain him in the pocket, not really rushing from the outside. But it's something we have taken a really hard look at this week. It can only help us to get his legs more involved in the offense."
Tate ran the ball only eight times against BYU, netting 14 yards. Sumlin refuted the idea that the game plan sprung from Tate wanting to throw more and run less.
"I haven't heard that statement. I'm not familiar with that," Sumlin said. "What we've done is try to take advantage of all of our players' skill sets. As coaches, we can be more creative to do that."
Extra points
Tim Hough said he was expecting to play the "Spur" safety position before getting late word that starting cornerback Jace Whittaker would be unavailable vs. BYU. Hough ended up starting at corner, where he played well in coverage. Whittaker is expected to return vs. Houston.
Saturday's game will air on ABC or ESPN2, depending on which part of the country you live in. The other game in that window is Georgia Tech-South Florida.