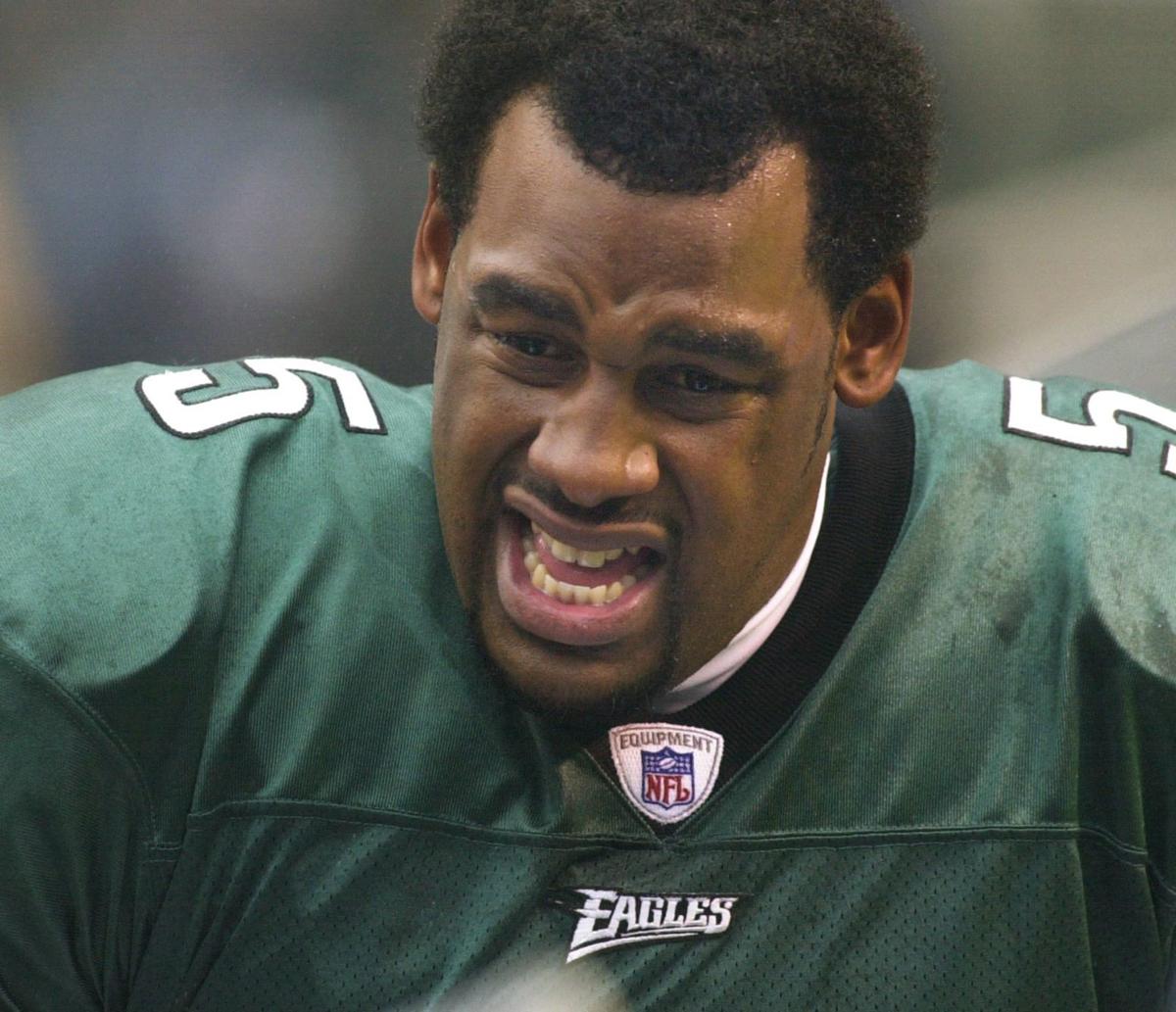 Last August, before his roller coaster ride of a senior season began, Khalil Tate revealed that he had a Fathead of Donovan McNabb when he was younger. The former NFL quarterback caught wind of the Arizona QB's wall art via Twitter. McNabb responded in kind:
"Appreciate you, young fella. Keep grinding."
So began a relationship that, in McNabb's words, "came full circle" several months later. Tate's agent, Zeke Sandhu, reached out to McNabb, who resides in the Phoenix area. Sandhu asked McNabb if he could work with Tate as he prepared for the Wildcats' pro day and the 2020 NFL draft.
McNabb gladly accepted the assignment. The six-time Pro Bowl selection believes in giving back. He also believes Tate — one of the most prolific yet polarizing players in UA football history — has untapped talent.
"Sometimes all you need is an extra push," McNabb said this week. "Some guidance to get you over the hump."
Tate faces significant hurdles to prove he's more like the player who set multiple records as a sophomore than the one who lost his full-time job as a senior. The postponement of pro day, which had been scheduled for Tuesday, won't help. It would have given Tate a chance to show scouts what he's been working on with McNabb, on and off the field. Instead, because of the coronavirus pandemic, Tate and countless others must wait for another opportunity that might never come.
"It's unfortunate what happened," McNabb said, "because he was ready. And he's gonna continue to be ready when the time comes."
It's impossible to predict how the rest of draft season — or anything — will play out. McNabb is certain of one thing, though: Tate is better prepared for whatever comes next than when the two began working together in January.
They would meet at Exos in Scottsdale and other nearby fields about three days per week. They'd spend up to two hours per session working on footwork, balance, timing, tempo and recognizing coverages. Tate absorbed the wisdom of an elder who was the second pick in the 1999 draft and passed for 37,276 yards and 234 touchdowns over 13 seasons.
McNabb and Tate also talked extensively about the latter's experiences at Arizona. Tate became a national sensation in 2017 under Rich Rodriguez, rushing for 1,411 yards and leading the Wildcats to a bowl berth. Tate was expected to take his game to an even higher level under Kevin Sumlin, but that jump never happened.
Tate was slowed by injuries in 2018, didn't run nearly as much yet threw 26 touchdown passes and only eight interceptions. He started off strong as a senior before hitting a wall against Washington in mid-October.
Neither Tate nor the Wildcats would be the same the rest of the way. Tate shared time with freshman Grant Gunnell. Arizona lost its final seven games to finish 4-8.
Despite some standout games, Tate and Noel Mazzone — Arizona's quarterbacks coach and offensive coordinator — never found the middle ground upon which the mercurial QB could establish himself as a consistent performer. Both downplayed rumors of friction between them.
Asked earlier this month whether he had any regrets about the way things worked out with Tate — whether he could have done something differently — Mazzone said: "We all have things like that. He'll hopefully have a great pro day and have a great opportunity to play at the next level, because he definitely has all the tools."
The coaching Tate received in college, the work they did together and whether Tate deserves a chance to play quarterback in the NFL were among several topics McNabb discussed in a phone interview with the Star. Below are highlights from that conversation, which has been lightly edited for context and clarity.
What has it been like to work with Khalil?
A: "I knew how important this was for him. I just kind of went at it full steam ahead. He's a guy that puts in the time. He's dedicated. He's determined. He listens. He's a guy that just kind of wants more and more information.
"We spent a lot of time on the field. But we also spent a lot of time off the field, in the classroom, communicating in scenarios, what's best versus this coverage, why this defensive front goes with this coverage and questions that they may ask during pro-day board work.
"We're constantly advancing from a quarterback standpoint — not just sitting back and throwing the ball and completing passes versus air, but more of the visualization of knowing and recognizing the coverage that you have, what routes go with what, what will be eliminated. How you go to your No. 2 read, your footwork in the pocket, advancing up to the line of scrimmage and being able to deliver a strike for a first down."
How much of your interactions with him fell into the category of mentoring?
A: "All of it. If we're not working together, I still check in with him, make sure that he's working out, make sure he's eating right. We set a goal of where I wanted his weight to be, where I wanted his 40 to be, where I wanted him to be going into his pro day."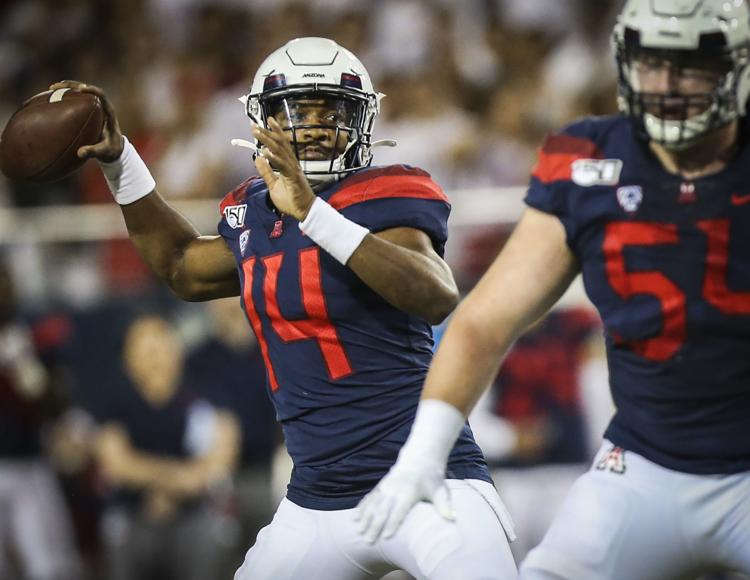 How much do you think it's going to hurt him if there is no such opportunity?
A: "I think everyone has a look on him or a read — what happened with Kevin Sumlin and Mazzone and those guys taking over the last two years. Two years before that, he was a Heisman Trophy candidate with RichRod. People don't realize how sometimes these coaches come in with egos and don't really cater the offense around the ability that they have at their major position — that being the quarterback.
"A lot of the things that we worked on, the first thing he said to me was, 'Nobody ever told me that.' Instead of guys just writing up on the board, 'These are the plays we're gonna run,' and we go out to practice and all of a sudden it's like, 'You're not doing it' … maybe you need to cater your coaching so that he will be comfortable doing it?"
How familiar were you with his game and his story before you two connected?
A: "I was pretty familiar with his game. The story aspect, that's something I like to learn from a personal standpoint. I don't get into reading into the past and hearing what people may say of him, because some people may like him, some people don't. I know that for a fact playing in places that I've played and (in the) reactions of people when they hear my name.
"I enjoy working with him one on one. … And everything that I had heard leading up to that point, I've seen everything different."
What had you heard about him?
A: "A lot of people want to question his work ethic. They feel like he's a 'me' guy. This is what a lot of coaches and scouts hear from going to U of A or (talking) with people around U of A and asking them questions — just kind of saying a lot of negative things about him. But when you talk to a lot of his teammates, they talk about his hard work, they talk about how he's a team guy, they talk about how he's always around the guys — that he's not isolated.
"The things that I tried to implant in him. … One, you're coming in behind the eight ball a little bit because of the offensive scheme you were in the last two years. Two, they want to see how you handle adversity, how you're coming in where you're not 'The Guy' and you've gotta battle and compete.
"No. 3, they want to know the type of time that you're going to sacrifice and put in to learn the offense, to get comfortable in the scheme, to be comfortable in the pocket. And at the end of it all, they want to see if you can play."
Those criticisms you mentioned, are they something that you ever talked to him about?
A: "I have. We have a relationship where we just throw things off of each other. And I think that's what makes it special. Because I've been there. I've been in his situation. I've been in his shoes, where you gotta go in and compete. People say things on the outside, and you can't focus on that; you can only just zone in on what the task at hand is."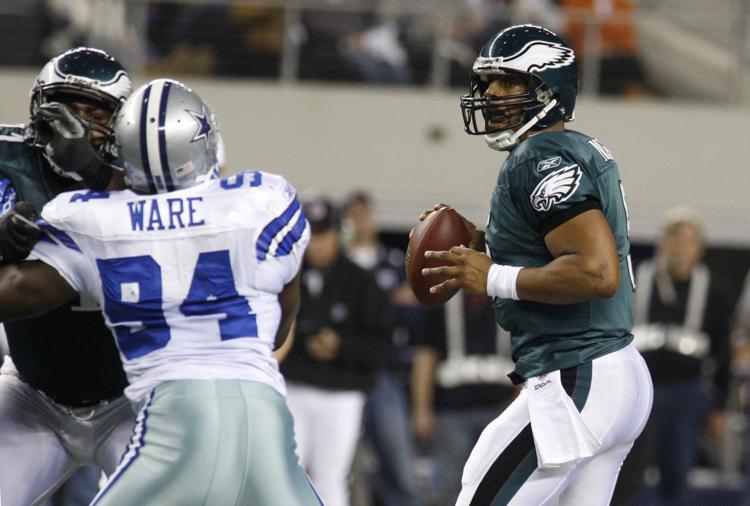 Did he ever express any regrets about the way things went for him at Arizona?
A: "I never got to that situation to ask him about that. Because I'm all about moving on. I'm all about understanding the past, recognizing the negative things that may have happened and cleaning it up and making it into a positive. That's where I am."
Many in the NFL draft world say Khalil will have to change positions to make it. Is that something you can relate to because of the experience you had coming out of high school, where only a handful of programs wanted you as a QB?
A: "Yeah, absolutely. And I think it's garbage. It bothers me all the time when that's the go-to. It's not, 'What kind of coach would be able to get the best out of this young man?' Or, 'Where's his ceiling?' Or, 'What can he do?'
"It's never those questions. It's always, 'Have you ever thought about playing receiver?'
"It makes no sense to me. Let's see what he can do on the NFL level under NFL coaching. I think that's where it should be for Khalil."