Wildcats storylines: On Arizona's rematch with Ed Oliver, J.J. Taylor's returns
Star reporter Michael Lev is focusing on these five things as the Wildcats and Cougars prepare for Saturday morning's game.
Dread for Ed: Arizona braces for Round 2 with Houston star Oliver
Arizona, we have a problem.
His name is Ed Oliver, and he might be the best player in the country.
The Wildcats know all about the Houston defensive tackle. He was the best defender in a defensive slugfest between the Cats and Cougars last year, recording a team-high 11 tackles, including 1.5 for losses, and a forced fumble.
Oliver did that against an experienced offensive line. Saturday he will face a unit that is anything but; four of its five members made their first career starts last week.
Here's what a handful of Wildcats had to say about Oliver heading into the rematch:
UA coach Kevin Sumlin on what he likes most about Oliver's game:
"Everything. That's why we tried to recruit him at the last place (Texas A&M). He's powerful, he's big, he's quick, he's got a great demeanor. He's a special talent, and he's a handful."
Sumlin on why Oliver is so hard to block:
"The issue that he presents is, unlike with some great players where you (can) take away a side or a part of the field, this guy's right over the football every snap. He's right in the middle of things. He can be extremely disruptive.
"The good thing is, we know where he is. The bad thing is, people have known where he was and still haven't been able to block him. We've gotta be able to do some things to keep him off balance."
Left guard Tshiyombu Lukusa on the prospect of blocking Oliver:
"Whenever you go against a guy that's the projected No. 1 overall pick and he's got a lot of hype behind him, it's a challenge. But you've got to approach it like every other game. Get in the film room and study. Just be as prepared as you can be. And come 11 o'clock, just know that you did everything you could to be ready for him. That's what we plan on doing."
Tailback J.J. Taylor on facing Oliver for a second time:
"That's one of the players we've gotta key in on. We've gotta do our best to keep him out of the backfield, especially on pass plays.
"He plays hard, and he plays physical. He gives 100 percent every single play. We're going to have to be on our A-game."
Q&A: ESPN analyst Todd McShay gives his take on Khalil Tate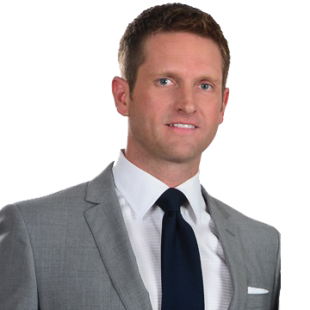 Longtime NFL draft guru and college football reporter Todd McShay will serve as the color analyst for Saturday's game. Here McShay gives his take on some of the key issues in a Q&A with the Star:
What did you see from Arizona's offense against BYU, specifically how Kevin Sumlin and Noel Mazzone utilized Khalil Tate?
A: "It was a little bit surprising in that he had just eight carries for 14 yards. It's not what we're used to seeing from Tate, because he's such a dynamic runner, and that's such a big part of his game.
"Part of it is adjusting to a new offensive system. I know that Mazzone is working with him to get everything in sync – match his drops with his progressions. It's kind of a tug of war between … doing all the little things you have to do as a quarterback to operate that offense functionally, then also letting Tate be Tate.
"The hard part against BYU specifically is that they are so disciplined. They just didn't allow for many opportunities for him to run, especially outside. They contained him with both of their edge guys. They didn't rush him a lot and just stayed in their gaps.
"Tate is going to have to, in those situations, become more efficient within the offensive system. I don't know if it's the other way around like a lot of fans may think.
"When they got down … they just started throwing the ball downfield and lost all rhythm in the offense. He threw the ball beyond 15 yards 17 times, the second most of any Power Five quarterback this season. He attempted only 63 of those passes the entire season last year."
Do you expect to see Arizona call more designed runs for Tate this week?
A: "I would think so. Houston's good on defense. Obviously, Ed Oliver's outstanding, and they've got two good defensive ends. They don't play the same brand of disciplined defense, consistently, like BYU showed in that game.
"I do expect Houston to run a lot of single-high safety, drop a safety in the box and try to emulate what BYU did and Oregon did a year ago. It seems to be the blueprint.
"But because (the Cougars have) a more aggressive style, starting with Oliver penetrating up the field, it tends to lead to some more opportunities, whether it's designed runs or broken-down pass plays."
What stands out to you the most about Houston's offense?
A: "Tempo. They are fast. We went to practice (Thursday), and they're snapping the ball as fast as Oregon did in the Chip Kelly days, or any team I've ever seen.
"They've got a quarterback who's competent as a passer in D'Eriq King; he keeps getting better.
"They (play) fast. They're mobile at quarterback. They're effective throwing the ball, and they've got a lot of weapons at wide receiver. This is a very good offensive team."
J.J. Taylor's make-you-miss ability should make him a hit on kickoff returns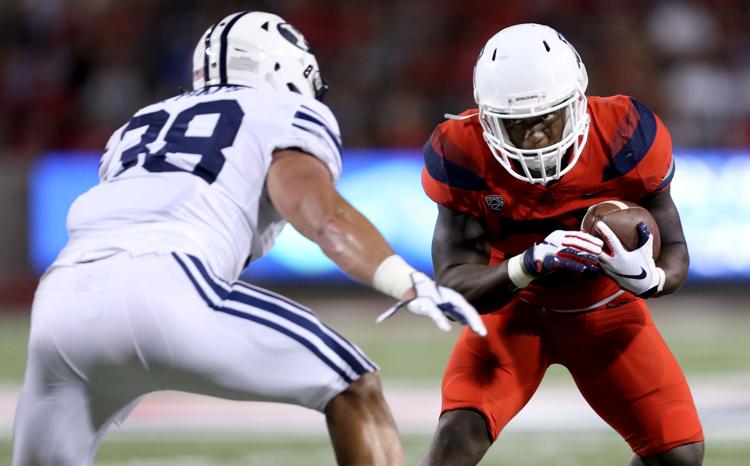 Arizona's starting running back, J.J. Taylor, is also its starting kickoff returner. Taylor's prominent role on special teams jibes with UA coach Kevin Sumlin's philosophy regarding the third phase of football.
"What you want to do is give your team the best chance to be successful in all phases," Sumlin said. "Which means that you want your best players out there. That gives us an opportunity for field position and/or points with him back there."
Before the opener last week, Taylor hadn't returned kickoffs in a game since high school. He averaged 43.4 yards per return as a sophomore at Centennial High School in Corona, California, according to MaxPreps.
Taylor wasn't quite as successful against BYU, averaging 23.7 yards on three returns. But you can see the logic in putting him back there: Taylor is one of Arizona's most elusive runners.
"He's got a unique ability to make people miss, and for his size he's got real power," Sumlin said of the 5-6, 184-pound Taylor. "He's got everything you want in a return guy, particularly kickoff return.
"And he wants to do it. That's a big part of it. That's not for everybody. You're going as fast as you can down the field, and they're going as fast as they can. There's some violent collisions. He's got the ability and the want-to, and he's going to be dynamic at it."
Taylor had no idea special-teams coach Jeremy Springer would peg him for the job, but the redshirt sophomore has embraced it. Like any offensive player, he wants to touch the ball as much as possible.
Taylor views the kickoff returner as the team's "tempo-setter." But when he catches the ball, his approach is the same as if he were carrying it out of the backfield.
"I'm just looking to score," Taylor said, "or get as many yards as possible."
Rise and shine: Wildcats hope morning game isn't a yawner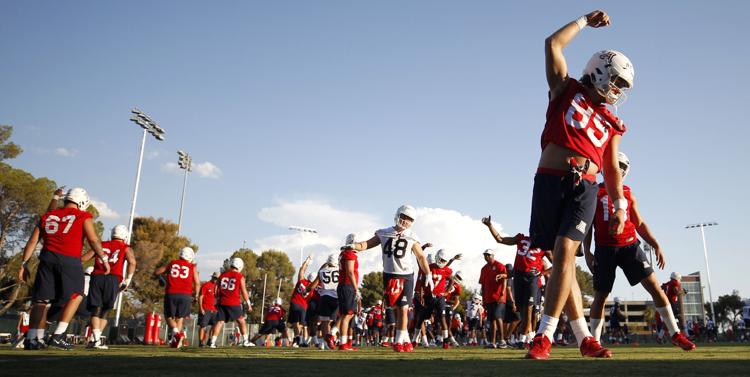 Sorry, Wildcats fans – no sleeping in Saturday if you want to see your team play.
Arizona and Houston are set to kick off at 11 a.m. local time, which is 9 a.m. in Tucson. The UA hasn't played a game that early in a long time.
According to Arizona's sports information department, the Wildcats last played at 9 a.m. Tucson time on Sept. 20, 2003, at Purdue. The Boilermakers won that game 59-7.
Most college students aren't morning people. UA linebacker Tony Fields II described himself as a night owl. But it's not as if this will be his first experience with Saturday Morning Football.
"As a youth football player, I played at 6 a.m.," Fields said. "I played at 7 a.m."
The last time Arizona kicked off before noon came at the 2013 AdvoCare V100 Bowl in Shreveport, Louisiana. The game began at 10:32 a.m. Tucson time. Arizona defeated Boston College 42-19.
Considering that they kicked off about as late as possible last week – 7:50 p.m. – the Wildcats lost about half a day's worth of rest and prep time. It isn't the only challenge they will face.
The forecast for Saturday calls for a high of 90 degrees with a strong chance of thunderstorms. The average humidity in Houston is about 75 percent. In Tucson, it's about 30 percent.
A handful of UA defensive players suffered from cramping in the second half last week against BYU — at home, at night.
UA coach Kevin Sumlin emphasized the need to establish a better rotation moving forward, calling on his coaches to "have confidence in the other guys." He also has been harping on hydration.
UA players said they've been told to drink as much water as possible this week. When does that start exactly?
"Right now," tailback J.J. Taylor said.
He spoke to the media Tuesday afternoon. They might be tired, but the Wildcats won't be left high and dry in Houston.
Sumlin returns to city, if not stadium, where head-coaching career began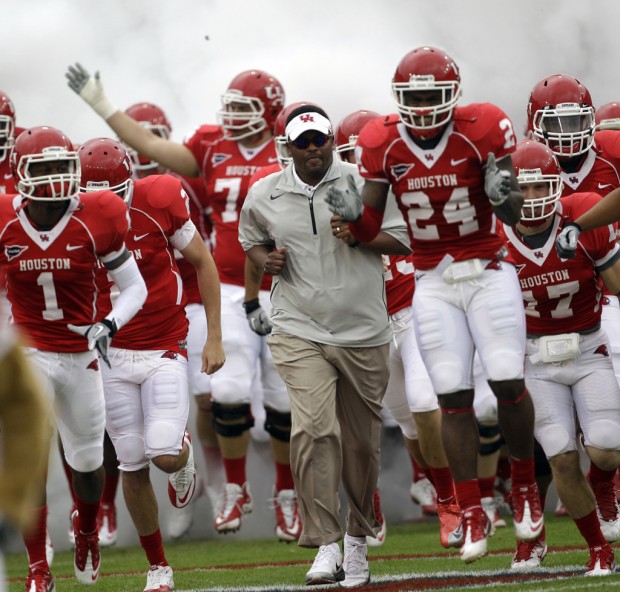 Before Saturday's game, Arizona coach Kevin Sumlin had only passed by Houston's TDECU Stadium. It opened after he left the school.
In a sense, though, you could call it The House That Sumlin Built.
The university began looking at stadium options in early 2010, after the Cougars completed their second season under Sumlin. By the time he left in late 2011, he had the second-highest winning percentage (.673) in UH history. (Sumlin now ranks third, behind Tom Herman and Bill Meek.)
Before Sumlin makes his coaching debut at TDECU Stadium, which made its debut in 2014, here's a quick look back at his four seasons at Houston:
2008
Record: 8-5, 6-2 Conference USA
Postseason: Bell Helicopter Armed Forces Bowl (W, 34-28, vs. Air Force)
2009
Record: 10-4, 6-2 C-USA
Postseason: Bell Helicopter Armed Forces Bowl (L, 47-20, vs. Air Force)
2010
Record: 5-7, 4-4 C-USA
Postseason: N/A
2011*
Record: 13-1, 8-0 C-USA
Postseason: TicketCity Bowl (W, 30-14, vs. Penn State)
(*-Sumlin left Houston in December 2011 and did not coach the Cougars in their bowl game)