Tate's uncertain future, Troy Young's gutty performance, a pregame scuffle and other notes.
Wildcats quarterback, coach briefly discuss future following loss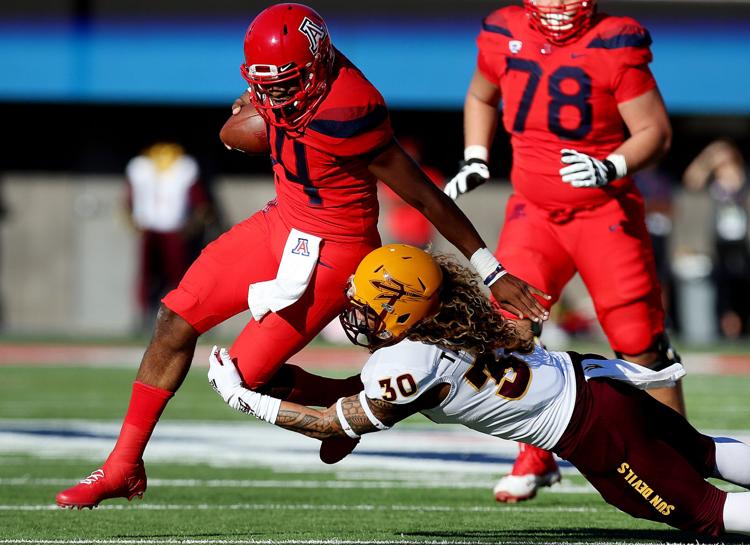 Khalil Tate sat glumly at the postgame podium, assessing the season that had just unfolded.
It began with the Arizona Wildcats quarterback appearing on the cover of Sports Illustrated, which touted him as a Heisman Trophy contender. It ended with a stunning 41-40 loss to Arizona State in which Tate played a critical role.
"We learned a lot," the junior said Saturday. "We got a new coaching staff. We didn't have as many seniors, but we still played for them. We had a lot of young guys play. This program has a lot to look forward to."
Tate then was asked whether he expected to be part of that future.
"Next question," he shot back.
Khalil Tate says Arizona had "bad luck" in the fourth quarter. Doesn't comment on a question about the late-game interception. pic.twitter.com/Dw9WLVCl0V

— The Wildcaster (@TheWildcaster) November 25, 2018
So began what could be an offseason of change for Arizona — nothing on the level of last offseason, but maybe more than what was expected a few months ago.
Having completed three seasons, Tate is eligible to enter the NFL draft. Although he threw 26 touchdown passes this season, and only eight interceptions, Tate does not currently project as a top NFL quarterback prospect.
Depending on his academic status — Tate was an early enrollee — he could leave Arizona and play immediately elsewhere as a graduate transfer. He also could return to Arizona and try to improve his game with another year of tutelage under Kevin Sumlin and Noel Mazzone.
"Those conversations I have with players, juniors, after the season," Sumlin said. "That's the way we've done it. We'll get all the information that he wants from the NFL, from evaluations and things like that. Sit down and talk to him about what his plans are and what those evaluations look like now that the season's over."
Tate threw three touchdown passes against the Sun Devils. But he was involved in two s in the fourth quarter, including an interception. After completing 12 of 16 passes in the first half, Tate went 9 of 23 after halftime.
"I don't know that it was a big adjustment," Sumlin said. "We were more in an RPO world in the first half. We went to some quick-game stuff and some dropback (in the second).
"In the fourth quarter we took some deep shots because they were blitzing and gambling at the line of scrimmage with eight, nine, 10 guys. We took our shots, and we didn't hit them. Those deep throws, percentage wise, are going to be lower."
Kevin Sumlin says the two turnovers in the 4th quarter were the biggest reason why Arizona fell to ASU. pic.twitter.com/2rwfchDTau

— The Wildcaster (@TheWildcaster) November 25, 2018
Tate just missed on a handful of deep passes, including throws to Shun Brown and Tony Ellison on the final drive. Tate connected with Stanley Berryhill III in the end zone from the 31, but Berryhill couldn't hang on to the ball with a defender in close proximity.
"Things just didn't go our way," Tate said of the fourth quarter. "A lot of bad luck."
Cornerback shuffle
Arizona played without starting cornerback Lorenzo Burns, who appeared to suffer a hamstring injury late in the fourth quarter of last week's game at Washington State.
With Burns and Jace Whittaker (elbow) unavailable, Arizona turned to sophomore Troy Young to start opposite Azizi Hearn. Young — who came to Tucson as a safety and was moved to linebacker at one point during the offseason — performed admirably under the circumstances.
ASU quarterback Manny Wilkins passed for 265 yards and a touchdown, but star receiver N'Keal Harry had just four catches for 55 yards.
"They went at him a couple times. I thought he held up," Sumlin said. "You can see his confidence was a lot different than at the beginning of the year. With the situations he was in, with two really good wideouts, I thought he did a nice job."
In his first career start at corner, Young finished with three tackles and one pass breakup.
All told, Arizona was missing six cornerbacks who were projected to contribute to the team in 2018: Burns, Whittaker, Tim Hough (left squad), Sammy Morrison (injury), Malcolm Holland (injury) and Tony Wallace (academics).
Pregame scuffle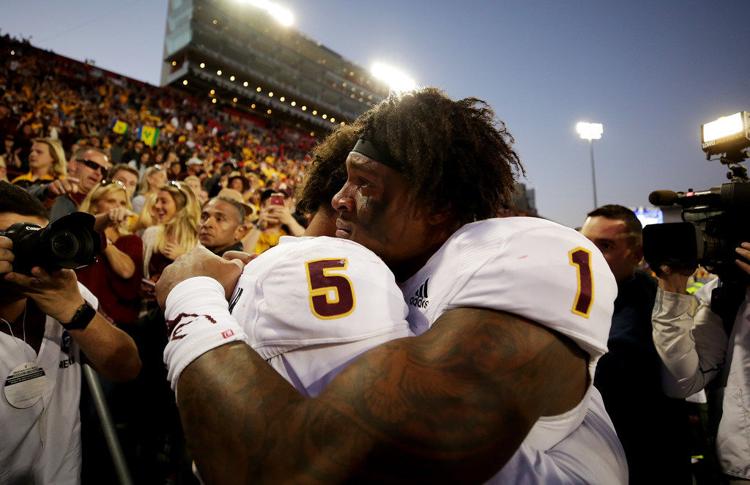 A skirmish broke out about two hours before kickoff. Players, coaches and even administrators from both sides exchanged heated words.
No punches were thrown, and no players were ejected. Security eventually arrived and camped out at midfield.
"They were talking a lot of (bleep)," Wilkins told reporters. "I had coaches coming up to me, talking crap. That's just ignorant. … A losing team with a losing attitude." 
Arizona and ASU players getting into a scuffle during warmups. It's rivalry week, folks. #TerritorialCup pic.twitter.com/BQDAR7z6FF

— Justin Spears (@JustinESports) November 24, 2018
Extra points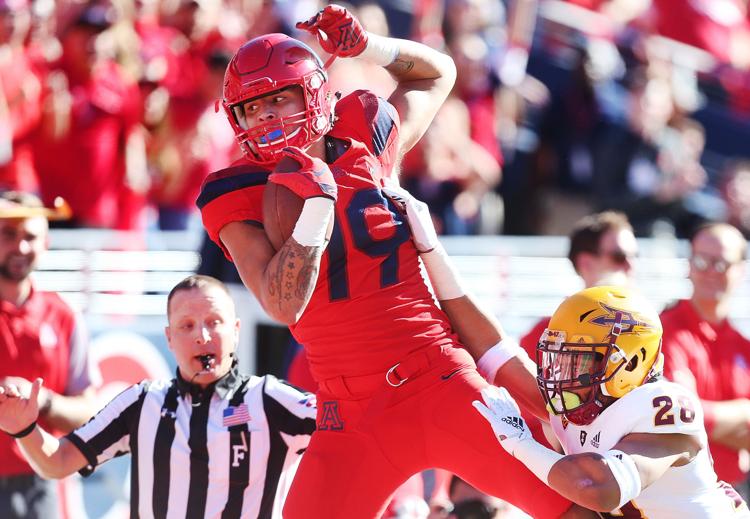 • Shawn Poindexter's first-quarter touchdown gave him 11 for the season, tying the UA record.
• J.J. Taylor rushed for 144 yards, giving him 1,434 for the season — the fourth most in Arizona history.
• Junior safety Chacho Ulloa made his first career start in place of Scottie Young Jr., who had to sit out the first half because of a targeting foul incurred in the fourth quarter at WSU. Ulloa forced Eno Benjamin to fumble in the first half, ending a ball-security streak by ASU running backs dating to 2016.
• UA defensive end Justin Belknap dressed for the first time since he broke his foot Sept. 13. The redshirt junior did not play.