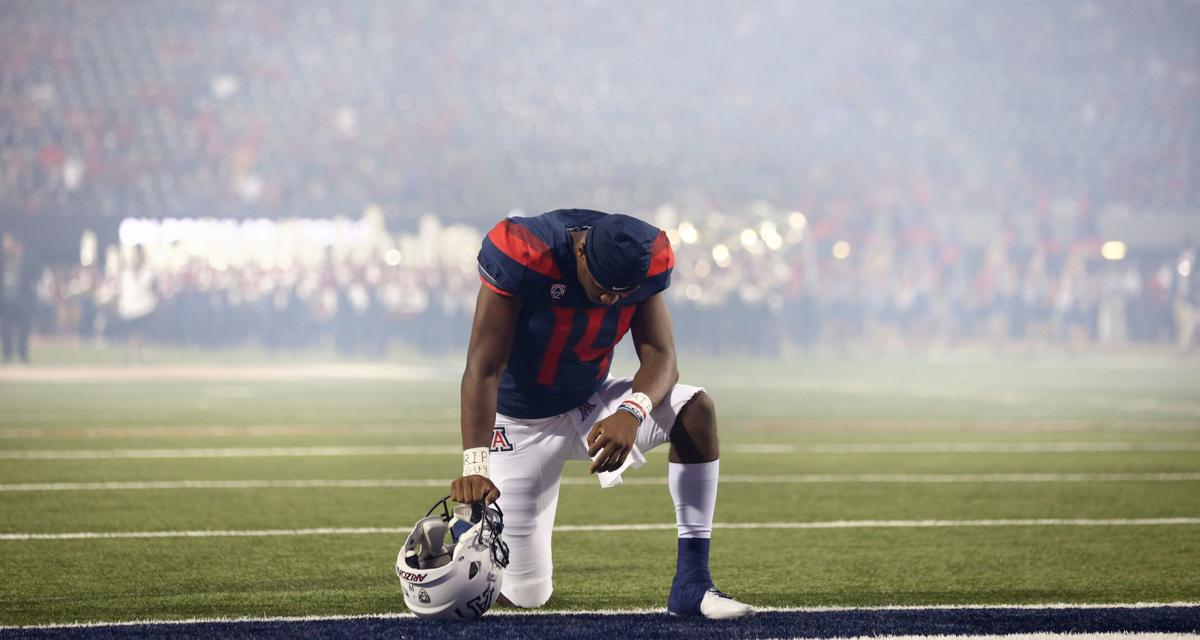 The quarterback matchup in Saturday's Oregon-Arizona game isn't what it could have been — although there's still a chance it could be.
The Ducks' Justin Herbert has lived up to the hype and then some. He's tied for seventh in ESPN's Total QBR, tied for 11th in touchdown passes and ranks 17th in efficiency rating. He ranks first, second and first in those categories in the Pac-12.
The Wildcats' Khalil Tate has endured a frustrating season. Among a handful of preseason favorites to compete for the Heisman Trophy, Tate instead has landed on several lists of the biggest disappointments in college football.
Tate sprained his ankle early in Week 2. He hasn't been quite right since.
Tate sat out last week's game at UCLA after missing most of the previous contest at Utah. The hope is that the time off will heal his body and put him in a better frame of mind.
Tate has been splitting first-team reps in practice with Rhett Rodriguez. UA coach Kevin Sumlin has not announced who his starting quarterback will be for Saturday night's homecoming game. If Tate is healthy enough to dress, he probably will start.
Former NFL quarterback Dan Orlovsky will take it all in from the TV broadcast booth at Arizona Stadium. After his journeyman playing career ended last September, Orlovsky became a social-media sensation with his video breakdowns of QB play. ESPN hired him in July as a college and NFL analyst.
Orlovsky spent this week watching every 2018 snap taken by Herbert, Tate and Rodriguez. The Star spoke to Orlovsky on Friday morning about the three quarterbacks. Here are his biggest takeaways: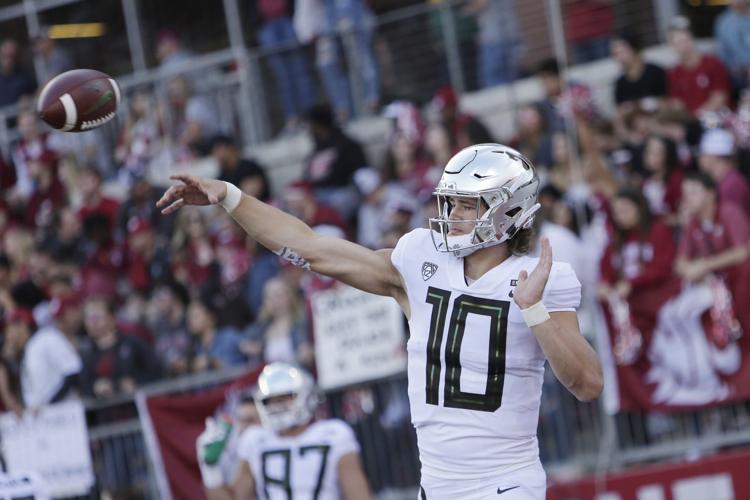 Herbert has it all
The first thing that jumped out to Orlovsky about Herbert is that he operates "a very real offense." Herbert is tasked with making decisions before the snap based on fronts and coverages.
Orlovsky came away impressed with how quickly Herbert goes through his progressions.
"He gets through progressions like a piston in a car," Orlovsky said. "Bop-bop-bop."
Herbert is blessed with immense physical skills.
The junior from Eugene, Oregon, is listed at 6 feet 6 inches tall, has a strong arm and is athletic enough to make plays with his feet. But Orlovsky could tell from his film study that Herbert also possesses "a very quick brain." He's able to process information and react accordingly.
"He looks like he has a very good grasp on that," Orlovsky said. "He has a very clear picture of what he wants to do every single play."
Orlovsky sees Herbert — projected by many to be the No. 1 pick in the 2019 NFL draft, should he choose to enter it — as a cross between Philip Rivers and Carson Palmer. Which isn't to say Herbert is a perfect prospect.
Orlovsky said Herbert sometimes drifts out of the pocket and into bodies. He also will throw off his back foot when defenders are around his feet. Such is the tendency when you're as gifted as Herbert is.
But Orlovsky said neither of those deficiencies is hard to fix. The analyst also got the impression, after speaking with Oregon offensive coordinator Marcus Arroyo and Herbert this week, that Herbert has "an endless desire" to get better.
While acknowledging that he needs to study all the draft-eligible quarterbacks further, Orlovsky currently ranks Herbert atop his list.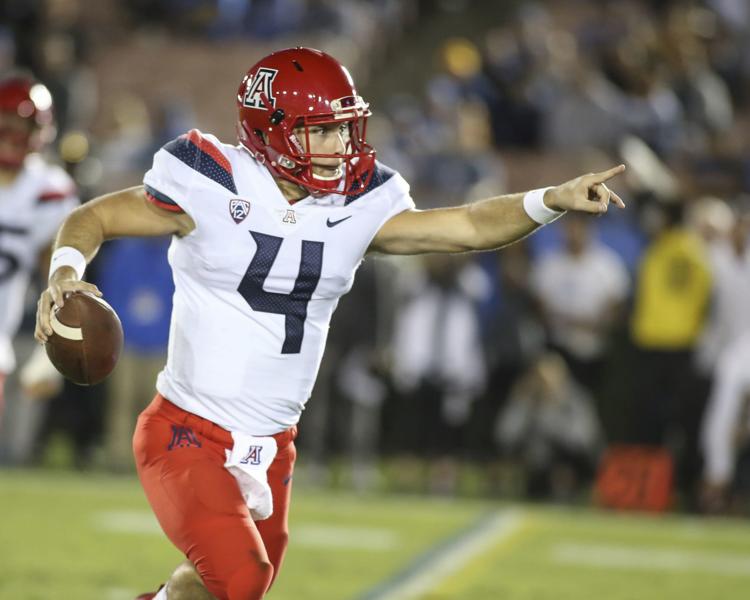 'Stuff is different' for Tate
Like just about everyone else, Orlovsky watched in wonder as Tate rolled up mind-boggling numbers with one highlight-reel play after another in 2017.
"Holy smokes," Orlovsky said. "Who is this human?"
Tate seemed superhuman at times last season. This season has been a different story.
After he watched Tate's tape from 2018, Orlovsky summed up his reaction as "that emoji weird face."
Orlovsky came away puzzled. What happened to the guy who dominated the Pac-12 and ranked second in Total QBR behind only Heisman Trophy winner Baker Mayfield?
Orlovsky cited two main factors. The first is adjusting to a new offense. Arizona fired Rich Rodriguez in January. Sumlin hired offensive coordinator Noel Mazzone to run a similar yet distinct version of the spread.
"I don't care what anyone says," Orlovsky said. "It takes time. Stuff is different. You could tell Khalil wasn't up at the plate swinging for a home run. He was just trying to make contact, trying to think his way through everything."
The second factor behind Tate's downturn is his nagging ankle injury. Orlovsky, who spent more than a decade on NFL rosters, said it's a bigger deal than most think.
"It never seemed like he was shot out of a cannon like he was last year," Orlovsky said. "That affects his throwing too, driving the ball downfield."
Orlovsky was presented with the theory that Tate's issues are more psychological than physical. Orlovsky didn't buy it.
"For everybody that says in his head, no one knows the injury," Orlovsky said. "And how many people have had ankle sprains and tried to play at that high a level? It affects you. It just does.
"To say it's in his head is a negative connotation. It might be the reality because it's a real thing. Yeah, it's in his head — because he's hurt."
Although Tate didn't play last week because of the injury, Orlovsky believes sitting out could give the junior a motivational nudge.
"I don't know him that well. I don't know what gets said in meetings," Orlovsky said. "But no one wants to see somebody do their job and play their position."
RhettRod brings energy, has limitations
Rhett Rodriguez played the final two-plus quarters at Utah and made his first career start at UCLA. After a frigid first quarter, the sophomore led six scoring drives. Arizona lost 31-30.
"I loved his energy," Orlovsky said. "I loved his excitement."
Rodriguez elected to stay at Arizona after the school fired his father, Rich, as coach. The past 10 months haven't been pleasant for the Rodriguez family. Even from afar, Orlovsky could tell Rhett had a "this-was-all-worth-it" vibe to his game.
Rodriguez's physical limitations also showed up on film.
"There are deliberate throws. He's going to telegraph where the ball goes," Orlovsky said. "But he gave his team a chance to win a ballgame, and that's your No. 1 job as a quarterback."
Orlovsky said Rodriguez's inexperience needed to be taken into account; the past two games were really the first time he got a chance to play meaningful snaps in college. Orlovsky said the studious Rodriguez can be effective in a timing-and-rhythm offense, but "you've got to be very strategic because his arm's not as powerful."
Justin Herbert vs. Rhett Rodriguez isn't the marquee QB matchup that had people circling Oregon-Arizona on their calendars.
Herbert vs. a healthy and motivated Khalil Tate? That would be something.
Be the first to know
Get local news delivered to your inbox!