There was something unusual about this young man. Burt Kinerk recognized it right away.
The longtime Tucson attorney had represented some of Arizona's finest, including Sean Elliott and Tedy Bruschi. When he sat down with Shawn Poindexter for the first time at a UA basketball game late last year, Kinerk took note of the NFL hopeful's disposition. Although old enough to be Poindexter's grandfather, Kinerk saw a kindred spirit in the 23-year-old wide receiver.
"I had a feeling that I knew Shawn for a very long time," Kinerk said. "We had the same beliefs."
Kinerk was so impressed that he agreed to represent Poindexter — but only as an advisor, not as an agent. When Poindexter signs his first pro contract, Kinerk won't get a cut. He decided to help as a show of support for UA athletics and because he believes Poindexter has the makeup to make it big.
"My sense was, my belief was, very quickly, that he got it," Kinerk said. "A lot of players don't get it. He thinks beyond himself."
Poindexter's unusual path from project to prospect gives him a perspective many of his peers lack. He took a different route to become Arizona's top wide receiver in 2018, so it shouldn't come as a surprise that he's going about the pre-draft process in a distinctive way.
The vast majority of would-be pros hire agents, who ship them to remote outposts to train for the scouting combine and campus pro days. Poindexter, who's slated to play in the East-West Shrine Game on Saturday, isn't planning to hire an agent. He is preparing for workouts and the draft in Tucson with the aid of a team Kinerk helped assemble.
Poindexter has a strength coach, a route-running coach, a track coach, a dietician and a Pilates instructor.
The coaches should be familiar to UA fans: Brian Johnson, the director of strength and conditioning for the football program; Taylor Mazzone, the Wildcats' outside receivers coach; and Fred Harvey, the head track-and-field coach.
Like Kinerk, they're all working pro bono. The wouldn't do it for just anyone.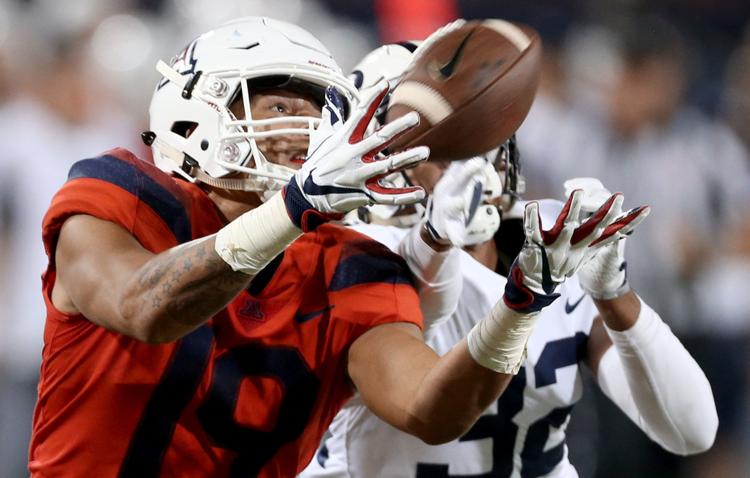 Late bloomer
Eric Hagg knows what it's like to guard an NFL wide receiver. The product of Ironwood High School in Glendale played defensive back for two seasons with the Cleveland Browns. He has become a friend and mentor to Poindexter.
"Shawn, in my opinion, is the all-around best athlete I've ever seen," Hagg said.
Poindexter is 6 feet 5 inches tall with the speed to get deep. He averaged 18.1 yards per catch for Arizona last season and tied the school record with 11 touchdown receptions.
So why is Poindexter projected into the back half of the 2019 draft? Why didn't he make the cut for next week's Senior Bowl, the most prestigious of the prospect showcases?
The main reason is that Poindexter was a late bloomer. He was almost a never bloomer.
Poindexter played three sports at Peoria's Centennial High School: basketball, football and volleyball. Volleyball was his main endeavor, and he committed to play it for Cal Baptist.
Poindexter lasted about a week at the small, private school in Riverside, California. He never felt comfortable there.
Poindexter returned home, his athletic career on indefinite hold. Unsure of his next move, he joined the workforce, first as an electrician's assistant, then as a busboy and finally as a Cinnabon baker.
Poindexter didn't HAVE to work, but it seemed like the right thing to do. For much of Shawn's youth, his father, Darnell, a mail carrier for the U.S. Postal Service, had raised Shawn and his three brothers. When his parents were together, the six of them lived in a two-bedroom, one-bathroom apartment.
By the time Poindexter returned from Cal Baptist, his family had moved into a three-bedroom house. "That's when money got even tighter," Poindexter said. He recalled times when the electricity was shut off and the refrigerator was all but empty.
"I didn't want my dad to have to take care of me," Poindexter said.
Poindexter knew he wanted more out of life — "I didn't enjoy it one bit," he said of being an electrician's assistant — but he didn't have a concrete plan either.
"I was really driven by ego when I was younger," Poindexter said. "That's why I committed to volleyball. I should have committed to a juco (junior college). I looked at it like I was too good for juco. In reality, I didn't have the grades (for a four-year school)."
Poindexter left Cal Baptist in late summer 2013. Toward the end of 2014, he decided to give football — a secondary pursuit in high school — another shot.
In the spring of 2015, Poindexter enrolled at Glendale Community College, where he could play with older brother Justin. (Justin is the second-oldest sibling, Shawn the third.)
"In the back of his mind, he wanted to play at the next level," Justin Poindexter said. "He knew he had a gift."
GCC is a long way from the NFL. Shawn Poindexter also had relatively little football experience. But it took him little time to become a weapon for the Gauchos. He caught 47 passes for 727 yards and seven touchdowns — mirroring his breakout line of 42-759-11 from this past season.
Poindexter received offers from Marshall, South Dakota State and UAB. He visited Marshall and committed to the Thundering Herd on Feb. 1, 2016.
On Feb. 2, Poindexter received a call from then-Arizona assistant coach Charlie Ragle. The Wildcats offered Poindexter a scholarship. He accepted on the spot.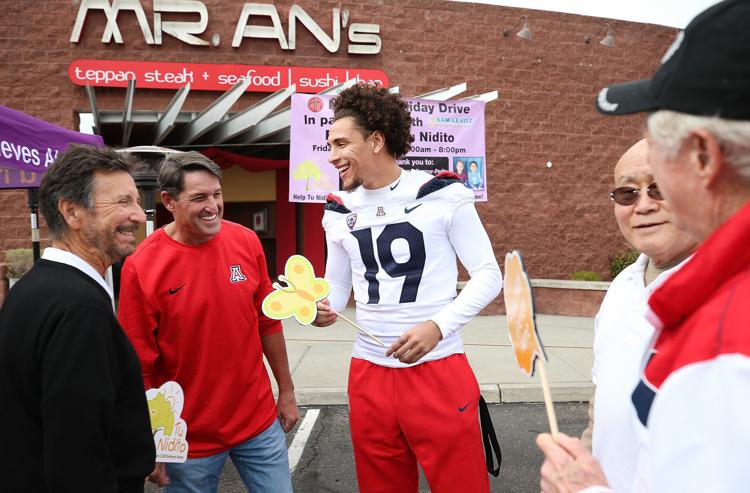 Potential into purpose
Patient yet hungry. That's how Justin Poindexter described Shawn's mentality when he was out of school for about a year and a half. That same approach would serve him well at Arizona.
Poindexter was raw when he arrived in Tucson, and he was a bit player in his first season, which was truncated by injury. He caught only six passes for 82 yards in 10 games.
Poindexter's role grew the following season, but it wasn't until its conclusion that he truly started to make an impact. Poindexter set career highs with five catches and 71 yards in the 2017 Foster Farms Bowl. He also recorded his first touchdown reception as a Wildcat.
After being granted an additional year of eligibility, Poindexter caught another break: Arizona hired a new coach, Kevin Sumlin, who brought more balance to what had become a run-heavy attack. He also had helped develop a similarly built receiver in Mike Evans.
Poindexter took off, at one point recording touchdowns on six consecutive passes over three games. He scored nine times in his final five games at the UA.
But at no point did Poindexter display any of the diva-like tendencies commonly associated with big-time receivers. He continued to do the grunt work away from the ball. He remained humble.
When you've lived in a cramped apartment, seen your dad carry the mail in 115-degree heat and wondered if your athletic career ever would materialize, you appreciate where you are and what you have.
"Everybody has a host of potential," Hagg said. "But potential doesn't get you anywhere. You've got to turn potential into purpose."
Poindexter worked diligently on the finer points of his craft, learning to use his big body and leaping ability to defeat smaller defensive backs. Hagg said Poindexter is the type who asks a lot of questions. A safety by trade, Hagg does his best to answer them. His main message: Focus on the little things you can control — hands, feet, technique, effort — instead of worrying about the big things you can't.
Poindexter does have one, firm long-term goal. He would like to open a community center, akin to a Boys & Girls Club, to help underprivileged youth.
The Poindexters couldn't afford private trainers. Shawn and his brothers would do drills at the park that they learned from watching YouTube and Instagram videos.
Poindexter knows there are many others like him. He received the support he needed to turn his potential into purpose. He's determined to pay it forward.
"It's the truth," Justin Poindexter said. "It's not a publicity stunt. That's really how he feels."