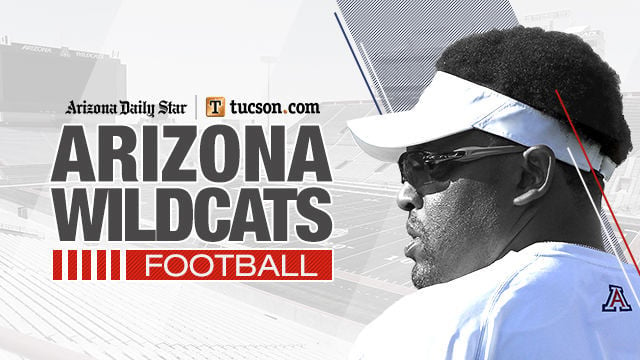 Observations from warmups before the Arizona Wildcats' game against Colorado on Friday night at Arizona Stadium (7:45 p.m., FS1):
* Laviska Shenault Jr., the Buffaloes' star wide receiver, will not play because of a toe injury. Shenault has missed the past two weeks, both Colorado losses. Look for a heavy dose of K.D. Nixon in the passing game in Shenault's absence.
* Gary Brightwell, Arizona's No. 2 tailback, is not dressed. Brightwell suffered an apparent ankle injury in the second quarter last week. Anthony Mariscal is listed as the backup to J.J. Taylor. Sophomore Nathan Tilford is dressed for the first time this season. He is listed as the No. 3 running back. He also could play on special teams.
* Redshirt sophomore Michael Eletise is set to make his second career start, this time at right guard in place of the injured Bryson Cain (knee). Eletise started at left guard two weeks ago against UCLA.
* Defensive tackle PJ Johnson is dressed but did not line up with the first unit during team drills. Finton Connolly took his spot.
* Defensive end Jalen Cochran is dressed. He's been out since suffering an upper-body injury against Oregon State on Sept. 22. Cochran has a brace on his left arm.
* Christian Young and Azizi Hearn are listed as co-starters at field cornerback. Hearn was the first man up during 7-on-7 and 11-on-11 drills.
* Colorado is down to its third-string placekicker. Starter James Stefanau (hip) is hurt, and backup Evan Price did not make the trip because of illness, per Brian Howell of the Boulder Daily Camera.
In addition to playing without WR Laviska Shenault and PKs James Stefanou and Evan Price, the #cubuffs are also without starting safety Evan Worthington (concussion). He had started the previous 19 games.

— Brian Howell (@BrianHowell33) November 3, 2018
Be sure to check Tucson.com and the Wildcaster app for updates during and after the game. You can also follow me on Twitter at @michaeljlev.
Contact sports reporter Michael Lev at 573-4148 or mlev@tucson.com. On Twitter @michaeljlev