The Arizona Wildcats face a difficult challenge in replacing Shawn Poindexter … and who would have thought that would be an issue a year ago?
Poindexter was still considered a project last spring, but he quickly made a positive impression on Kevin Sumlin and his staff. Poindexter ended up leading the team with 759 receiving yards and 11 touchdowns. He's now preparing for the upcoming NFL draft, and Arizona is searching for his successor — or successors.
The three main candidates — Drew Dixon, Tre Adams and Boobie Curry — have yet to catch a pass in a college game. But all three have the measurables to fill that big-bodied "X" receiver role.
Dixon, the former multi-position standout at Sabino High School, has had a "great" spring camp, according to outside receivers coach Taylor Mazzone. Dixon appeared in seven games as a redshirt freshman last season, when his most notable contribution was a pancake block against Oregon State. That's one of the ways in which Dixon has taken after his mentor — Poindexter.
"That's like my big brother," Dixon said. "He taught me a lot of things, not only on the field but off the field. It took me some time to mature. He was a big impact on it."
It took Poindexter three seasons at Arizona to learn the finer points of the position and how best to utilize his large frame. Dixon is entering his third year. He's listed at 6-3 and said this week that he weighs 212 pounds. Besides Poindexter, Dixon lists Julio Jones and DeAndre Hopkins as receivers he emulates. Dixon admires the way they go after the football.
Mazzone said Dixon has worked to improve the "small details" in his game, such as footwork and technique coming out of breaks. He's regularly one of the last players off the practice field.
"From the ups and downs of last year, he's been consistent," Mazzone said. "That's what we're looking for. The main vision, the main thing that we talk about every day is growth and consistency. Every day he's been stacking the chips, eliminating the MAs (missed assignments)."
Like Dixon, Adams played a part-time role last year. He participated in 65 snaps over four games, preserving his redshirt thanks to the new NCAA rule. The Frisco, Texas, product, who's listed at 6-3, 195, has come out this spring looking like a more comfortable, confident player
"That redshirt rule was excellent for him," Mazzone said. "He kinda got the idea of what the live bullets feel like, what it takes from the week of progress and preparation (before) crossing that while line on Saturday in front of fans. It's a different mindset. You've gotta grow up real quickly.
"He went back to scout team at the end of the season. He came back this spring understanding what it takes to be a starting receiver in the Pac-12."
Curry, who enrolled in January, isn't there yet. But he has shown signs.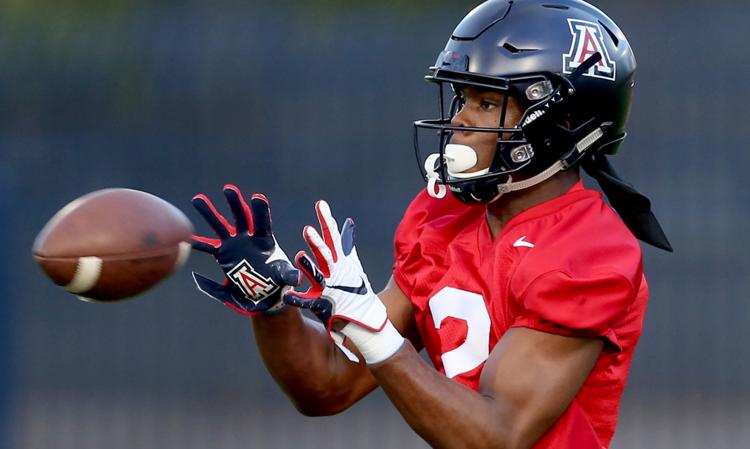 At 6-2, 206, Curry possesses the physical traits Mazzone likes in a perimeter receiver. Curry, who played with UA freshman quarterback Grant Gunnell at St. Pius X High School in Houston, is still learning the playbook, among other things.
"It's all brand new," Mazzone said. "He's learning where his classrooms are. He's trying to figure out what time study hall's at. He's trying to bring that all in, and also the football part. It's been good to see him grow every day."
With Poindexter, Shun Brown and Tony Ellison having used up their eligibility, the only established veteran in the receiving corps is fifth-year senior Cedric Peterson. Dixon, Adams and Curry are among several wideouts vying for playing time and targets.
It's unlikely any one player will replace Poindexter's production. The pecking order probably won't be known until August, if then.
For his part, Dixon is keeping it simple. He listed his 2019 goals as follows: "Be an (asset) on the field. Be a targeted receiver. Just help the team any way I can."
Havrisik figures it out
Lucas Havrisik is the only kicker on the spring roster. As such, he's gotten plenty of one-on-one time with special-teams coordinator Jeremy Springer.
The two have thoroughly examined the areas where Havrisik struggled last season. He opened 2018 as the starting placekicker but lost the job after making only 4 of 9 field-goal attempts.
"We finally figured it out, and he's had a great spring," Springer said. "He's getting better every day, and he's acting like a pro with his approach."
Havrisik is the heavy favorite to be the full-time kicker this year, in addition to his kickoff duties. The junior made a 58-yard field goal during a recent practice, and Springer said he feels comfortable with Havrisik from 65 yards.
But consistency from 49 yards and in is more important. Havrisik's experiences last season — losing the job, then redeeming himself with two long-range field goals against Colorado — should make him better this season.
"You get better with experience. That's plain and simple," Springer said. "Sometimes you're gonna struggle early on. But as you get more mature, you naturally become mentally stronger."
Fathers and sons
Some past and possible future Wildcats visited practice Wednesday.
Former UA linebacker Sean Harris brought his son, Jason Harris, a four-star defensive end from Gilbert Higley High School. Jalen Harris, Jason's older brother, is an edger rusher for the current squad. Arizona is one of at least 20 schools known to have offered Jason Harris a scholarship.
Former UA offensive lineman John Fina stopped by with his son, Bruno Fina, an offensive line prospect at Salpointe Catholic, where John also played. Bruno Fina recently received offers from UCLA and USC.
Jason Harris and Bruno Fina are both part of the class of 2020.
Extra points
Freshman cornerback Christian Roland-Wallace dressed but did not participate after getting banged up Monday.
Receiver Stanley Berryhill III remained limited but did take part in punt-return drills.
Pac-12 Networks announcer Daron Sutton attended practice and chatted with UA coaches Wednesday. Sutton will call the spring game, which is slated for 5 p.m. Saturday.