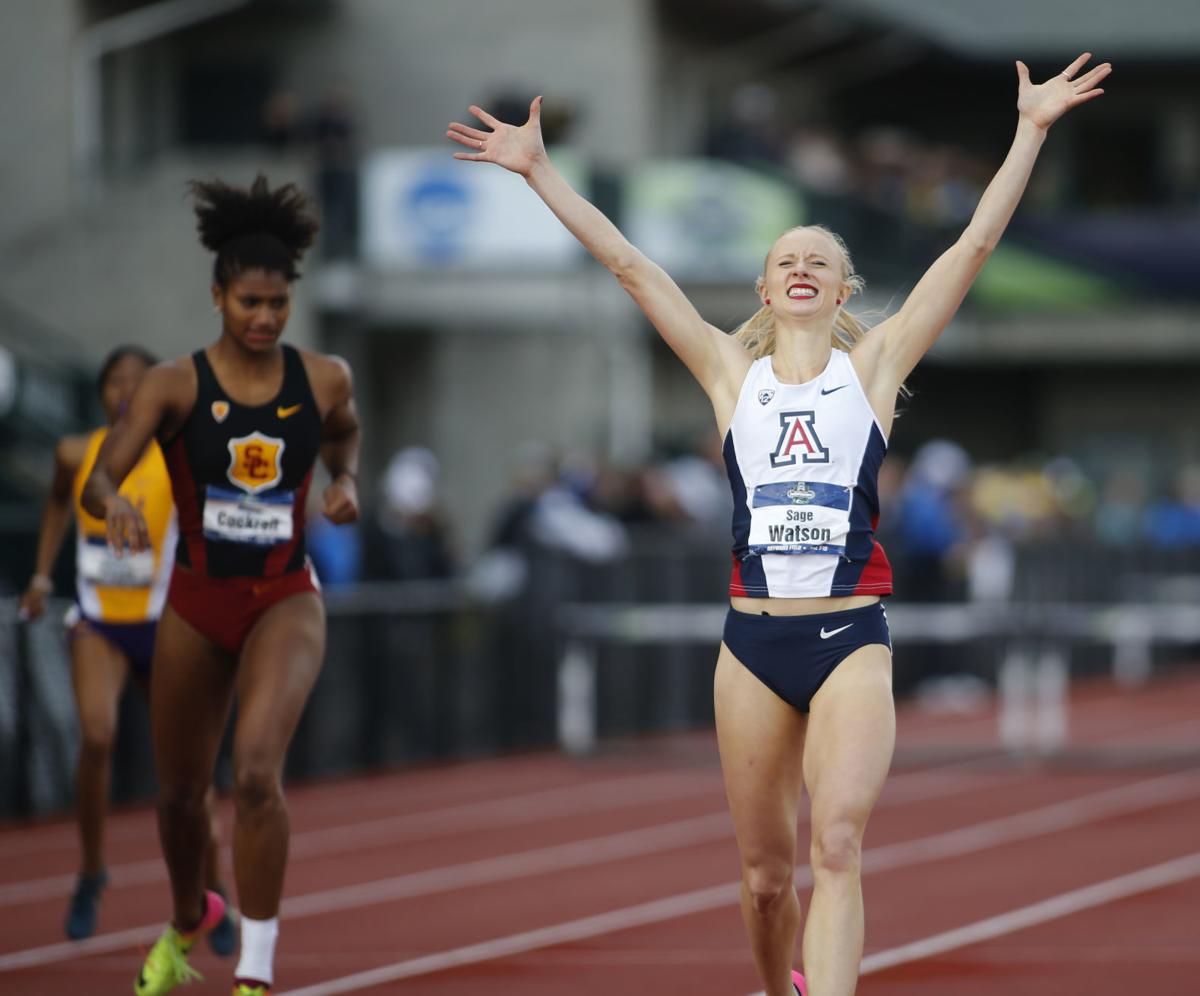 The routine on the ranch may vary, however Sage Watson's days typically flow in this order: Chores, helping her brother, ninth-grader Waylan study, training in the late afternoon and helping with calving season.
Not what one would expect from a professional hurdler, who is in the midst of training for the Olympics.
However, for former Arizona Wildcat Watson this isn't anything new. After all, she grew up on this ranch — her family's — in Medicine Hat, Alberta.
When the news of the possibility of the United States' borders closing to Europeans on March 11 because of the coronavirus, Watson expected Canada would be next.
The "greatest fear was that I couldn't get back home," she said.
A few days later she flew back home.
"I live on my own and I decided I didn't want to be on my own during a time like this — I wanted to be with loved ones," Watson said.
And she's been enjoying every minute of it. Well, she does miss the Tucson weather. She trains in the late afternoon — around 3 or 4 p.m. — because it's the warmest part of the day. On Thursday, it was only about 10 degrees. She says it's spring in Medicine Hat – it warms up a little, then it's cold again.
"I definitely miss the Arizona heat right now," Watson said. "I like it in the 80s — the 90s are too hot. Training in the cold is harder to breathe — but it hasn't slowed down my times or my pace. But, it takes extra effort. I'm all bundled up. In Tucson, I'm in a sports bra and shorts. It might be working to my advantage (training in the cold) as it is making my training tougher. Hopefully it will benefit me."
With the weather, she and her coach — UA track and field coach Fred Harvey — are a little more flexible in training. They looked at the forecast the other day — snow — so they flipped the session to indoors and lifting. The next day Watson went outside for a long speed endurance session. They also modify the rest times, so she isn't standing around in the cold too long.
This ability to change up things quickly has become the norm for Watson as she was battling a foot injury — bone chips and a fracture — that had nagged at her since July of 2018.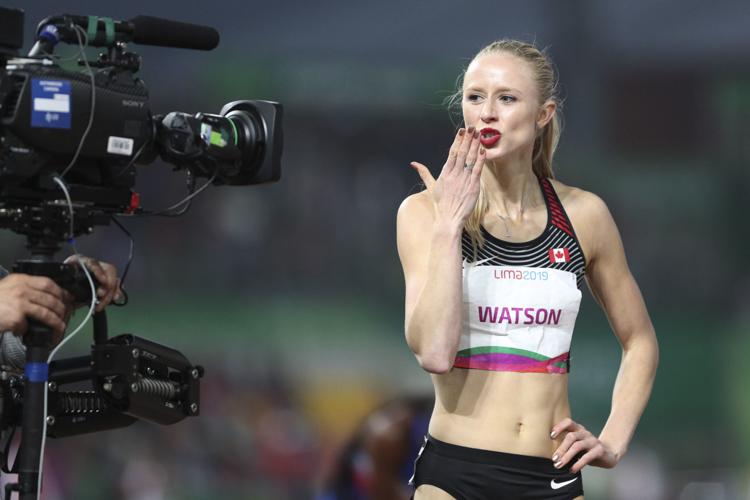 Although, they are still being cautious, her foot is healed now.
"The foot is fabulous and that was what was most exciting about everything before the pandemic hit, all we could focus on was how good the foot felt and we both had to look each other in the eye 'yeah, that's great, but let's still be smart with this thing and not pushing too hard too soon,'" Harvey said.
Watson, who was a Pac-12 and an NCAA champion in her senior year at Arizona in 2017, is coming off a stellar season as the Canadian 400-meter hurdle champion, winning gold in the Pan American Games and setting a Canadian record of 54.32 seconds in October. The previous mark (54.39) had been held by Rosey Edeh since 1996.
She was on target for this summer's Olympics and then came the announcement that the Games were postponed a year.
For a young athlete this extra year actually works in her favor. Watson is looking at this delay as time to get stronger and faster.
She is continuing to train – as close to normal as she can. She Facetimes with Harvey all the time. She has created her own gym in the shop at the ranch. She had some weights from her high school days and got more things from a local store. Then, one of the ladies who runs the track put out some hurdles for Watson to pick up. She runs on the gravel road at the ranch and goes to the track sometimes, where she is the only one there.
"The first most important thing that we talked about and we continue to talk about is that we're only going to focus on controlling things that we can control and that's everywhere from being there for families, being there, for the community by doing the right things, in terms of social distancing, and being able to support people where we can," Harvey said.
"But as far as training is concerned, as we're going to control what we can — it's really important for her and the number of athletes — not to lose this training year, if you will, or the training-age-year.
"What I mean by that is, neurologically if you regress and you go back to doing things that are not competitive-type situations you lose that whole year of firing patterns for competition. The only thing that we can control right now — there's no competition, so, for her or any other Olympic athlete or Olympic hopeful — what we're doing is trying to stay as close to our training regiment, as we would if we're having competitions."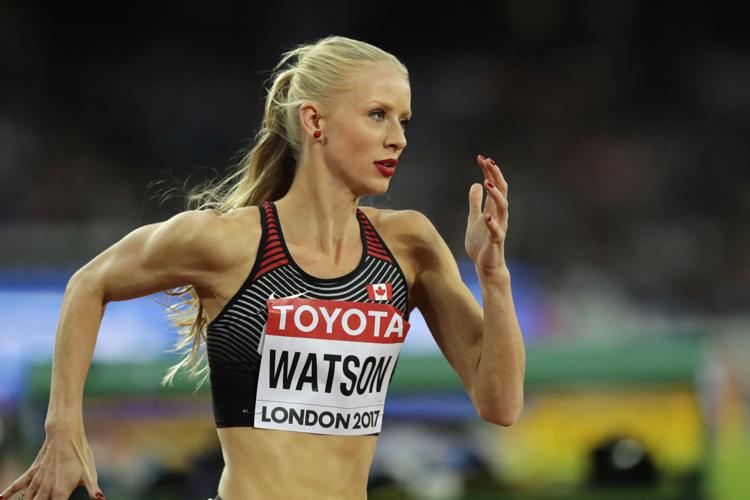 Harvey's focus for all his athletes is on winning each day. While this virus is a challenge that we haven't faced before, Harvey said that athletes like Watson and Olympian Georgeanne Moline are mentally ready. They've seen disappointments in their careers and have worked through them knowing that something better is on the other end.
Training away from her coach is something Watson has experienced before. In high school, her coach lived two hours away and she'd train on her own during the week and see her coach on the weekends. She believes this has prepared her for a time like this – as well as Harvey's messages including not getting too stressed if she can't do something.
"Everyone in the world is modifying our work and the way we do things," Watson said.
Watson has always been ahead of the curve in sharing her workouts, nutrition, recovery on Instagram. Now, it seems that everyone else is jumping in. To help her followers more — at the request of high school and collegiate athletes — she has switched to showing how to work indoors, with and without hurdles.
"I remember being a kid and spending a lot of time trying to find these videos of professional athletes and how they trained," Watson said. "That sparked me to showing others what I do. Hopefully now this helps people to get in some workouts and get some normalcy. People who follow me like to find that content and I enjoy making that content. It's a win-win."
The other win-win these days is Watson spending time with her family, the beauty of calving season and those running skills.
"Seeing baby calves being born is exciting," she said. "The other day we were watching the cattle on the security camera and saw one cow give birth. The amniotic sac was around her head and she could not breathe. I had to sprint out to the field to get it off so she could breathe. I used my running abilities for something other than the track."