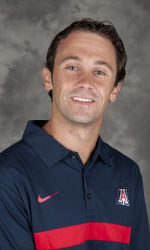 The Arizona Wildcats have hired a new women's tennis coach, and he's a familiar face.
Ryan Stotland, a former UA assistant who has spent the last six seasons as the head coach at Fresno State, was announced as the Wildcats' new coach late Saturday. He replaces Vicky Maes, who left the program last month following 17 years at the helm. Stotland's new team learned of the news on its way home from Japan, where it spent the last week on a goodwill tour. 
Stotland went 93-55 in his time at Fresno State. He led the Bulldogs to a 14-8 record in his first season, and the team went 16-9 in Year 2. Stotland followed his hot start with records of 18-5, 19-9 and 14-9. This year's team finished just 12-14, but won the Mountain West Conference title and earned a spot in the NCAA Tournament. Stotland was named the 2014 Mountain West Conference coach of the year. 
"We are very excited to welcome Ryan back to Tucson to lead our women's tennis program at the University of Arizona," athletic director Dave Heeke said.
"Ryan proved he was a tremendous coach as an assistant coach at Arizona and built a championship program at Fresno State as a head coach. We believe in his vision, experience and leadership to guide our program to excellence on the court and in the classroom."
Stotland, 35, spent four seasons (2009-12) under Maes at Arizona. While in Tucson, he coached five nationally ranked singles players and four nationally ranked doubles teams.The Wildcats went 55-37 and made a pair of NCAA Tournament appearances. The 2012 team went 13-0 at home, giving the Wildcats a perfect home mark for the first time in program history. The team finished No. 27 in the country.
Stotland played collegiately at New Mexico, and returned following a pro career to serve as an undergraduate assistant and graduate assistant from 2005-08.
Stotland played on the ATP tour from 2005-07, winning five tournaments.
Maes resigned May 10 following a winless Pac-12 season. Assistant coach Andrew Veeder was named acting head coach while the UA conducted a national search for Maes' replacement. It's unclear whether Veeder will be retained. 
Maes, the greatest player and longest-tenured coach in program history, conceded it was hard to leave. 
"For 24 years, I have given my heart and soul to the tennis program and, in return, it has helped shape my values and who I am as a person," Maes said. "As a coach, I have always attempted to instill those same values into our student-athletes. I am proud of all of the young women who have come through our program and will always root for the next generation of Wildcats. However, it is time for me to reassess and start a new chapter in my life."
Be the first to know
Get local news delivered to your inbox!