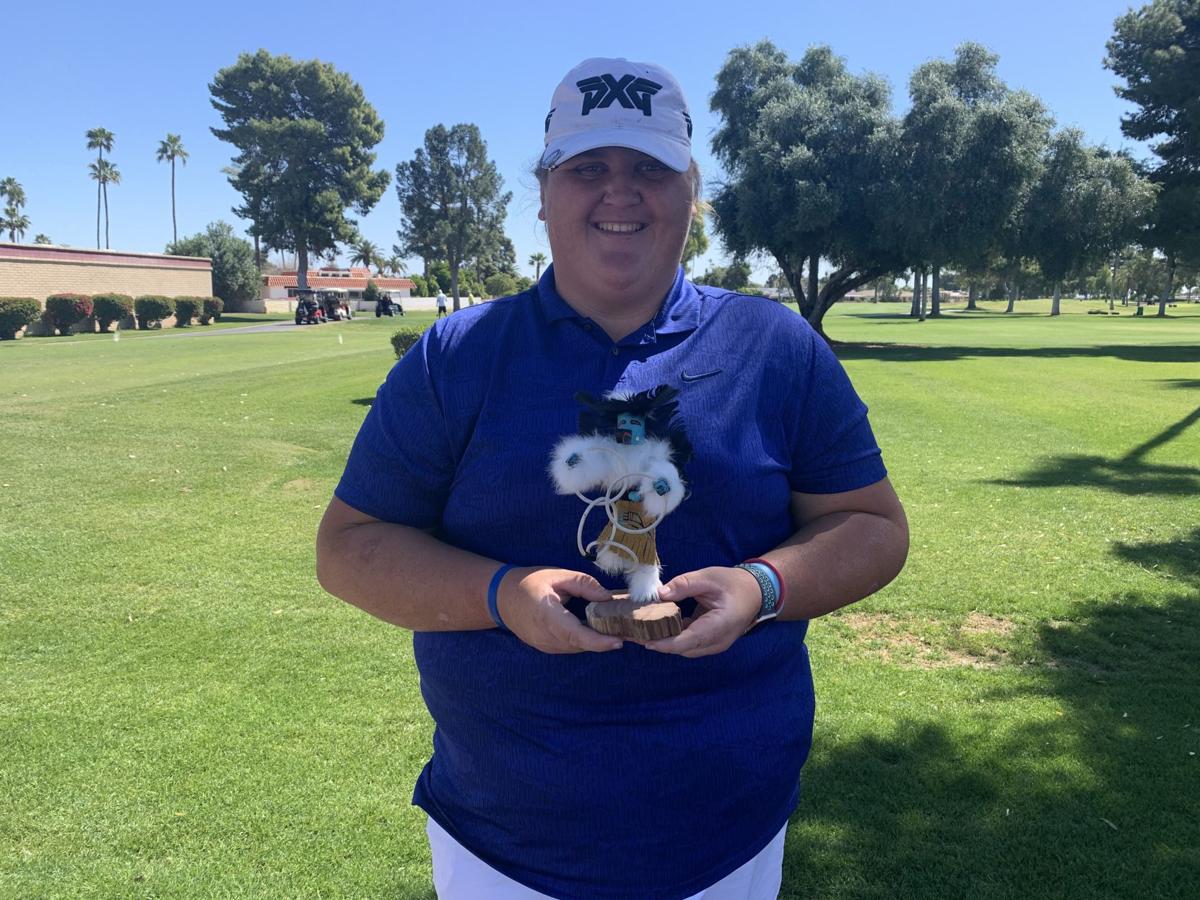 This was a very good week for Haley Moore. She played in a golf tournament — and she won.
In a world that may seem upside down these days, this is what keeps Moore going — especially after the LPGA has postponed tournaments because of the coronavirus. Moore, who earned her LPGA playing card last fall, expected to kick off her rookie season in the United States this spring.
For now, Moore is back playing on the Cactus Tour — one of the only tours still playing. In Arizona, where all the tour's tournaments are scheduled, golf courses are still open and considered essential.
"It felt good just to play good during this time," Moore said, "It affected me at first. The whole West Coast swing (of the LPGA Tour) was canceled. I was going to play in front of friends and family. The competition is good on the mini tour, but I want to compete on the LPGA Tour."
The event, played Tuesday through Thursday at Sun City Country Club, was Moore's third in as many weeks. Two weeks ago, she finish seventh in a field that included many LPGA Tour players who were in Phoenix to start to the season. The following week, she tied for eighth.
This week, Moore led wire-to-wire, shooting 65-69-69 to finish 13 under par. She said her game felt right from the start.
"When I played my practice round on this course (Sun City Country Club), it fit my eye and the way I play my game," Moore said. "I hadn't played this course before. I knew that I could score. It has some short holes and I could get in the fairway and have a good wedge game. My ball-striking was good, and it helped me place my ball on the green and give myself opportunities to make birdies."
And birdies she made — 18 over the three rounds.
There weren't many spectators. The owner of the Cactus Tour, Mike Brown, is "one-man show" who gets everyone to tee off and then "sits on holes to make sure everything is OK," Moore said.
Brown told Golfweek that events are safe.
"These girls are much safer playing out here in these conditions than they are going to the grocery store or Costco," he said.
There were a few extra precautions. Golfers stayed 6 feet from each other. Each golfer rode in her own cart, one that got wiped down before and after rounds. And then there are the pins, which no one touches.
"They take pool noodles and cut them into a circle and put them in the cup," Moore said. "The ball sits higher and you grab it with two fingers to get it out of the hole. It's unique — the ball is physically going into the hole. Others have raised the cup and that creates a controversy. If the ball comes in hot speed and hits it, people say, 'that's in.' But, with a normal pin, it would go past the hole or lip out. With pool noodles, the ball still goes in the hole."
After the win, Moore headed home to San Diego and is taking a break. She plans on playing in three more Cactus Tour tournaments later in the month and in May. Until then, she is going to keep her body strength up by starting a home workout routine. She said might be "sneaking out toward the end of the day to hit balls and play a few holes."
This is not how it was supposed to go for Moore, who graduated from the UA last spring. She played her first rounds as a member of the LPGA in the ISPS Handa Vic Open in Australia and shot a bogey-free 66 on the first day. She missed the cut.
"It was my first event as a pro and it was cool," she said. "I had a good practice round and I was nervous for my first round. It was my first round in an LPGA event. Can I keep up? Can I compete? I knew my first course (of the two) was scorable and I had a good round to start off. It felt good to get the first tourney off the bat. I'm anxiously waiting to play soon on the LPGA."
That may be a while. The U.S. Open has been pushed back to December; the next event is scheduled for mid-June. Once the season starts up, golfers may have to play back-to-back weekends with no break.
Qualifying may have prepared Moore and her fellow rookies for what is to come. The second and final sessions were very difficult. It was as much a mental grind, as it was a physical one. It was played back-to-back with little break.
"I survived, basically," Moore said. "To do that, I knew what I was capable of — I can do it on the LPGA Tour to earn money and make cuts. They tried to prepare us to just play, tee off for the next tournament and play again for 2ƒ to 3 weeks straight."
For rookies, the other thing to be concerned with is the push to play well right away. Playing next season is dependent on their earnings this year.
That is one of the reasons Moore is still playing — to be ready when the LPGA goes back to work.
Moore's dream of playing in the LPGA has been delayed. The season might even be completely canceled, yet Moore is her usual upbeat self.
"Everyone is dealing with the same situation. I think now is the time to stay positive that we'll all get through this," she said. "I'm eager to get started."