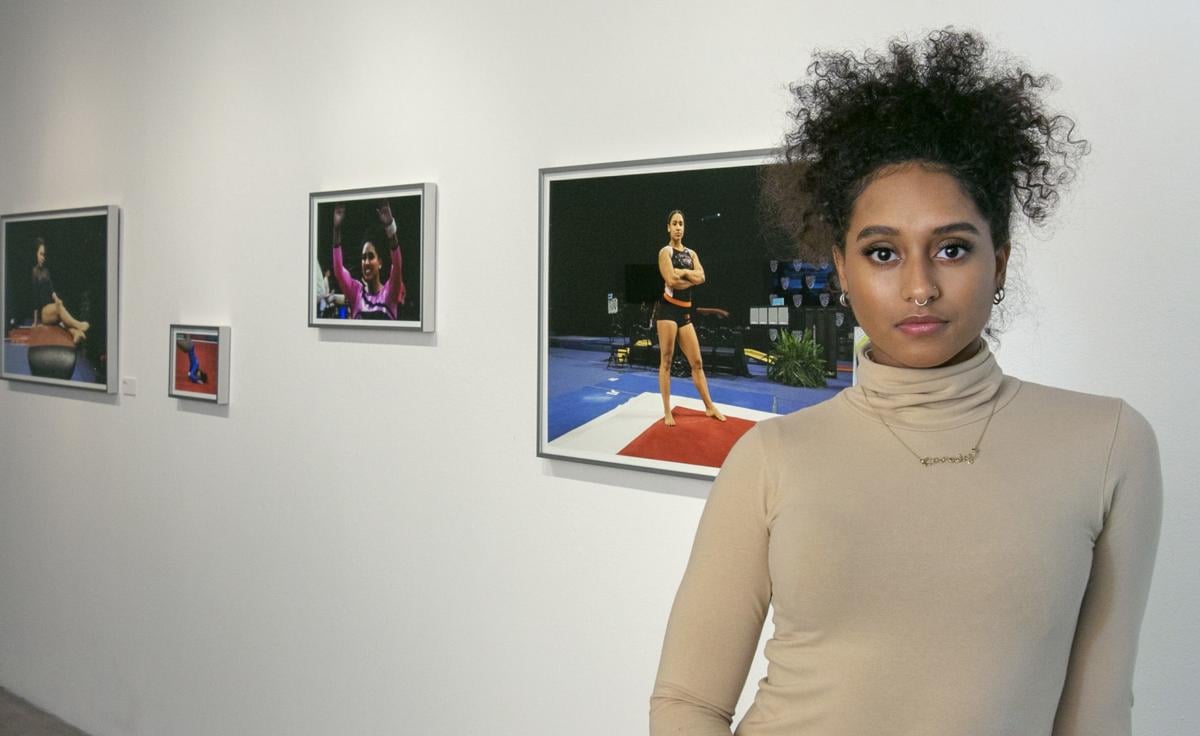 Kennady Schneider was 6 months old when she made her gymnastics debut at a Mommy and Me class.
It soon became apparent that Schneider had a talent for the sport. She won the Nevada state bar and floor championships and earned a scholarship to the UA.
Through the years, however, Schneider said she became aware of — and bothered by — the isolation of being an African-American in a primarily white sport.
Maybe it was the time Schneider's club teammates licked their fingers, stuck them in the chalk bin and drew on her brown skin. Or the times that coaches urged her to straighten her hair in order to receive better scores at competitions.
Or the many, many times she'd use cover-up tape only to realize it came in a shade of nude that looked nothing like her own skin.
"Little things like that will make a black gymnast feel like it isn't for her," Schneider said.
Schneider competed in the final meet of her gymnastics career in March after four years with the GymCats. Now, she's embarking on a career as an artist.
The studio art major opened her first solo exhibit Dec. 18 at the Lionel Rombach Gallery on the UA campus. The exhibit, titled "Seasoned," closes Thursday. Schneider will be the guest of honor at an hour-long reception that begins at 3:30 p.m. that day.
Schneider's art focuses on a black person's experience in elite athletics. The exhibit's title refers to the period of adjustment African slaves and European immigrants experienced after coming to the Americas.
"In relationship to this show, in sports, I'm taking a critical look at the sports entertainment industry and how the black body functions within this realm and how it is an entity that is used for profit — not only in professional and collegiate sports, but (with) sponsorships," Schneider said.
"It's become a symbol of fetishization. People look at black athletes as deities. And just making the connection of athleticism within the black body to slavery into the act of manual labor and physical movement for profit and for money-making reasons."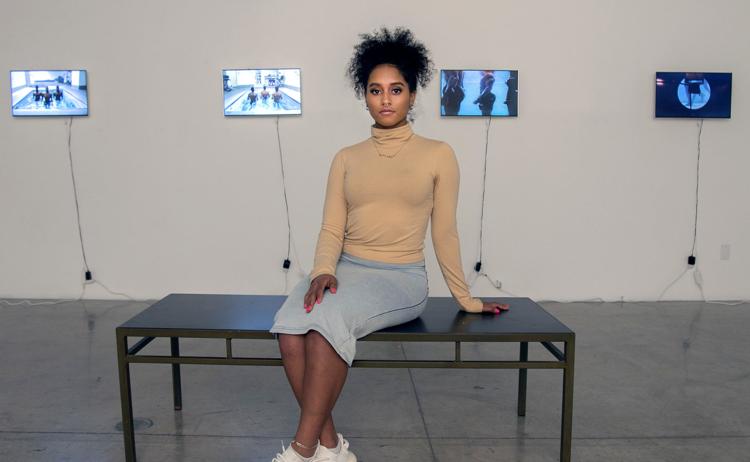 Schneider's exhibit includes videos, photographs, video stills and a tongue-in-cheek photography book that Schneider produced. Four screens are featured along one wall, showing three members of the UA's track and field team walking and running in a pool. Two screens roll on a loop, while the other two have breaks to provide a contrast.
On a second wall, Schneider streams two videos of a shirtless black athlete dribbling a basketball under a spotlight.
"This is what the consumer wants to see from the black body," Schneider said. "They want to see athletic ability. They want to see power. They want to see, almost, a fantasy of a black athlete — which is extremely limiting."
Schneider's work explores her own experience as a black woman in gymnastics. Schneider took photos of all the black gymnasts she competed against during her final season with the GymCats.
While her initial intent was to show the lack of diversity in the sport, Schneider came away with a sense of kinship.
"It made me realize that I did have this community that maybe I hadn't accessed," she said. "Even if I was the only black gymnast on my team, I did have this community outside of that."
Between photos of fellow gymnasts, Schneider printed stills of videos or posts she found of herself through a Google search.
The photos Schneider took of her competitors show gymnasts looking stoic and strong. Her subjects stand in a power pose.
The online images Schneider uses in her show include one of herself falling on her face during a routine and another where she is visibly upset. The latter image came from a meet against Stanford during Schneider's sophomore year. She said she was crying because of a death in the family.
It wasn't until later, Schneider said, that she realized her emotions were used for profit.
She's not naive. As an athlete, that's what you sign up for.
"They use any moment of weakness or moment of humanism to create a story. To create views. To get more views," Schneider said. "It's an entertainment industry and drama brings in views. Drama creates a story.
"That moment for me was when I realized that I could make commentary on this and how we are exploited and how we are deified, and when you do show any drop of humanness, you're taken advantage of as an athlete and as a performer."
Although gymnastics occupy a large role in Schneider's life, it's art that she calls her true passion.
Schneider received her first camera when she was in the third grade, and immediately started taking photos of flowers. Soon after, she began taking photos of people.
Schneider is working on two more exhibits, both of which are scheduled to open in Phoenix and Colorado this year. She is currently applying to graduate school to pursue a Master's degree in fine arts.
Schneider said she doesn't expect people who view her art to come away with the same conclusions. Still, she wants them to view her project with an open mind.
"I just want them to think about institution on a deeper level and how it constructs lives and people and how it very much makes black people non-human and it changes them into numbers," Schneider said. "I think this exhibition critiques that. We are placed into these very narrow representations, but we are human."
Be the first to know
Get local news delivered to your inbox!