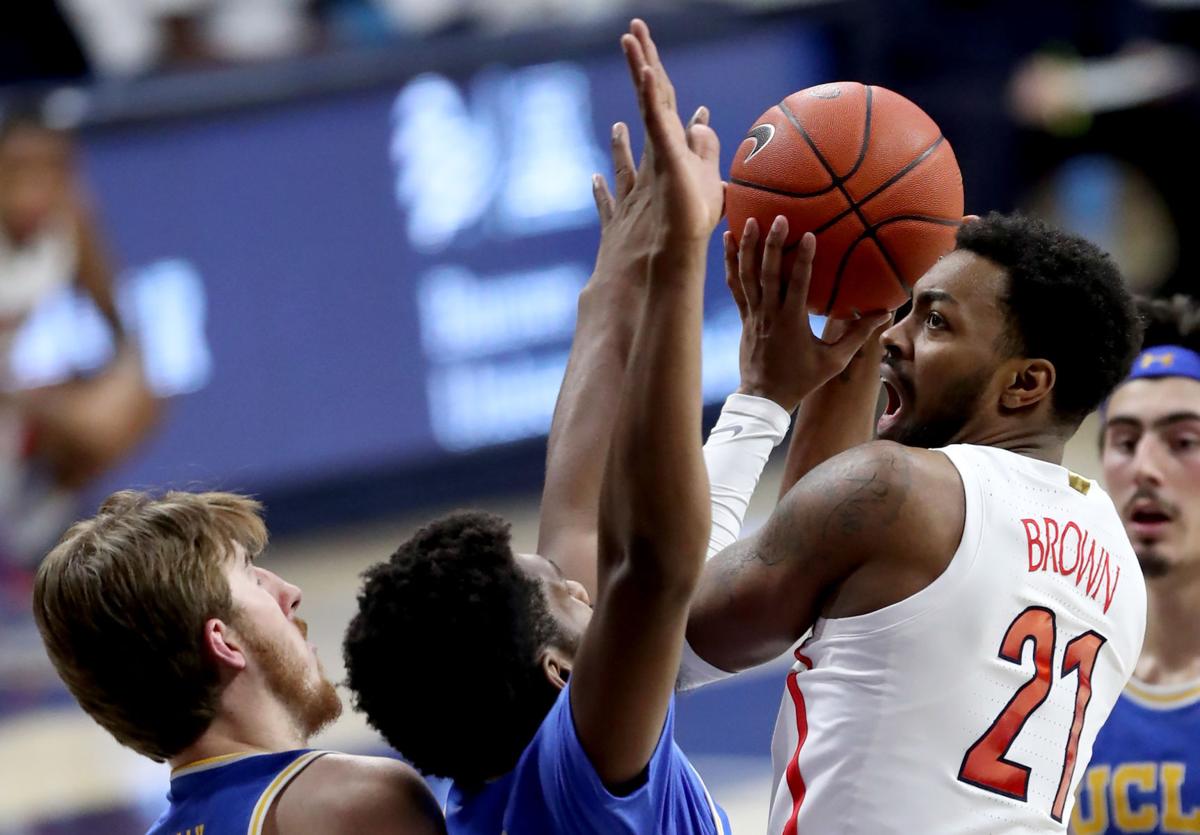 Arizona forward Jordan Brown entered the transfer portal Monday evening after earning Pac-12 Sixth Man of the Year honors for the Wildcats last season.
A 2019 McDonalds All-American, Brown started 12 of 26 games last season but moved from power forward to center when then-coach Sean Miller started Azuolas Tubelis after six games and then moved to a bench role when Miller began starting Christian Koloko at center on Jan. 14.
Brown wound up averaging 9.4 points and 5.2 rebounds per game but started his reserve role with a career-high 25 points at Oregon State on Jan. 14. He said after that game that "it's not really too big a deal starting or coming off the bench."
Brown later helped lead the Wildcats to their biggest win of the season, an 81-72 victory at USC on Feb. 20, when he had 19 points and 12 rebounds. Tubelis added 16 points and 15 rebounds while the two not only competed against USC's well-hyped Mobley brothers, but also did so during a game in which Koloko committed a technical foul and fouled out after less than 11 minutes.
"If you think about Christian having foul trouble and playing 10 minutes and fouling out, somebody really had to step up," Miller said after the USC game. "I thought it was like a one-two punch -- it was Jordan Brown and Azuolas who did a great job inside."
Tubelis and Koloko remain on UA's tentative 2021-22 roster while the Wildcats have also added 7-foot Gonzaga transfer Oumar Ballo to their post rotation. Brown, Ira Lee and Daniel Batcho have all announced they are transferring from Arizona.
Overall, eight of Arizona's 13 scholarship players last season have entered the transfer portal, although guard Kerr Kriisa returned and committed to play for the Wildcats next season as a sophomore.
The Wildcats now have eight players lined up for 2021-22, leaving them up to five available scholarships. Here's the latest tentative roster:
Position/Name/Year/Height/Weight/Hometown
C/Oumar Ballo/So./7-0/260/Koulikoro, Mali
C/Christian Koloko/Jr./7-0/220/Douala, Cameroon
G/Kerr Kriisa/So./6-2/165/Tartu, Estonia
F/Bennedict Mathurin/So./6-6/195/Montreal
G/Shane Nowell/Fr./6-5/190/Bellevue, Washington
F/Dalen Terry/So./6-7/190/Phoenix
F/Azoulas Tubelis/So./6-10/240/Vilnius, Lithuania
F/Tautvilas Tubelis/So./607/210/Vilnius, Lithuania