As I was reporting on the Arizona Wildcats in the NCAA Track and Field Championships a week ago, I started reminiscing about how I got into journalism through sports.
It all goes back 65 years to the Knothole Gang — that's right, the Knothole Gang.
In 1954, Tucson was a city of perhaps 100,000 people. TV was new with limited viewing choices. A UA football game was a big deal.
For each Wildcat home football game, my buddies and I — then about 11 years old — bought our Knothole youth tickets at the YMCA for 20 cents. (The sale of knothole tickets for pro baseball goes back more than a century in various cities.)
It felt cool to have kids from across the city sitting in the southwest "coffin corner" of Arizona Stadium and cheering for the Cats — Art Luppino was that season's national rushing and scoring champion.
Through that program, I was introduced to University of Arizona athletics teams, and it kick-started my interest in sports and my loyalty to the UA. In short order, I became a sports addict. Every morning, I devoured my Wheaties and the Star's sports section.
After football, my friend Pete Samorano and I were regulars at Bear Down Gym to watch the Wildcats play basketball.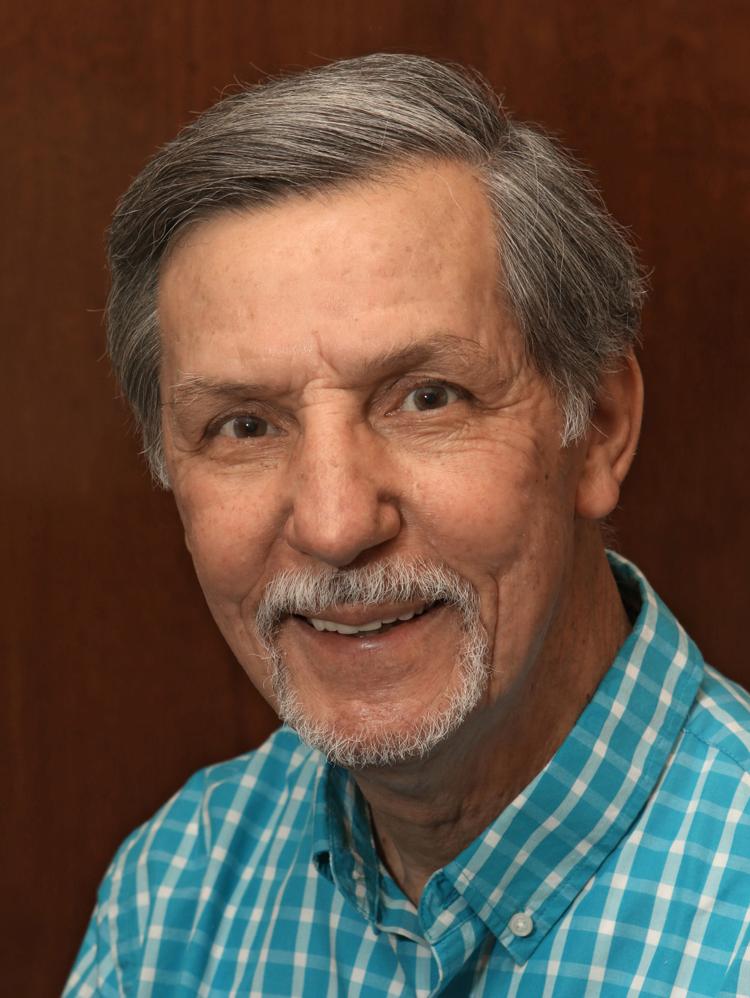 When track season came around, being from low-income families, we couldn't afford even the small price of admission. No problem. We were agile (and skinny) enough to squeeze through an open space in an Arizona Stadium iron gate.
My love of track of field goes back to those meets, watching runners like George Young circle the track. It seemed to me that some track events were akin to skills used by early humans when running, jumping and throwing were crucial to survival.
When the 1960 Summer Olympics were telecast, I became more of a track junkie, marveling at seeing Young run in the first of his four Olympic Games.
As a kid growing up in Tucson's Barrio Hollywood, I dreamed of playing professional baseball. I was there when Little League was first formed in Tucson in 1951. I was a good fielder because I had a good coach in my older brother, Ramon.
I also owned what I called the magic Larry Doby glove, given to my dad, then a gardener at El Conquistador Hotel, where the Cleveland Indians stayed during spring training. Despite using that glove, which I believe was once owned by Doby, an African American sports pioneer and Hall of Famer, I was a baseball failure. I couldn't hit the curveball. Or, for that matter, the fastball.
With my baseball dreams quashed, I had a vague idea of becoming a coach. Then, as a Tucson High sophomore, my English teacher suggested I write about sports for the Cactus Chronicle school newspaper. I enjoyed writing, and it seemed a good way to stay connected with sports. I tried it and got hooked.
At the same time, I threw the discus on the Badger track team. Pete made it to the state meet in the 4 x 880 relay and played guard on THS' 1962 state champion basketball team.
A 60-cent boost to the paycheck
My involvement in journalism grew in 1960 when I wrote about Tucson High sports teams as a "stringer," or part-time correspondent, for the Star. At the rate of 10 cents a column inch, I was lucky to get a 6-inch story in the paper and 60 cents added to my paycheck.
Long before computers, we journos pounded the typewriter keyboard at the Star's old pink building on Stone Avenue. Our sports stories were filled with what now seem silly terms, such as "gridder" for a football player, "hoopster" for basketball player and "grappler" for wrestler.
At that time, my ultimate goal was to become a sportswriter and to cover UA sports teams.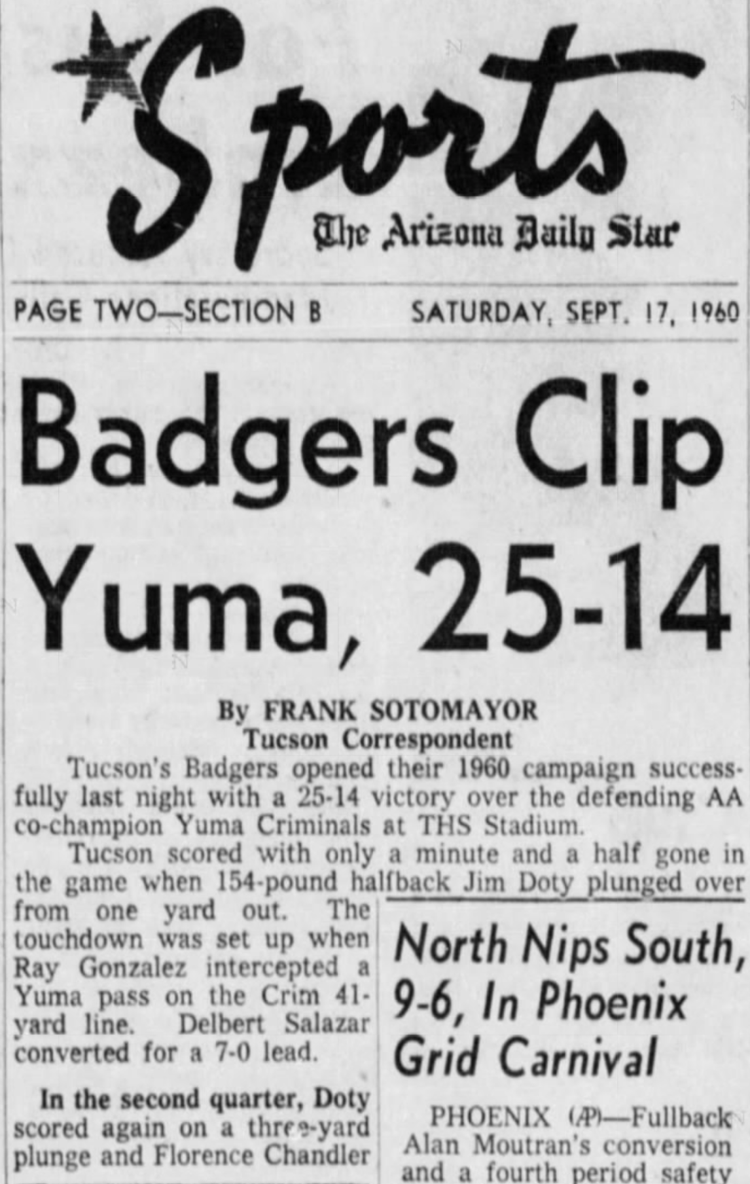 When I enrolled in journalism at the UA, my mentor, professor Sherman Miller, insisted that I switch from sports to politics and other general news. He also urged me to continue my education at Stanford, where I earned a master's in communication in 1967.
I missed covering sports, but my career in news proved rewarding. I wrote stories as varied as the U.S. Census, the U.S. arrival in 1987 of Pope John Paul II, contentious farm ownership issues in Mexico and a remembrance of singer Ritchie Valens (a.k.a. Richard Steven Valenzuela).
During my 35-year career at the Los Angeles Times, I supervised a group of reporters and edited their stories. In 1983, I helped initiate and co-edited a 27-article series on Latinos in Southern California. Two other UA journalism grads worked with me on that series — Jose Galvez, who formerly had worked at the Star as a photographer, and reporter Virginia Escalante.
We were all thrilled when our series, which had helped to erase stereotypes about Latinos, won the Pulitzer Prize for Public Service in 1984.
After retirement and back in Tucson, I volunteered last year to cover the Wildcat track teams.
UA track coaches were generous
Fred Harvey and his assistant coaches were generous with their time and with giving me insights on specific track events. I could see that Harvey was not only instructing his athletes about the sport but also about being good human beings.
I was impressed with the athletes I interviewed. They trained to exhaustion for hours; yet, they carved out time to hit the books. Just two weeks ago, 14 track team Wildcats made the Pac-12 All-Academic teams.
Some athletes won acclaim for winning races and setting records. Others, kept grinding for the love of the sport and to support their teammates.
Gustav Kehris, an 800-meter runner from Latvia, never won a race, but he was a winner in the classroom. He graduated last month with a perfect GPA in physics.
I can't recall any of the athletes telling me that their career goal was to make a lot of money. Instead, many were preparing to become educators, nurses, doctors or other "helping professions."
I found All-Americans like shot putter Jordan Geist and distance runner Carlos Villarreal to be modest and polite. The same was true of sprinter Tatum Waggoner, who gave credit to her coaches for progress she's made on the track.
I've enjoyed writing about track these last two track seasons, which brought my journalism career full circle. I started as a sports stringer for the Star almost 60 years later. And once again, I was a sports stringer.
I will continue with various writing projects but, at age 76, I've decided not to cover the week-to-week track meets next year. It's time to pass the baton.