Arizona's six-time NCAA swimming coach of the year has a new business card. It is not what you expect.
Corporate and Community Liaison
Jim Click Automotive Team
No, the man who ran USA Swimming's national teams from 2011-17 does not sell cars. He helps to raise and distribute money to Southern Arizona charities, and he speaks of this pursuit the way he used to speak of his many Olympic medalists.
Busch views his role in the Click Foundation as neither a job nor a vocation, but a later-in-life mission that often puts a lump in his throat.
If you're looking for a someone who is a living description of "being at peace with yourself," look at Frank Busch.
He has returned to Tucson with his wife, Patty, and for the first time in his life has time to play golf and regularly visit the Busch children who live in Miami, Boston and Dallas. It only takes a few minutes for mom and dad to drive to the House That Busch Built — the Hillenbrand Aquatic Center — proud parents, as their son, Augie, commands the once-formidable UA swimming program.
"It's a rebuild," Busch says, and he doesn't mean the facility's ongoing $13 million construction project. "I admire Augie's dedication to the process."
So much has changed since the November 2010 day when Chuck Wielgus, executive director of USA Swimming, phoned to ask if Arizona's Hall of Fame coach had any interest in helping to change the direction and culture of America's Olympic swimming operation.
Busch essentially told Wielgus he'd think about it over the holidays.
"We'd just won two national championships at the UA," Busch says now. "I thought we were on the verge of winning more. I wasn't looking for a change."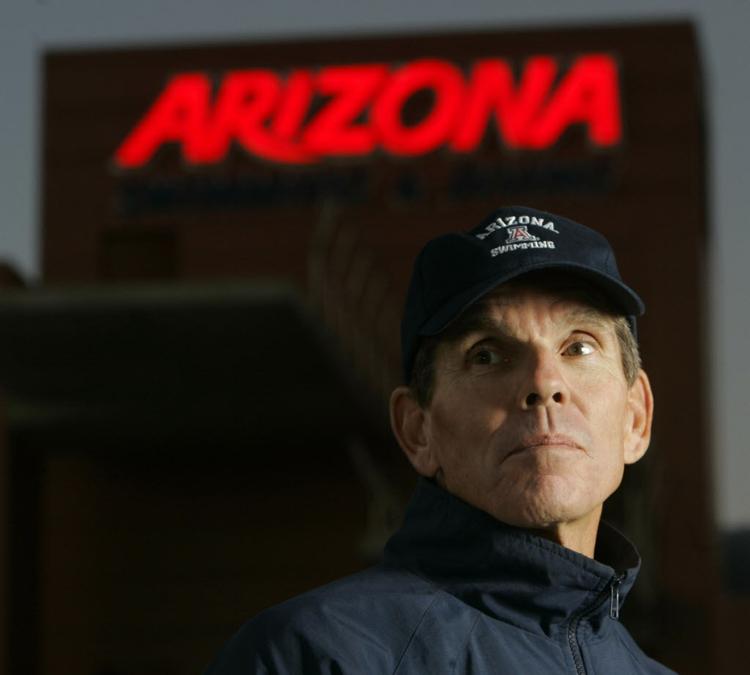 A few months and several conversations later, Busch was at the USOC training facility in Colorado Springs, Colorado. Wielgus entered the room and handed Busch and envelope. It was like a scene from a movie.
"Our offer is in the envelope," said Wielgus. "Give it some thought and get back to me."
Ultimately, USA Swimming's offer was one Busch couldn't resist. He had just turned 60 and wasn't certain how much longer he could sit in the living room of a 16-year-old female swimming recruit and successfully relate to her.
"I had grandkids," Busch says. "Things were changing."
At USA Swimming, he would be given a significant raise in compensation and take possession of an enterprise that included Michael Phelps, a 14-time gold medalist at the time and entering the prime years of his swimming career.
What few could foresee was how suddenly Arizona's quarter-century of swimming excellence would all but go poof. Augie Busch is the third UA head coach since his father left for Colorado.
Under Frank Busch, Arizona did not finish outside the NCAA's top seven in either men's or women's swimming from 1992-2011. It won NCAA team championships in men's and women's competition in the space of eight days in 2008.
No wonder USA Swimming sought Frank Busch; his UA teams won 81 NCAA individual and relay championships. He turned Tucson into one of the four or five swimming hotbeds in America, assembly-lining All-Americans and Olympic medalists from Crissy Perham and Amanda Beard to Chad Carvin and Roland Schoeman.
Predictably, given so many moving parts, not all went well on Busch's Olympic mission.
Team USA won an unprecedented 64 medals in the 2012 London and 2016 Rio de Janeiro Olympics, but both of those triumphs were scarred by high-profile discipline issues.
Busch suspended Phelps for six months in September 2014, a troubling period in which the swimming icon was arrested for DUI and spent 45 days in rehab. To his credit, Phelps returned to be part of five USA gold-medal events in Rio de Janeiro.
"But our relationship has never been the same," Busch says, candidly.
It got worse. After Team USA won a record 33 medals in Rio, 12-time medalist Ryan Lochte falsely claimed that he and two teammates were held up by armed robbers at a Brazilian gas station. Busch suspended Lochte for 10 months.
A year later, Busch chose to leave USA Swimming. He says his mission was accomplished, that he never planned to stay for the 2020 Tokyo Olympics, nor did the Phelps and Lochte controversies impact his decision to return to Tucson.
Wielgus, the man who hired Busch, spoke of him the way UA associates did years earlier.
"Frank has constructed a culture that is rooted in personal accountability, integrity, hard work and the values that come with the pursuit for excellence," he said. "We're going to miss him."
Now, the man from Cincinnati who arrived in Tucson in 1989 and put swimming on the map is back on familiar turf and engaged in a new and fulfilling challenge.
"It's such a blessing," he says. "I don't know if I could enjoy anything more."