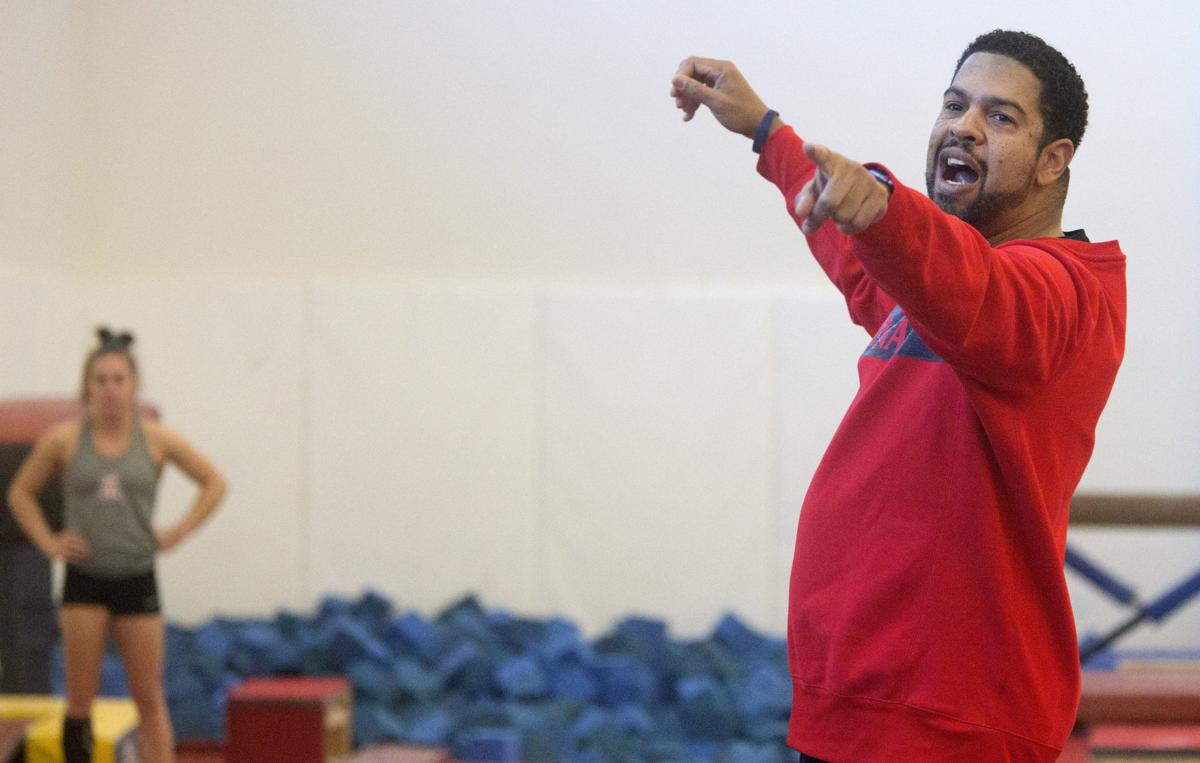 For almost three decades, the UA gymnastics team consistently qualified for the NCAA regionals. That streak was broken last season, when Arizona failed to qualify as a team and was instead represented by Madison Cindric and Christina Berg.
Second-year head coach John Court, who has been with the GymCats since the 1999 season, didn't like missing the cut. So he made sure to get the team back.
Arizona will go up against Iowa on Thursday in the first round of a regional in Corvallis, Oregon.
"It never did settle with me, so it's nice to certainly go back with the team," Court said. "It was one of the programmatic goals we've had all year. We've had that goal since last year that we didn't go.
"It's a long road and we're going in the right direction. There's a lot more work to do, but we feel we've taken a good first step to where we want to be."
The NCAA has reformatted its regional and championship meets. Previously, the six region competitions would take place during one day with one session of six teams. Now, there are four regions with three-day competitions. The action will also be spread out differently.
The bottom eight programs in the 36-school bracket will compete in a dual meet in the first round to vie for a spot in one of the eight quad meets in the second round.
The top two teams in each second-round session will move on to the regional finals. From there, two semifinal quad meets will decide the four teams that will compete for the national championship.
"It doesn't matter to me which round you're in right now, you have to perform," Court said.
If Arizona advances past the first round, it will enter a quad meet with No. 4 Florida, No. 13 Oregon State and Stanford.
Five Wildcats will compete as individual competitors, so they'll have guaranteed spots in the second round. Berg and fellow junior Maddi Leydin, and senior Haylie Hendrickson will compete in the first session of the second round.
Berg will join Boise State's rotation and compete on the uneven bars and floor. Both Leydin and Hendrickson will rotate with Washington. Leydin will compete on vault and floor while Hendrickson will compete on balance beam.
Heather Swanson, who will compete on vault, will rotate with Oregon State. Senior Danielle Spencer will rotate with the winner of the first-round competition in the second session of the second round, and will compete on the uneven bars.
"I think it's just important for our team to come together and just show what we've worked for the whole year," Swanson said. "I think we deserve it and I think we deserve to do super well. Everyone works hard day in and day out in the weight room, here (in the gym), with school. We're all pushing ourselves to our maximum effort and reach our potential. I just think we deserve it and want us to do well."
The Wildcats had to fight their way back to a regional. Arizona posted scores in the 194-point range in its first two meets of the season. It improved over the next few meets before struggling at UCLA.
But the Wildcats had their best performance since the 2016 season when they posted a 196.450 on March 3 at Texas Women's University. Arizona finished its regular season with another 196-plus score against LSU, putting the team in great contention for the postseason.
However, a poor showing — and a season-low score of 193.900 — at the Pac-12 championships nearly scuttled their plans.
"If we would have executed better at Pac-12, we probably would have been seeded," Court said. "So we're exactly where we're supposed to be. This team has gotten the highest score in over two years and we've also gotten the lowest score in over two years."
To help the team shake off their Pac-12 performance, the Wildcats competed in an intra-squad meet. The purpose was to help the gymnasts improve on what they struggled with in the conference championship and get them ready for regionals.
"We don't quite know what it was, it was just an off day — everybody has one," Berg said. "We're just hoping that that was our one and only off day and that we'll bring it up."