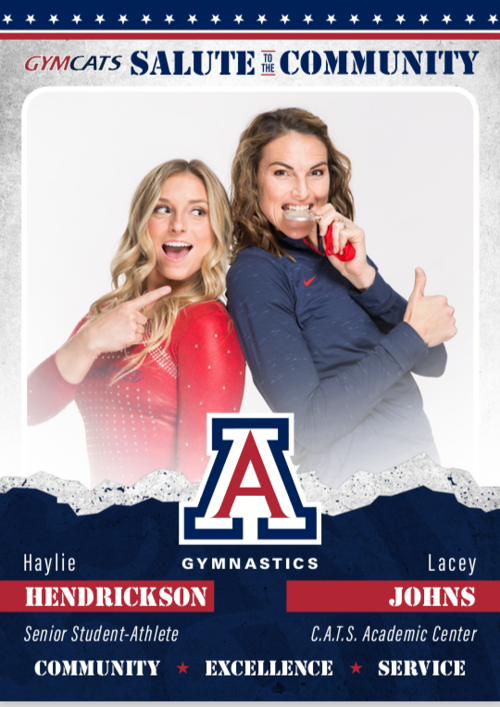 John Court's brother is a police officer in Rhode Island. So the GymCats' coach is familiar with some of the issues local enforcement deals with, like the sometimes-shaky relationships between police officers and the community.
Court thought of his brother when it came time to pick a community service project for his team. The GymCats partnered with local community role models — including the University of Arizona administration, coaches and police — to create trading cards. The complete set includes 17 cards.
The goal is to have the cards printed in time for Saturday's home opener against No. 10 Arkansas. Ideally, Court would love to have the cards distributed among elementary schools, the Davis-Monthan Air Force Base and gymnastics clubs.
"Every year, you want to do something to tie your program into the community as best as you can and we always do community service hours and summer camps and things," Court said.
"You want to bring, obviously, awareness to your program, but more importantly you want to promote those three things (community, excellence and service)."
The front of each card features a photo of a GymCat or coach and a member of the community that serves as a role model. The back includes quotes from the featured athletes and role models.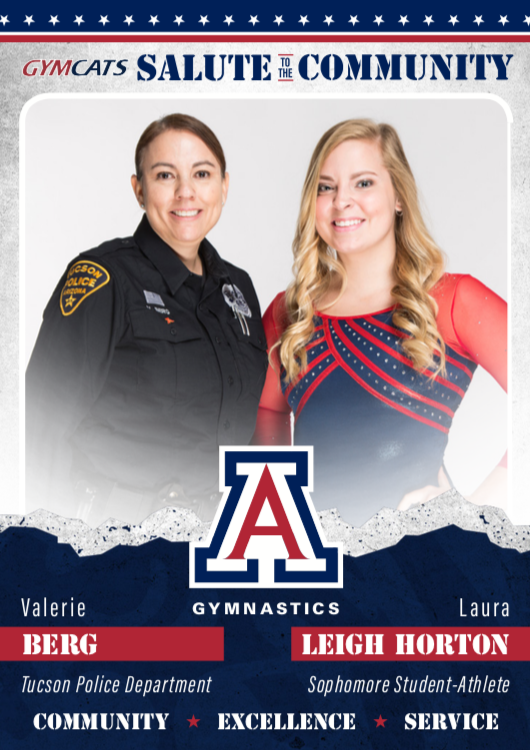 UA President Robert C. Robbins and athletic director Dave Heeke are featured, as are UA Chief of Police Brian Seastone and Tucson Fire Department Battalion Chief Barrett Baker.
In total, seven members of law enforcement and four members of the Fire Department were used.
"A lot of times with kids — and maybe not just kids, but young men, women, adults — they're afraid of the police," Court said. "It bridges that gap to thank an officer, talk to an officer, a member of the Fire Department or a first responder. They are people in the community that are doing so much for the community, and we just wanted to use my program as an avenue to thank them for that."
Court said he wanted to include important Arizona role models like women's basketball coach Adia Barnes and women's golf coach Laura Ianello.
Lacey John, who works at the C.A.T.S. Academic Center as assistant director of community relations, is also featured.
"They're community people," Court said. "They've been heavily involved in the community the last few years."
The photo shoots provided a lot of laughs.
"It was fun to do," Court said. "Sometimes ideas don't happen, but a lot of people put some work into it to get everyone in there for the shoot. Hopefully everything gets printed up and they're ready for the home opener."
The GymCats started their season last weekend at a Central Michigan quad meet, where they finished second with a score of 194.750.
Arizona had its strongest showing on bars and was led by Christina Berg. The junior tied her personal record of 9.925 on the uneven bars.
"When you tie your personal high on the road in Week 1, that's pretty good," Court said.
"And Christina may have had her best meet as an Arizona gymnast that night, and it was the first meet of the year. It was a big night for her."
The performance at Central Michigan was strong enough to get the GymCats ranked; they are now No. 18 in the nation.
Arkansas, a strong SEC opponent, will be coming in ready for their first meet on the road.
"As good as it felt there (in Michigan) — it was a really good first step — but there's so much more to improve on," Court said.
Be the first to know
Get local news delivered to your inbox!