Haylie Hendrickson struggled with injuries during her club gymnastics career, especially during recruiting season. As a result, she didn't get on recruiters' radars until the end of her senior year of high school.
John Court, a UA assistant who is now the GymCats' head coach, was among the coaches who visited her in Fort Wayne, Indiana. After watching Hendrickson perform, Court invited her to visit Arizona.
Once she arrived in Tucson, Hendrickson knew it was where she wanted to have her collegiate career.
"I came out here in January, so Indiana in January is freezing and gray," Hendrickson said. "And I came out here and it was gorgeous and warm and blue skies and everything."
Hendrickson and teammate Dani Spencer will be honored Friday night, when the GymCats host No. 4 LSU at 7 p.m.
The UA's annual Senior Night promises to be an emotional one.
Hendrickson chose the UA for more than just the blue skies. Gymnast Kennady Schneider praised the team's culture and the way the GymCats support each other when Hendrickson visited.
"I just felt like that was a good fit for me because I was looking for a family-type culture because club is so individualized," Hendrickson said.
And the sense of family — having people to support you no matter what — really helped Hendrickson get through her first year at Arizona.
In January 2015, just weeks after signing her National Letter of Intent, Hendrickson suffered an ACL tear. The ensuing surgery didn't take — the ACL was too long and Hendrickson also tore her meniscus — and Hendrickson was forced to take a medical redshirt.
"It was really hard at first, seeing that I had just come off my first surgery," Hendrickson said. "But having the family culture was really, really helpful because, after the first (surgery), I thought I could never do this again.
"I could never put myself through this again. I would just quit."
But during her freshman year, Hendrickson saw one of her teammates deal with multiple knee injuries — and come back every time. Her teammate eventually competed in all events.
"Seeing her come back as a senior and competing in all the events that she wanted to was such an inspiration, so that's what kept me going the whole time," Hendrickson said.
Since her latest reconstructive surgery, Hendrickson hasn't suffered any more serious injuries.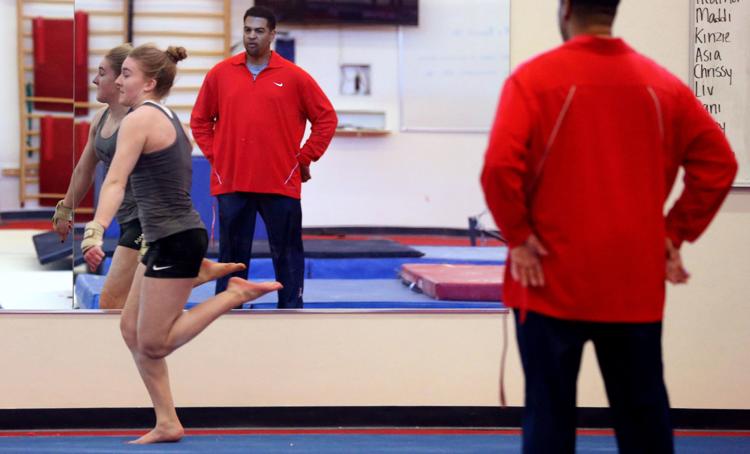 Hendrickson returned to competition her sophomore year, where she served as an anchor on the balance beam and uneven bars. In her final season, Hendrickson also made a return to floor.
The injuries have made Hendrickson love the sport more than she ever could before. It made her more appreciative, she said.
"Coming in on such a low note and leaving on the highest note — I'm in the best shape I've ever been in — I hope that I can pass down that feeling to incoming freshmen and my underclassmen," Hendrickson said. "I hope they get to experience the same thing."
The Senior Night meet will be the last competition before the Pac-12 Championships, which start March 23 in Utah. Those GymCats who score above 195.5 should be in a good position to qualify for regionals, Hendrickson said. Last year, only two GymCats qualified for regionals as individuals: Christina Berg and Madison Cindric.
Hendrickson said she'd also like to close out her college career with career-highs on all three events.
She earned career highs on beam (9.875) and bars (9.875) last year at Arkansas and posted a career high on floor (9.775) against Cal earlier this season, tying it again against Oregon State.
"I've had a really good experience here," Hendrickson said. "John has taken all the time in the world to improve who I am as a gymnast, student and athlete.
"But I've definitely become such a better person. Even not doing anything my freshman year, I thought I became a better person. And I hope other people get to learn that, too."