The latest in Southern Arizona sports news from longtime Star columnist Greg Hansen.
---
Five things about Arizona's dysfunctional 2019 football season
1. Athletic director Dave Heeke and coach Kevin Sumlin collaborated on a damage control approach by asking frustrated fans to "trust the process." As crisis control goes, that's a C-minus, at best. It reminded me of a "Seinfeld" episode in which George Costanza, the New York Yankees' assistant traveling secretary, was told of "a project" that would make the team better. Everyone talked about "the project" but no one could detail what it really meant. Project? Process? Hello? Is that all you've got?
2. Junior running back J.J. Taylor chose to bypass a final year of eligibility even though he has rushed for 3,263 career yards, putting him within range to Ka'Deem Carey's school record 4,239. Taylor is a marginal NFL prospect, not because of his will or fighting spirit, but because of his size, about 5 feet 6 inches and 185 pounds. Chasing Carey's record would often be motivation enough to return to college. At this time last year, first-team All-Pac-12 defensive linemen Leki Fotu and Bradlee Anae — both juniors projected as top 100 NFL prospects — chose to return to Utah. The difference? A winning culture.
3. On the day Sumlin was hired, Jan. 16, 2018, Arizona president Robert C. Robbins opened the press conference saying "This is a great day in the history of Arizona football" and "we've got our man, right here." Robbins further said Sumlin "will be a great ambassador for this university" and "he's been a great developer of quarterbacks." That's like a baseball player getting the dreaded "golden sombrero," striking out four times in a game.
4. Upon firing three offensive coaches last week, ASU coach Herman Edwards said "you've got to score points. We were in the mid-20s. You've got to be in the 30s. That's college football today." ASU averaged 25 points per game. Sumlin inherited an Arizona team that led the Pac-12 in scoring at 41.3 points per game. This season, Arizona averaged 26 points per game. Perhaps Sumlin should've blown up his offensive staff instead of firing three defensive coaches.
5. Salpointe Catholic running back Bijan Robinson last week was named the Arizona Gatorade Player of the Year. He chose to play for Texas. The six previous local players honored as Arizona Gatorade Players of Year — Amphi's Michael Bates; Sahuaro's Mike Ciasca and Todd Thompson; San Manuel's Warner Smith; Ironwood Ridge's Daniel Borg; and Sabino's Glyndon Bolasky — all chose to play at Arizona. In Dick Tomey's first season at Arizona, he successfully recruited the Gatorade Player of the Year, Reggie McGill, from Phoenix St. Mary's. On the day Sumlin was hired, Heeke asked "how can we engage people — our fans, our former players, our alums?" It should include successfully recruiting hometown players like Bijan Robinson and making sure UA Hall of Famer Chuck Cecil is a big part of returning the Wildcats to relevance.
---
Wildcats, Pac-12 see crowds dwindle  to lowest since '70s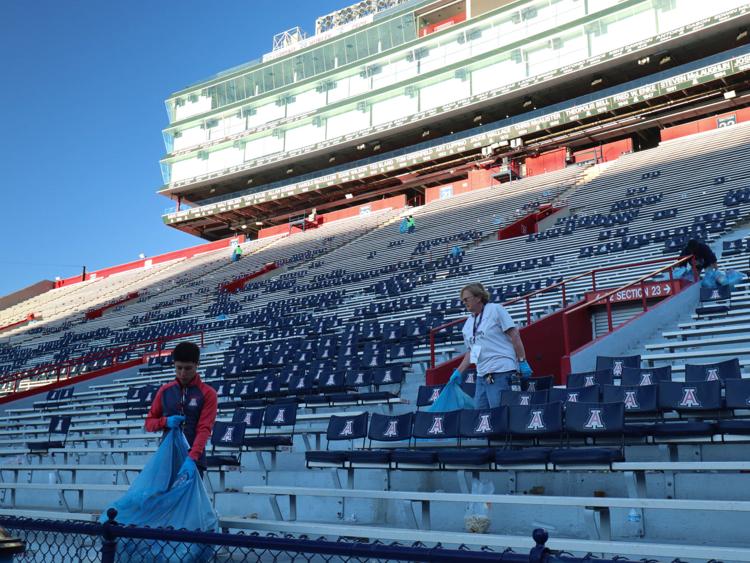 Arizona averaged 39,523 fans at Arizona Stadium this season, the school's lowest figure since 1975, when Arizona Stadium's capacity was 40,000.
The Pac-12 followed with record-low attendance figures: The league averaged 46,136 fans per home game, the lowest total in the league since it was the Pac-8, in 1977. As recently as 2007, the league averaged 57,957 per home game.
And then on Friday night at the Pac-12 Championship Game, Oregon vs. Utah, an announced crowd of 38,679 attended Santa Clara's Levi Stadium, capacity 68,500. Fortunately, the championship game moves to Las Vegas' new Allegiant Stadium next December. Commissioner Larry Scott's decision to play the title game at Levi's Stadium was a total bust: it averaged just 45,509 in six games.
In the nine years of a Pac-12 championship game, only twice — when No. 8 Arizona lost to No. 3 Oregon in 2014, and in 2016, when No. 8 Colorado lost to No. 4 Washington — did the title game match teams ranked in the top 10. That's life in Pac-12 football.
The theme for struggling Pac-12 football should be "Next" because this decade, 2010-19, was probably the worst for the league since the World War II period.
---
Tucson prep football taps into UA pipeline again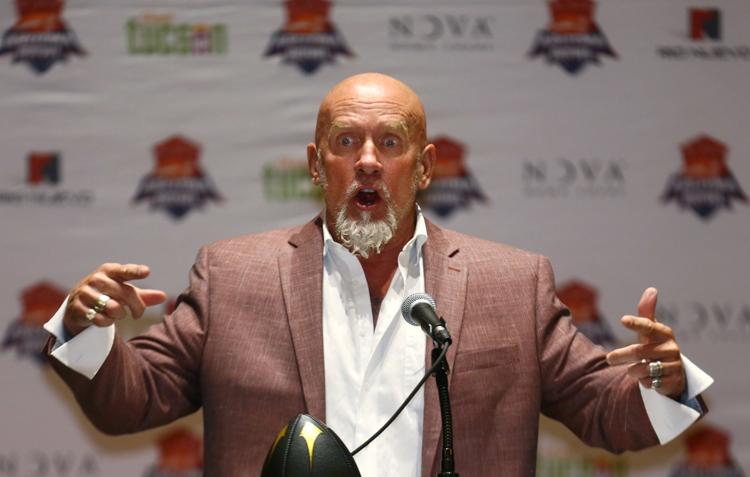 Tanque Verde High School, whose football teams have gone 19-79 the last 10 seasons, hired former Sahuaro High School and UA receiver Jay Dobyns as its head coach last week.
Dobyns, 58, has most recently been receivers coach at Salpointe Catholic. He remains a motivational speaker, traveling extensively to share stories from his days as an agent for the Bureau of Alcohol, Tobacco, Firearms and Explosives, a period in which he successfully infiltrated the Hells Angels.
Dobyns becomes the 26th Arizona football letterman to become a head coach of a high school team in Tucson. Here's the distinguished list in chronological order:
Rollin Gridley, Tucson High, 1927-47
Jason Greer, Tucson High, 1948-55
Murl McCain, Amphitheater, 1948-58
John Mallamo, Tucson High, 1956-66
Hank Egbert, Catalina, 1956
Bill Lovin, Rincon, 1963-70
Ed Brown, Cholla, 1969-87
Jerry Davitch, Salpointe Catholic, 1969-72
Ev Nicholson, Catalina, 1969-74
Andy Rumic, Rincon, 1971-75
Don Bowerman, Pueblo, 1972-76
Larry Williams, Santa Rita, 1973-82
Don Holley, Sabino, 1973-77
Howard Breinig, Rincon, 1976-79; Sabino, 1983-94
Larry McKee, Pueblo, 1977-79; Sabino, 1980-83
Paul Schmidt, Marana, 1980-82; Mountain View, 2007-10
Lance Prickett, Rincon, 1984-97
Bob Sicilian, Sabino, 1984-87; Palo Verde, 1990-99
Sam Giangardella, Sunnyside, 1989
John Kaiser, Catalina, 1991
Scott McKee, Pueblo, 2004-08; Sahuaro, 2009-present
Vincent Smith, Tucson High, 2006-10
Clarence McRae, Mountain View, 2012-18
Robert Bonillas, Desert View, 2013-present
Brandon Sanders, Pueblo, 2014-19
Jay Dobyns, Tanque Verde, 2020.
Of the 26 ex-Wildcats to run their own high school program in Tucson, four of them — Gridley. Greer, Breinig, Mallamo — won state championships.
---
Ex-Aztec James retires because of heart ailment
Deion James, the 2016 NJCAA Player of the Year at Pima College, retired from college basketball last week. The Washington State senior has been diagnosed with myocarditis, a heart inflammation. He played in five games at WSU, 33 minutes, before he was sidelined. The Empire High School grad had transferred from Colorado State a year ago.
---
Ex-UA QBs coach finds success at FCS level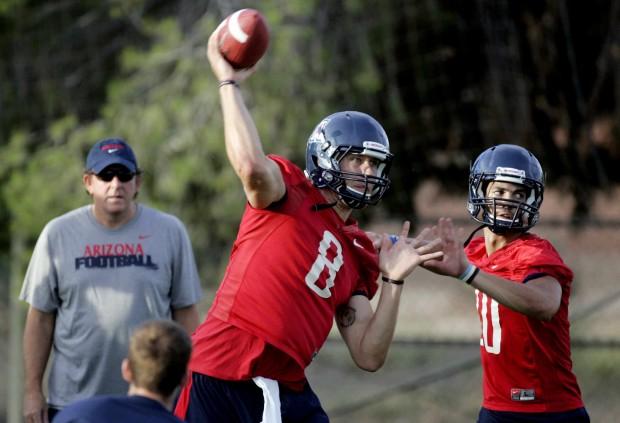 Frank Scelfo, who was Nick Foles' quarterbacks coach at Arizona in 2010 and 2011, one of the top assistant football coaches in UA history, has reignited his career. In his second season as head coach of Southeastern Louisiana, Scelfo coached his team to the second round of the FCS playoffs Saturday at Montana. After being washed out when Mike Stoops' entire staff was fired in 2011, Scelfo became the quarterbacks coach of the NFL's Jacksonville Jaguars.
---
Sahuaro's state championship team honors late teammate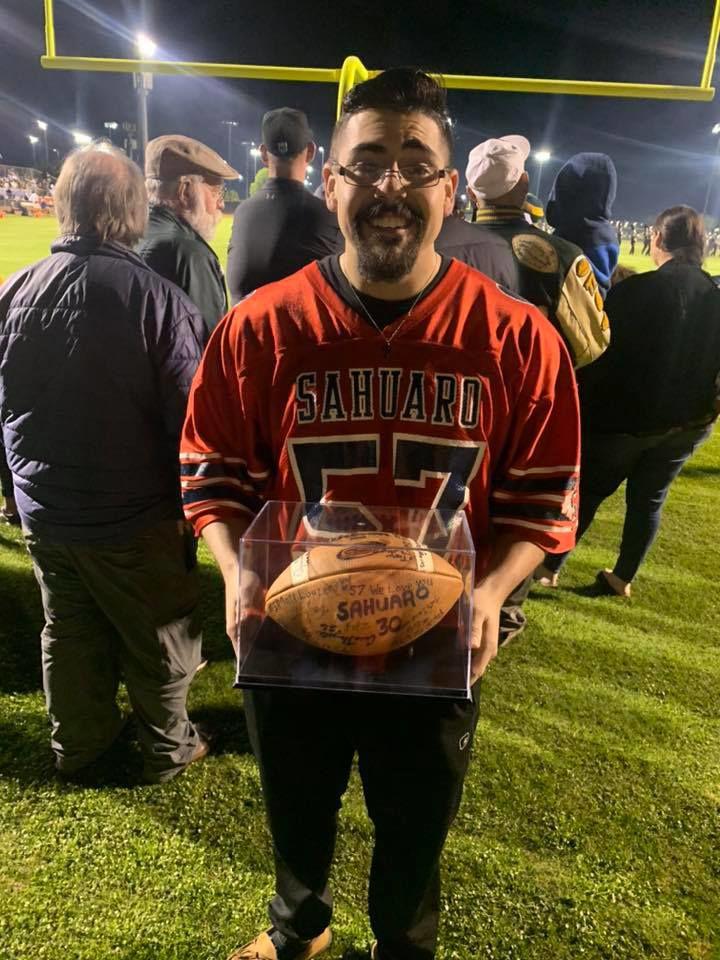 The 1994 Sahuaro High School football team, co-champion 25 years ago, was honored at the Class 4A state championship game Friday night in Surprise. Head coach Howard Breinig and assistants Nemer Hassey and Will Kreamer were honored. One touching moment of the night came when the late Tony Sauceda was remembered. Sauceda died in August of liver disease. His '94 teammate, Matt Louzensky, had a commemorative football signed by dozens of Cougars; the ball was presented to Sauceda's son, Hayden, at Friday's game.
---
Who is Sumlin going to hire?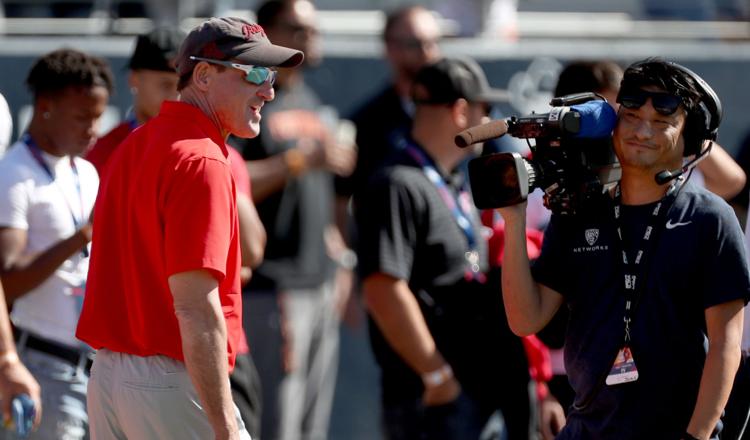 Two interesting items to monitor as Kevin Sumlin remakes his staff: 1: Will he hire former Desert Swarm safety and Pueblo High School coach Brandon Sanders for his defensive staff, if only to placate frustrated UA fans, or, worse, to replace Chuck Cecil?; 2: Will he hire Reggie Terry, father of Florence High School defensive lineman Regen Terry, who committed to the Wildcats last week? Reggie Terry has been Boston College's assistant athletic director for football operations and director of player personnel. Boston College fired head coach Steve Addazio last week. In contemporary college sports, especially basketball and football, hiring a father to get his son has become common strategy.
---
Pima to discuss future of eight teams on Monday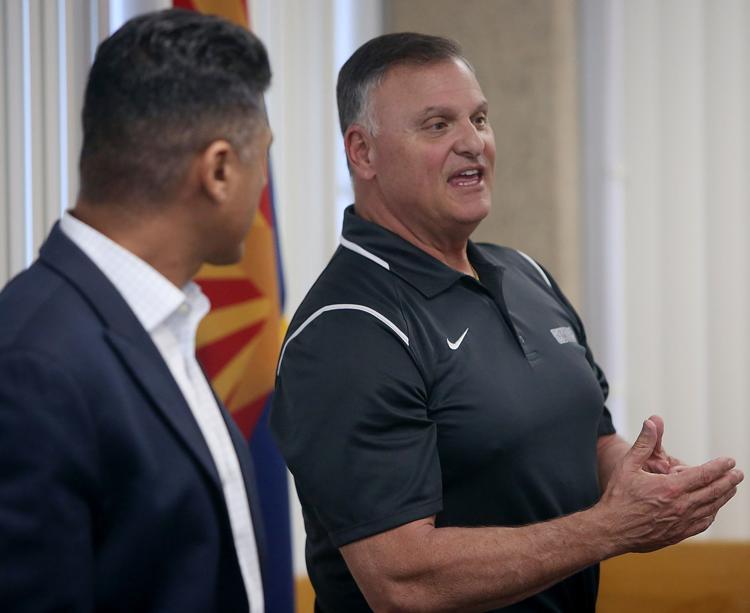 The future of Pima College's track and field, golf, tennis and cross country programs — a total of eight men's and women's teams — have been actively discussed by the school's administration since it abolished football a year ago.
To its credit, PCC hasn't eliminated those sports without a public dialogue. On Monday, the school will stage what it calls an information session "regarding potential restructuring of the athletics program."
It's unlikely PCC, or any school, would stage such a meeting to reaffirm its support for those sports. The school says the meeting will examine the "long-term sustainability, league viability and operational costs" of its spots programs. Gulp. It's likely that by the 2020-21 school year, Pima College will be left with baseball, softball, volleyball, men's and women's basketball and men's and women's soccer — and nothing else.
Aztecs athletic director Jim Monaco will conduct the meeting at the PCC District Office, 4905 E. Broadway, at 6 p.m.
PCC held a similar public hearing in May 2018 to discuss the future of its football program. Dick Tomey was among eight or 10 football coaches and prominent former players to speak about the value of keeping a football program. None of it mattered.
---
Defeat at Baylor could be lesson learned for Cats
ESPN college basketball analyst Jimmy Dykes spent 40 minutes Saturday morning questioning Arizona's manhood.
If you watched Baylor's 63-58 victory over the Wildcats, it was a succession of cringe-worthy commentaries. Dykes essentially said Arizona (a) wasn't ready for Big Boy basketball and (b) didn't want any part of Baylor's toughness.
Dykes failed to put the game in perspective. It's Dec. 8. It was Arizona's first true road game following six weeks of competition against softies. It was a basketball accident waiting to happen.
Yet on a day the Wildcats shot almost historically bad — 27% — a team of lesser heart would've lost to Baylor by 20 or 25.
In the bigger picture of the 2019-20 season, Saturday's game will be forgotten by Christmas.
It reminded me of a December 2011 game against Gonzaga in downtown Seattle. The Zags took a 22-4 lead. The rest of the game was filler for a two-hour TV window. Gonzaga won 71-60 and life went on. The Zags weren't that good — they were a No. 7 seed in the NCAA Tournament. A transitioning Arizona team wasn't that bad — it reached the Pac-12 Tournament championship game.
Dykes knows his stuff. He has been the head coach at Arkansas and assistant coach at Kentucky.
But what really matters is how the Wildcats react against, say, Gonzaga on Saturday night at McKale Center, and in a Pac-12 season opener Jan. 4 against Arizona State.
Getting pushed around by Baylor in December can be as beneficial — a lesson learned — as it was humbling.
Contact sports columnist Greg Hansen at 520-573-4362 or ghansen@tucson.com. On Twitter: @ghansen711