Star sports columnist Greg Hansen offers his opinion on recent sports news.
Arizona stands out amid stiff competition on Pac-12 track circuit
For the fifth time in history, the Pac-12 track and field championships will be held in Tucson, at the UA's Drachman Stadium, and coach Fred Harvey's Wildcats will surely be a factor next Saturday and Sunday.
The UA men's team has never won a Pac-12 track championship but it finished No. 2 in 1993 at Cal and in 2011 in Tucson. It could match that next week.
Perhaps the greatest day in UA track and field history occurred at the 2011 Pac-12 meet here, when both Harvey's men's and women's teams finished in second place.
Harvey cried tears of joy immediately after the meet's conclusion.
That was the weekend distance runner Lawi Lalang emerged as one of the NCAA's greatest-ever performers, and when the school's long history of high jumping excellence peaked, with Brigetta Barrett and Nick Ross winning league championships.
Track and field competition in the Pac-12 is so absurdly strong that the men's teams at Stanford and USC, both ranked in the top 10, are a few spots ahead of Oregon, which has won an amazing 12 consecutive Pac-12 men's titles. In the women's meet, USC and Oregon are ranked Nos. 1 and 2 in the NCAA.
For Arizona to finish as high as No. 2 in the men's meet it must score roughly 125 points or more. It has only scored more — 150 — in the 2011 meet, second behind Oregon's 154.
Harvey and his staff recruited well the last few years and it shows.
Entering the championships, Arizona is ranked No. 1 in five events: Rio Rico's Carlos Villarreal is tops in the 1,500 meters (he's also second at 800 meters); Bailey Roth is No. 1 in the steeplechase; Mountain View High School grad Justice Summerset is No. 1 in the high jump; All-American Jordan Geist is No. 1 in the shot put; and long-jumper PJ Austin has the league's best distance in the long jump.
For Arizona to have a meet to remember — to challenge Stanford, USC or Oregon at the top — it'll require high finishes by those such as Maj Williams and Zakee Washington in the sprints, freshman standout James Smith in the hurdles, and for the Wildcats to contend for victories in the 4x100 and 4x400 relays.
Arizona was host to the Pac-12 track and field championships in 1985, 1995, 2004 and 2011, but it hopes that the fifth time is the charm.
Top three Tucson athletes of the week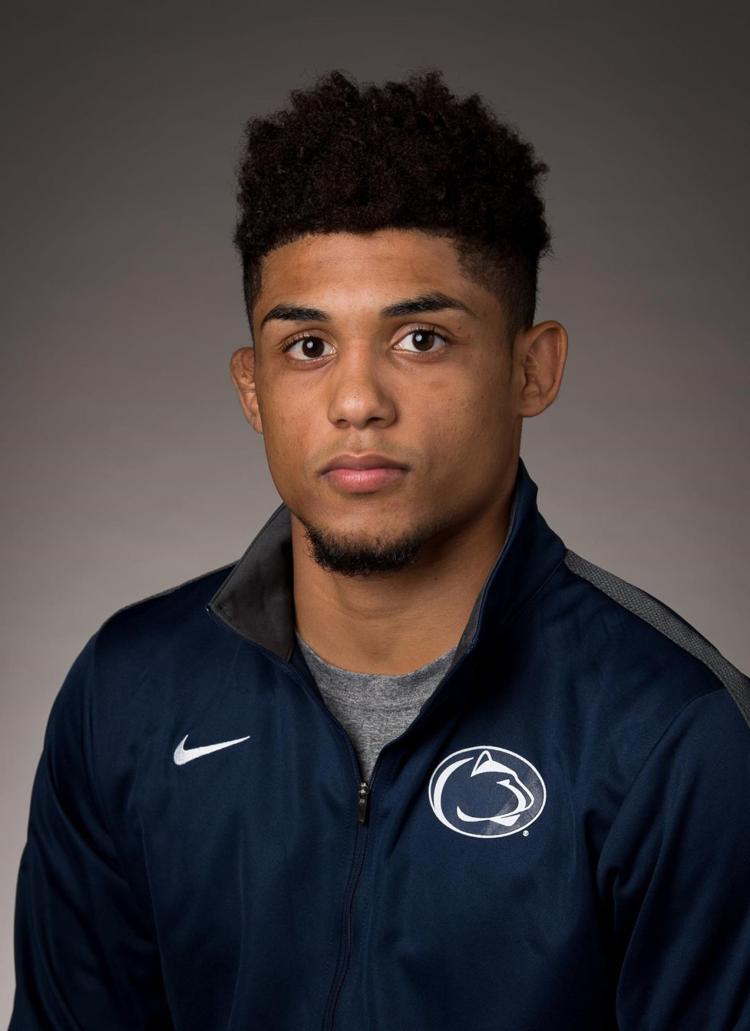 1. Briggs Duce. Arizona's junior golfer from Sierra Vista shot a 66 Thursday at the U.S. Open local qualifying event, one of four golfers from a field of 74 at Sewailo Golf Course to move on to U.S. Open sectional qualifying. Duce finished one shot better than teammate Trevor Werbylo's 67. Werbylo is an alternate for the U.S. Open field. Both Duce and Werbylo will be in the lineup this week in Louisville when Jim Anderson's UA golf team opens play in the NCAA regionals for a second straight year.
2. Nick Gonzales. The Cienega High School grad, a sophomore second baseman at New Mexico State, went a combined 7 for 9 in victories over Arizona and UT-Rio Grande, with six extra-base hits. On Friday, Gonzales hit for the cycle and was 5 for 6. Through Friday, he was hitting .446 with 14 home runs and 68 RBIs, and ranks second in the NCAA in batting average and third in RBIs. He's making a serious bid to become a first-team All-American.
3. Roman Bravo-Young. After becoming a first-team All-America wrestler at national champion Penn State in March, No. 8 nationally at 133 pounds, the Sunnyside High School grad was named a first-team Academic All-American last week. The Nittany Lions freshman has a 3.4 GPA and has been selected as a finalist for the United World Wrestling U23 team that will represent the United States this summer in Europe.
Dick McConnell's memorial service set for May 25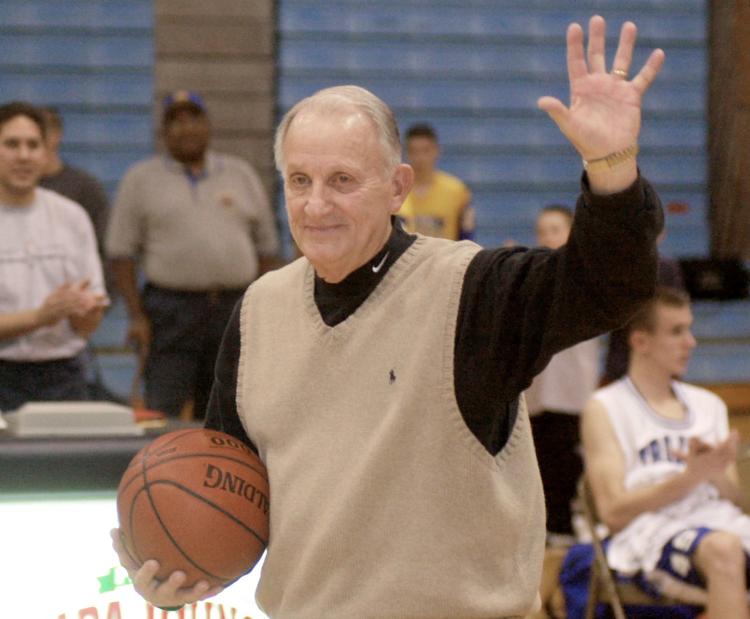 Four things to know about Tucson sports figures:
1. The memorial service for former Sahuaro High basketball coach Dick McConnell will be held Saturday, May 25, at 2 p.m. at Dick McConnell Gymnasium. Whatever the facility holds, 2,000 or thereabouts, it's likely to be standing room only. McConnell died in April at 89.
2. One of the true success stories in the UA athletic department that hasn't attracted public attention is the career of Blair Willis. A Canyon del Oro High grad, Willis was given a chance to work in the school's media relations department 15 years ago. He worked his way up from an unpaid student intern to ultimately the No. 1 person operating the school's baseball and football media relations duties. Willis resigned last week to accept a position at the UA Cancer Center. He will be missed.
3.Former Ironwood Ridge High baseball and football standout Jake Matthews, who started 15 games at linebacker for UA during the Rich Rodriguez years — including six for the 2014 Pac-12 South champions — last week was admitted to the UA College of Medicine. Now he'll be able to stay home in his journey to become a physician.
4. If you know Dick Tomey, you know what a special human being he is. You probably also know he is in a battle for his life against lung cancer. Many of his former players and coaches have made a special trip to Tucson to visit him recently, including Duane Akina, who coached with Tomey all 14 of his UA seasons. Akina, now Stanford's secondary coach, flew to Tucson this weekend to be with his mentor. Tomey, 80, can use your prayers and positive thoughts.
Augie Busch will rebuild swimming staff after parting ways with two ex-Wildcats stars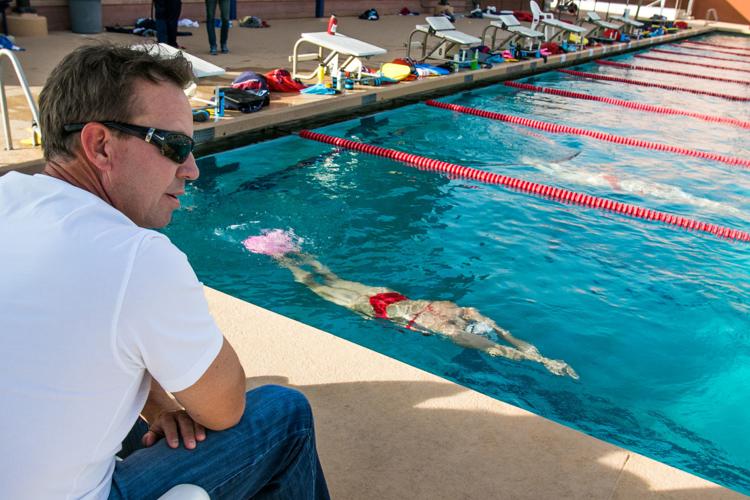 On the week UA swimming coach Augie Busch was selected to be part of Team USA's coaching staff for the 2019 Pan American Games in Peru, his attempt to rebuild his father's once-dominant swimming program at Arizona hit a difficult snag. Busch parted ways last week with assistant coaches Cory Chitwood and Beth Botsford, two of the top names in UA swimming history. Botsford, a two-time gold medalist at the 1996 Atlanta Olympics, won the NCAA championship in the 200 backstroke in 2000 and led the Wildcats to a No. 2 finish in the NCAA finals. Chitwood was a 14-time All-American at Arizona, winning the NCAA championship in the 200 backstroke in 2000, 2011 and 2012. At the same time, a possible replacement for Chitwood was taken off the board when 12-time UA All-America swimmer Coley Stickels was hired by Greg Byrne on Tuesday to be the new head coach at Alabama. Stickels had been the top assistant coach at Indiana.
Polynesian pipeline leads Cats to Salt Lake City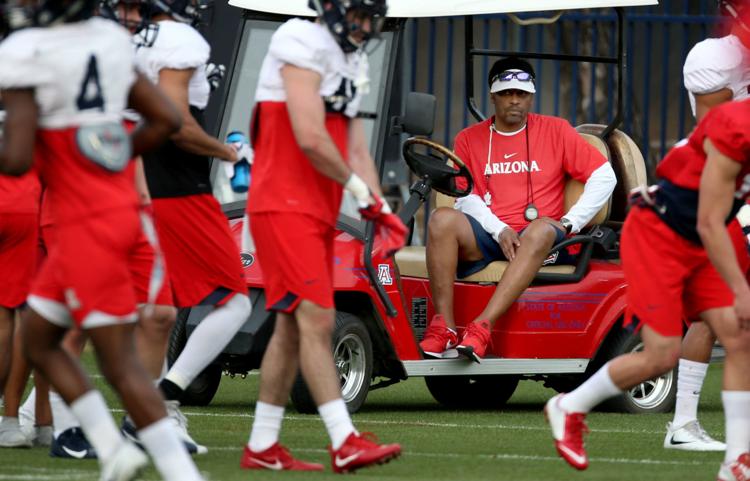 Kevin Sumlin's decision to get Arizona back into the business of recruiting prospects in the Polynesian community is a smart one. That's what helped build Arizona into a national power in the 1990s, and what has put Utah into the Top 25 in recent years. UA defensive line coach Iona Uiagalelei was in Salt Lake City last week — a base of Polynesian football power — to recruit Omarion Fa'amoe, a top defensive line prospect from West High School. Getting a player like Fa'amoe away from Utah or BYU is exceedingly difficult, but at least Arizona is giving it a try again
Cats' NFL draft woes likely to stretch past 2021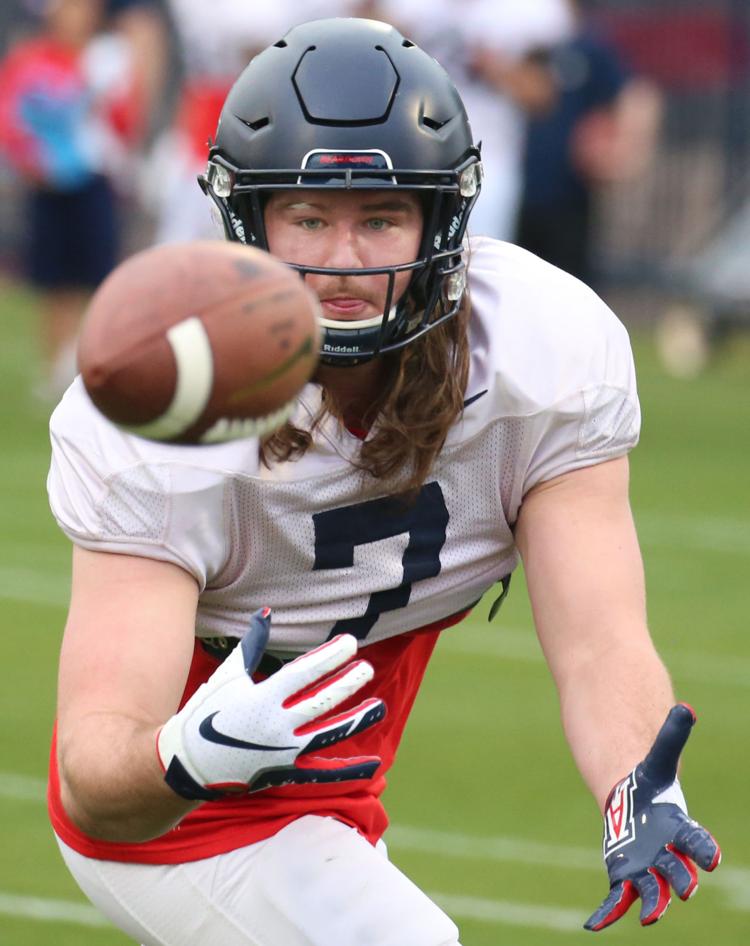 Don't expect results at Arizona in the NFL's 2020 draft; Arizona still hasn't been able to develop NFL-quality players in numbers the way it did in the 1980s and 1990s. The two leading NFL prospects on campus are probably sophomore offensive lineman Donovan Laie and sophomore linebacker/pass rusher Jalen Harris. Perhaps in 2021, those two will be high on the mock draft boards. But at this stage, Arizona cornerback Jace Whittaker and linebacker Colin Schooler appear to be the only Wildcats eligible for the draft of 2020 who might turn a scout's head.
Larry Scott is right about Pac-12's big year, but he'll be judged by other factors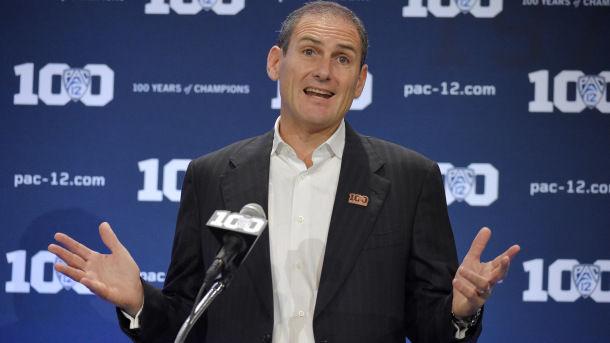 At the annual Pac-12 spring meetings last week in Scottsdale, commissioner Larry Scott noted that the Pac-12 will win the most NCAA championships of any conference for the 14th straight year. True, Pac-12 teams have won an impressive seven titles in this school year — women's cross country, men's skiing, men's water polo, women's volleyball, men's and women's swimming and men's gymnastics — which is terrific. But until Scott can help to produce more competitive football and men's basketball teams, cut his expenses and deliver better media rights revenues, those titles in skiing and water polo won't help his battered image. More Scott: He said that when the league's media rights deal expires in 2024, the league will "leapfrog" other conferences. His contract expires in 2022. He might not be the person to negotiate those 2024 deals.
Dick McConnell's lone Wildcat almost wasn't alone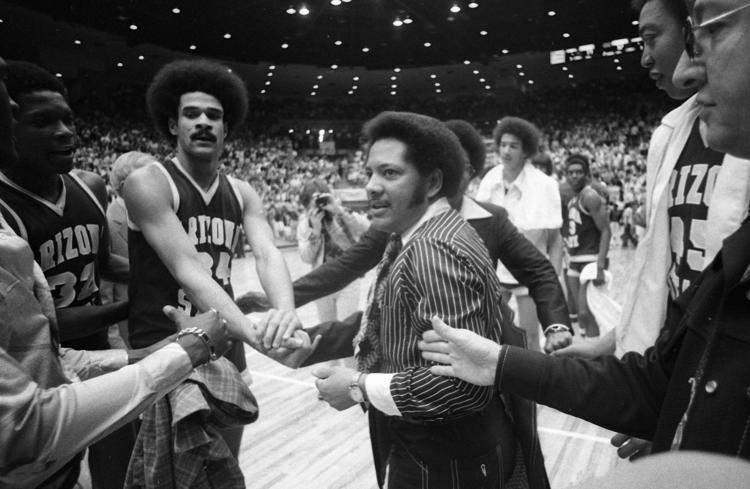 I recently wrote that Sahuaro High School's David Haskin, Class of 1982, was the only ex-Cougar under Dick McConnell who signed and played for Arizona coach Lute Olson. A decade before Haskin, Sahuaro forward Kent Markle, Class of 1973, signed with Fred Snowden to play basketball at Arizona. Ultimately, Markle did not play for the Wildcats but earned two degrees from the UA and taught at several colleges, including those in Saudi Arabia. Markle died of a heart attack while in Australia in 2007. Before that he was a songwriter, poet and author who lived near Bisbee.
After G League title, ex-Cat Joseph Blair contributing for Houston Rockets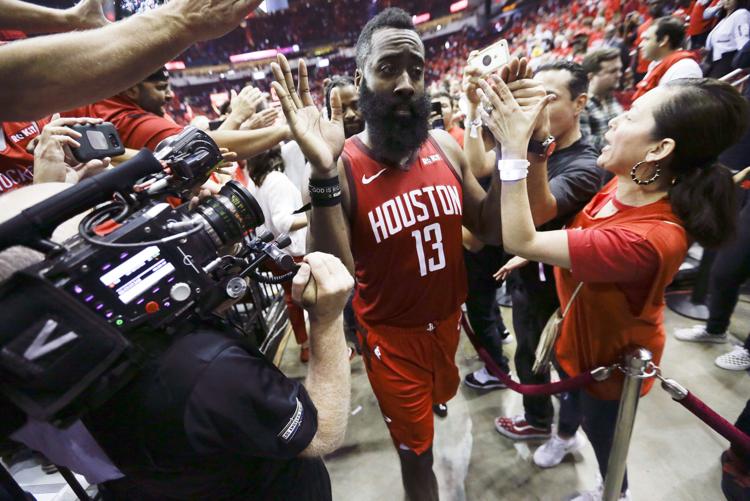 Arizona's 1994 Final Four center Joseph Blair went from coaching the NBA G League's Rio Grande Valley Vipers to the league championship to becoming one of the Houston Rockets' advance scouts for the ongoing playoff series against the Golden State Warriors. That's the same path taken by ex-Catalina Foothills High School basketball standout Matt Brase, who went from the G League and a Houston advance scout to a full-time job on coach Mike D'Antoni's Rockets coaching staff. I'll still take Steve Kerr's Warriors in six games.
Pima's JJ Nakai, Wolfpack assistant set foundation for Tucson-Nevada connection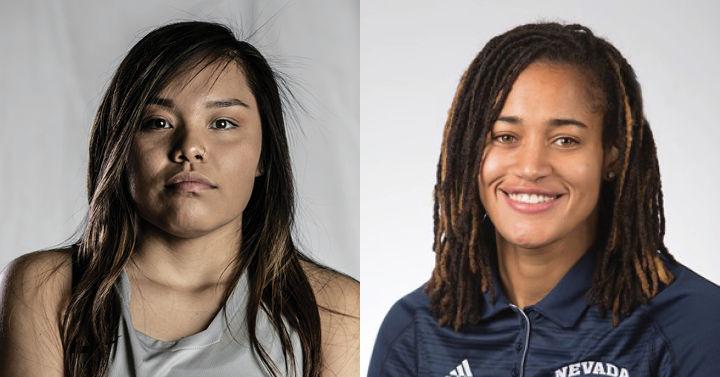 When two-time NJCAA All-America point guard JJ Nakai of Pima College signed to play at Nevada last week, it established a Tucson connection. Nakai was recruited in part by Sybil Dosty, now a Wolf Pack assistant coach. Dosty is one of the two or three leading girls basketball players in Tucson history, a Salpointe Catholic grad who played her college career at Tennessee and Arizona State before becoming a volunteer coach for Todd Holthaus at Pima College.
CDO's Jason Verdugo played for Devils from 1994-95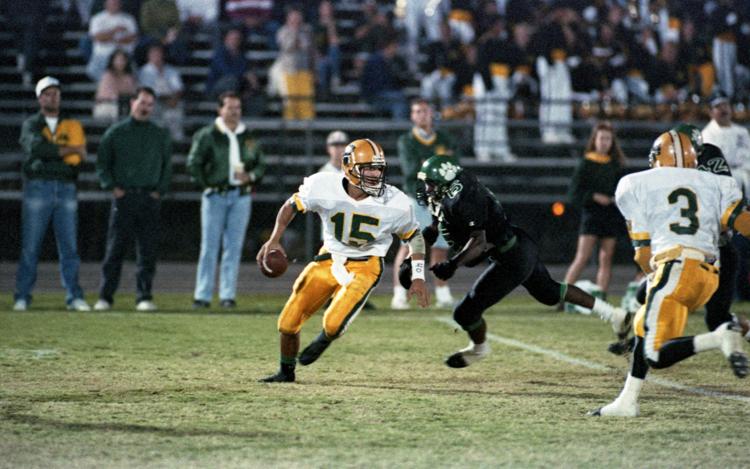 Upon further research, I discovered that Sunnyside's Bobby Valdez is not the only Tucsonan to play quarterback for Arizona State. In 1994-95, CDO's Jason Verdugo threw 19 passes in a backup role for the Sun Devils. That leads into ASU's recent recruiting success with Marana High School senior quarterback Trenton Bourguet.
In Class of 2019, Adia Barnes believes she's found the Pac-12's next star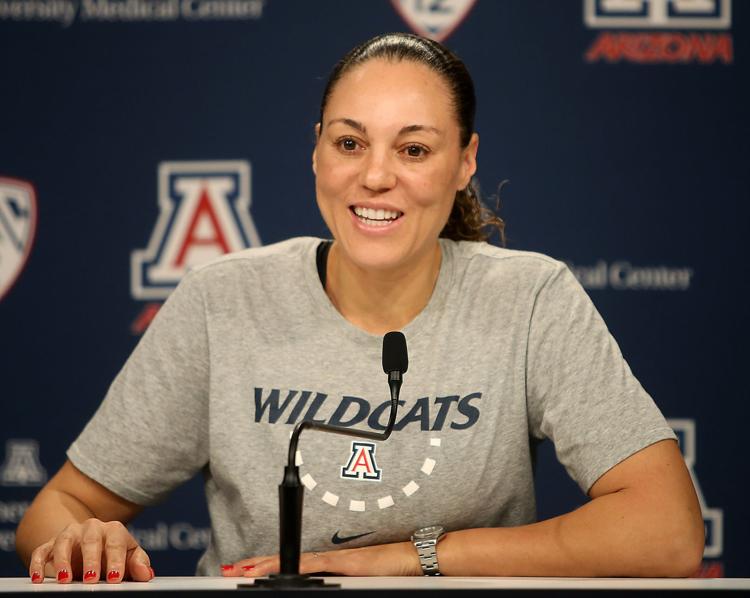 One reason I think Adia Barnes' UA women's basketball team has Top 25 qualities for the 2019-20 season goes beyond returning the starting five intact from a WNIT championship season. Last week, Barnes made her first public comments on incoming freshman shooting guard Helena Pueyo of Spain. "Helena Pueyo is special," Barnes said. "Her size, shooting ability, the way she sees the floor and her versatility makes her elite. For us to land the best 2019 Spanish guard and one of the top guards in Europe is a huge boost for our young program. The future is bright and she will be a star in the Pac-12." I can't recall ever hearing a college basketball coach use the words "will be a star" to announce a signing. Barnes does not exaggerate; I believe her.
My two cents: Arizona must seek high ground in court of public opinion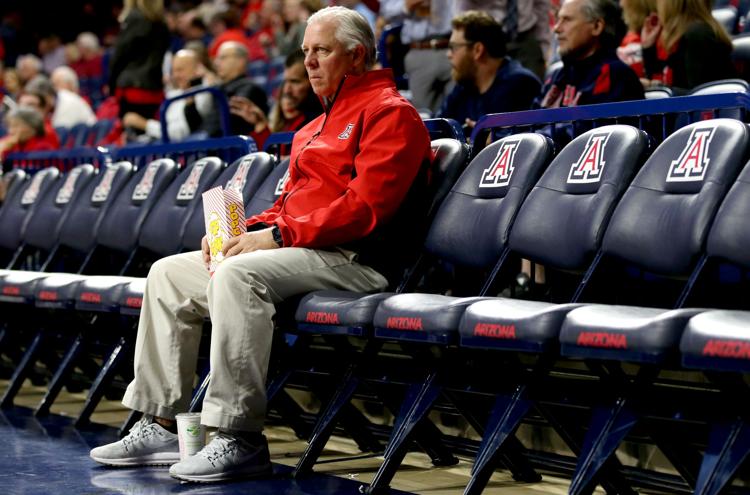 I exchanged emails last week with four attorneys, from Tucson to Denver, all of them providing insight into the Arizona basketball situation.
Here's the summation:
The Arizona administration has to decide what the university is all about. It isn't all necessarily about the law, or proof, or Sean Miller's legal rights. The coach's contract is loaded with protections that will ensure he is paid regardless of what happens.
In the court of public opinion and ethics, the UA is getting hammered.
One of the attorneys said: "As one of a few hundred thousand people walking around with a UA degree, I value the reputation of my diploma more than the record of the basketball team. If Sean Miller sues, he sues. I'd rather have the moral high ground."
Meanwhile, the saga continues. After Book Richardson is sentenced on May 30 in New York City, he is likely to speak publicly for the first time in 19 months. Stay tuned.